For Sale: 1993 Ducati Superbike 888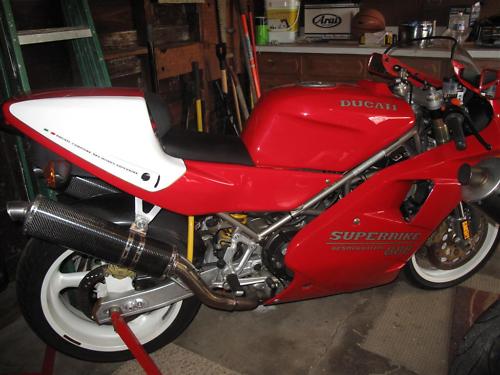 The mighty Ducati 888 grew from the foundation of the 851 – which itself introduced liquid cooling, fuel injection and desmoquattro heads to the Ducati lineup. With increased displacement and greatly enhanced performance, Ducati used the 888 successfully at the racetrack – and in the showroom. The '93 888 was the final model of this style before the introduction of the iconic 916.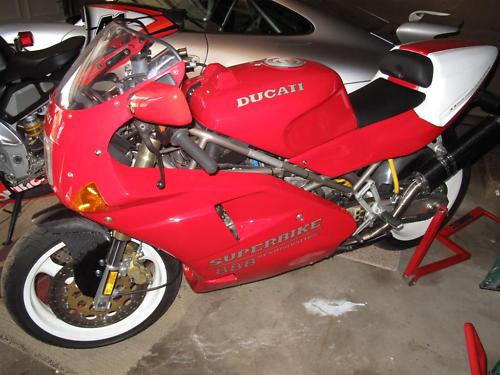 This is really my favorite kind of motorcycle: High performance, relative rarity, booming sound, great Italian looks, conservatively modified, low miles (1,163) and still the original owner. That really says a lot, when you know the bike has not been handed down from owner to owner, each making more changes. I could wish for more detailed pictures, but that would be the first request on my list when contacting the seller.
From the seller:
This is my 1993 Ducati 888,I have owned this bike since new (original owner) . This bike is in near immaculate condition,w/very low miles… Marchesini wheels,carbon fiber bits (fenders,exhaust,clutch cover) some safety wiring done as well (axles,brake calipers,oil filter) runs like it did when it was new,last service done by Feracci 2-3 yrs ago. Just put a brand new battery in it. Included in the sale are whatever original parts I can find,plus both front and rear stands.
These desmoquattro series of bikes are very robust provided that maintenance is done regularly and on a schedule (both time and miles). In this case it would appear that the maintenance matches the miles, however cam belts are due on a regular basis regardless of use; a wize buyer would have these replaced before running the bike in anger. This is not a negative on this bike or seller at all; Ducatis have maintenance needs that are different than many Japanese machines.
This bike is available via auction right now. The current bid is up to $7,875 with reserve not met. There is a BIN on the bike for $11k. The latter might be a bit high in today's market, but if the bike is as clean as the mileage might suggest (again, I would ask for updated pics first), this could still be a bargain Superbike when all is said and done. To see more info, view the pictures and get in on the bidding, . Good luck!
MI