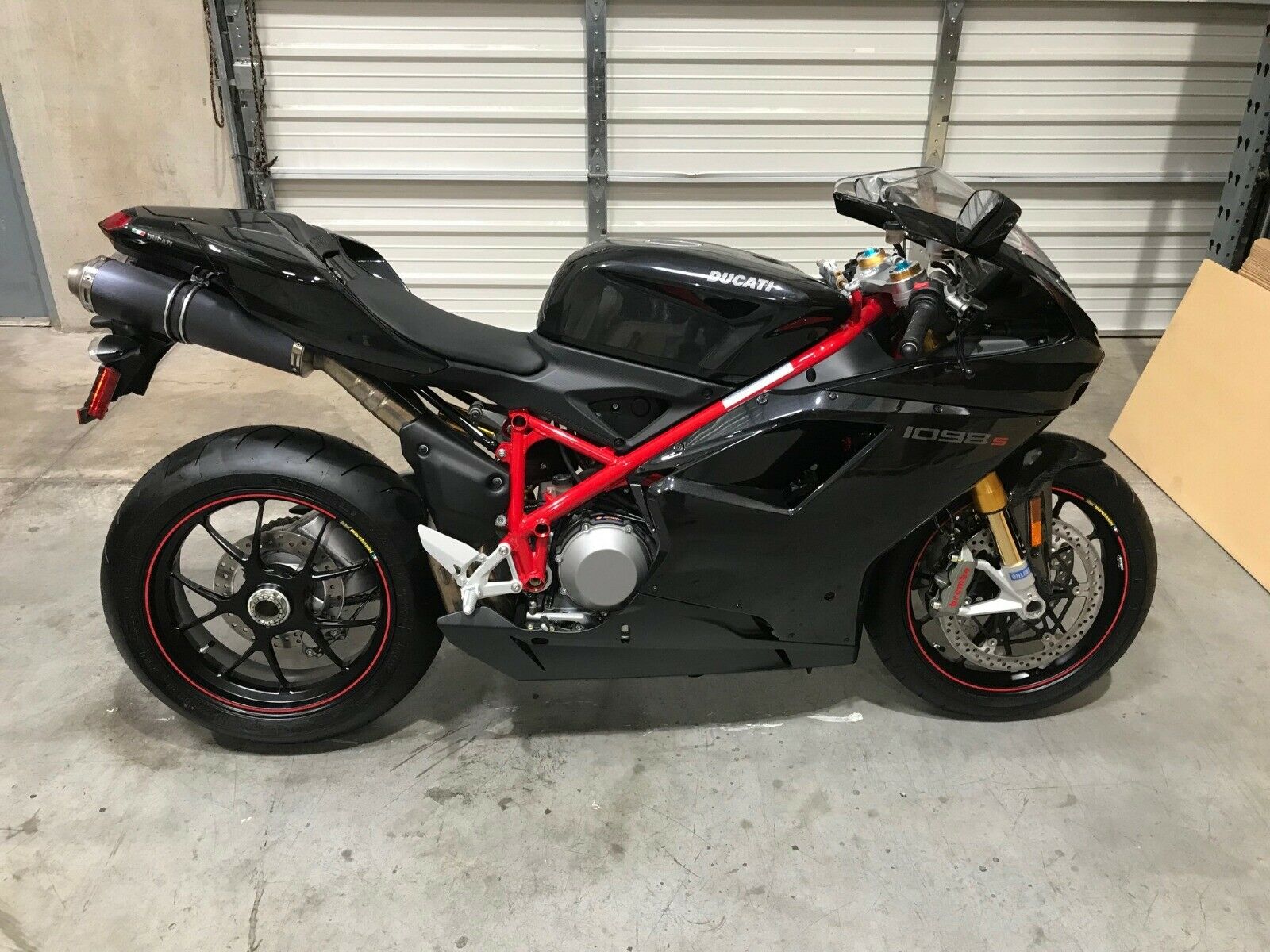 Spring is in the air, and new life is emerging from once-frozen ground. Bikes which spent the winter indoors hibernating are emerging from their dens (or living rooms, garages or storage units) hungry for miles. Of all the mileage-hungry bikes we have seen thus far this year, I propose this 2007 Ducati 1098 S example as the most malnourished of the lot. Now, normally the "S" model does not warrant RSBFS attention; after all, we all like our "R" bikes better (like this one, for example). But sitting in "as new" condition with but SIX miles on the digital clocks, this 12 year old bike has only experienced a half mile for each year of its life! Condition warrants posting, even as some readers wonder why. RSBFS is a many and varied smorgasbord of interests – from static collections to knee dragging good times – and in striving to cater to all there will invariably be some dissent; everyone is welcome.
As we learned here, the Ducati 1098 was an evolution of the oft-maligned 999 series. Penned by a new designer who followed more closely in the footsteps of Massimo Tamburini, the 1098 is more directly related (in design language) to the 916 / 996 / 998 series of bikes. With a 100cc bump in displacement over the 999, the 1098cc motor (as opposed to the 1198cc motor in the 1098 R bike) produced a healthy 160 HP. The S model shares most of its DNA with the base 1098 offering, shaving approximately 5 pounds through the use of different wheels (shared with the R), and an upgrade to Ohlins bouncy bits (as opposed to Showa components on the base model). All in all, the S model was a potent weapon without the sticker shock of the race-bred R bike.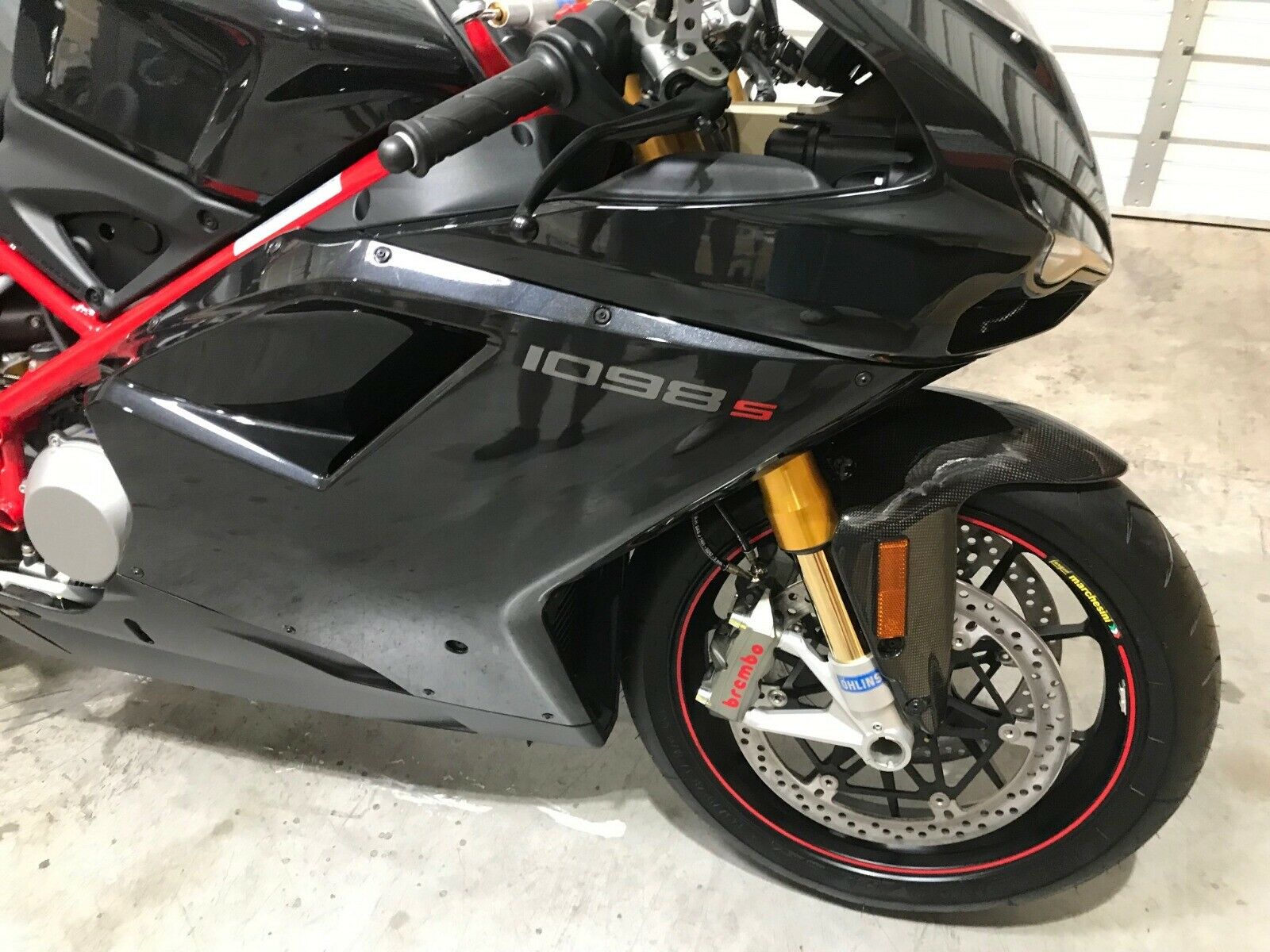 From the seller:
Only has 6 original factory miles and is in excellent condition. For sale by owner with clean title. Serious inquiries only – no trades.
There is not a ton of information on today's specimen; the seller has not said a lot, and there are fewer pictures than all of us would like. The pictures that do exist show a clean, stock 1098 S. No comments on how the bike was stored, if it was pickled (i.e. drained fuel or added stabilizer, cylinders fogged, etc). Any buyer intending to ride this beauty will undoubtedly need to recommission it with a service – it's doubtful that the valves have gone out of spec in so few miles but the belts certainly will need to be changed. Tires, if original, will also be suspect for any real-world riding. But that's probably not the point about this bike. The real point is condition versus age, and this one has a pretty impression ratio. Had it been an R bike – or something even more rare – I'm sure the reception would be much greater. This one is sitting on a $14,500 BIN – which is sure to light up the comments section with pricing concerns. But when you look at it, this is basically a new 1098 S going for the same price as a new 959 Panigale and WAY cheaper than any of the new V4 models. Check it out here, and then let us know if you would rock this new/old bike and why. Good Luck!
MI