American Racing History:  Harley-Davidson 750 XRTT
I did not expect to find less information on a Harley than I did on the Derbi I wrote up but that is exactly what happened when I sat down at the plush RSBFS offices to begin my search for info.  This post will be filled with, "I think", "I don't know" and "maybe".  If you are an knowledgeable on the XRTT post away in the comments section.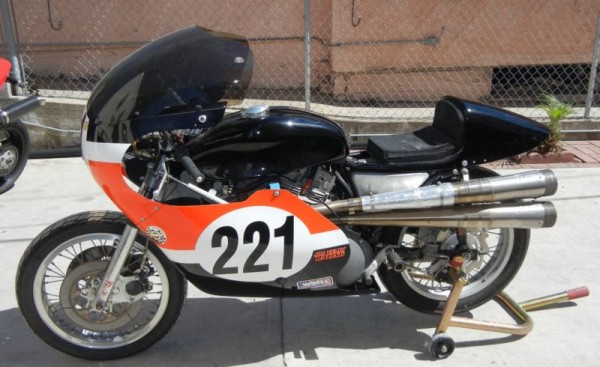 If you are like me you just see another big, heavy HD V twin and can't get past that.  It sounds like the though, the XRTT was quite the bike back in the day.  One Cal Rayborn had some success with the bike.  By the way, his XRTT sold for $175,000.
One of the major upgrades to the XR series was the introduction of aluminum heads in 1972.  Horsepower is in the mid 70's (another site said 100hp)  and they rev up to 8200rpm.  Descendeants of this engine have been powering Harley to dirt track wins ever since.
What I'm interested in but can't find info on is the value of these bikes.  Do they have to have a race history to be valuable or is just finding one a battle?    I could not find any solid production numbers but I come across this from hi-speedmotorcyles.com to save my skin:
There were 10 original factory XRTT's made. They were raced for several years and then interest went away on them. At that time, they were just a road race bike that the factory put out. These were not really considered a production racer. The 10 factory riders used them just as they would any other race bike. The H-D race department would build and tune their bikes.
There were quite a few other XRTT frames that became available to privateers. These came in the form of a kit; frame, wheels, forks, glass, everything but the motor.Back in the 1970's racers would compete on a TT course, dirt track course and a road race course. Riders that wanted a lot of points would compete on the road race circuit when they weren't dirt tracking. This meant they had to take the TT rolling chassis along with their dirt track bikes. They would pull the dirt track motor, refine the gearing and put the motor in the road race chassis. Few were lucky enough to have a spare motor to put in their TT chassis.Over the years these XRTT's were just parked around the country and never given much consideration. When vintage racing began and collectors realized that the XRTT was an extremely rare bike, everyone wanted one.The original factory race bikes were raced, modified, disassembled and the parts were scattered throughout the country. There may be an original out there somewhere but I have yet to see it.
There wasn't a whole lot of concrete info from the auction (seller wasn't even sure of the year), so let's jump to the video the seller posted:


Looks much sleeker from the rear.
Why didn't Harley stick with it?  Why bury your head in the sand and only race dirt track?  I just don't understand why this company will not embrace technology and move on with the times.  Is there a law somewhere that says they can't keep the cruisers if you they build sport bikes?  Obviously things aren't changing since they chased Buell out of the building.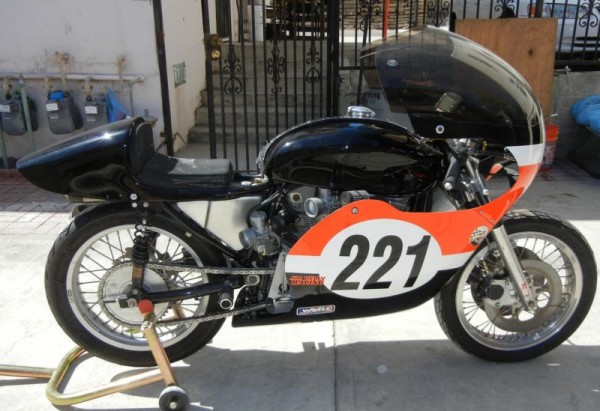 What's it worth?  I'm taking a pass on this one.  I'm just making the assumption this one of the kitted privateer type bikes but even so I would just be throwing out a number.  Bidding looks to be pretty active so get on over there if you are interested.  I just find the whole thing a bit depressing that we have a (once?) great American company and we have to go back to the 70's to find a bike with some road racing glory.  .
And here's a video of the bike for sale:
Ian