One of Buell's last Harley-powered models, the XB12 Super TT has a slightly longer and more stable XB2 chassis, powered by the 1203cc pushrod twin.  Styled as a super / hyper street machine, it's a great performer and snappy dresser.
Part of the XB2 upgrade was more fuel in the frame, and the STT has 4.4 gallons available.  The familiar Sportster powerplant is shrouded in the alloy perimeter frame, with Buell's Thunderstorm heads and downdraft fuel injection providing 103 hp and 84 ft.-lbs. torque. Showa suspension is fully adjustable and the signature 6-piston Zero Torque Load front brake provides a visual statement as well as great stopping power.  The binnacle fairing has a number plate look to it, as do the panels below the seat, adding to the short, spare, lightweight look.
The Illinois owner has put under 3,000 miles on this STT, and has kept it very clean, and apparently upgraded the suspension and seat, but doesn't shout about it in the eBay auction:
SUPER NICE ORIGINAL CONDITION NOT MUCH TO SAY OTHER THAN THESE ARE RARE AND IN MY OPINION THE NICEST LIGHTNING THAT THEY MADE. THE BIKE NEEDS NOTHING OTHER THAN A NEW HOME. I HAVE A FEW EXTRAS THAT ARE INCLUDED WITH THE SALE AS ONE OF THE PHOTOS SHOW. I MIGHT HAVE A FEW MORE MILES ON BIKE AS I WILL TAKE A COUPLE SHORT RIDES BEFORE STORING IT FOR THE WINTER.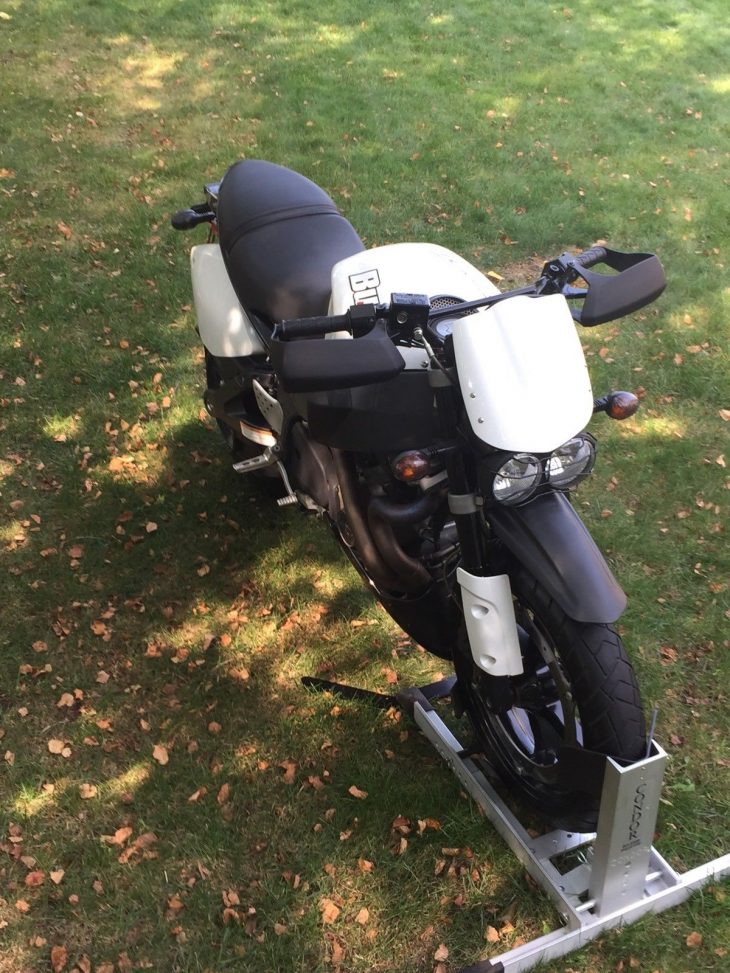 The black forks are at least a cosmetic improvement, and the owner shows a more road-oriented white front fender on the spares page, which would be going on first thing if it were mine.  While the overall design might be an acquired taste, the STT reviewed as a great fun bike, no more or less practical than any other hyper, but the big torque makes it a leave-it-in-drive kind of ride.  Fully sorted might be a good way to describe the XB2, a mature though innovative frame design and bombproof Evo motor, along with Buell's funky solutions to some age-old motorcycle design issues…
-donn