Warning!
This post is in our archives. Links in this post have been updated to point to similar bikes available to bid on eBay.

For Sale: 1983 Harley-Davidson XR1000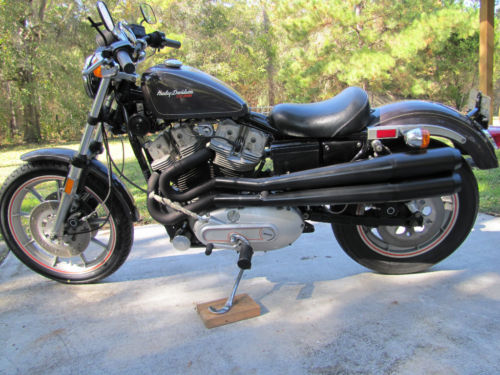 Walking the halls of the RSBFS corporate office is an interesting affair: Doug's office sits empty (we store boxes of hats, shirts and koozies in there now), Ian is buzzing around like one of his beloved two strokes, Rem chatters on about Gixxers (I do have a soft spot for those early 750 slabbies), Jared has his head down doing research, Andrew pops in occasionally and the Boss man is busy playing around with Facebook. It's a great group of like-minded enthusiasts. Which brings us to today's bike: A 1983 H-D XR1000.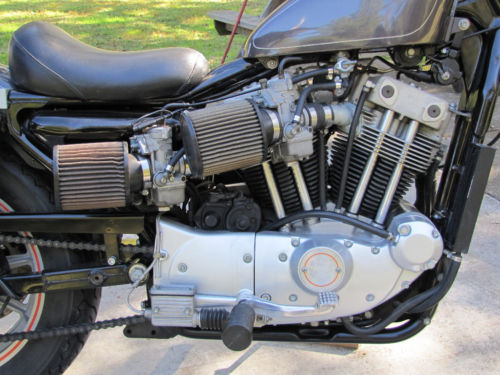 In all of the years of RSBFS we have never listed an XR1000. That made me think a little bit. We seem to post a lot of Ducati v-twins, and this H-D is a two-banger in similar fashion. We are big on rare bikes, and this XR is as rare as most; fewer than 1,800 were created world wide over a short, two-year time span. RSBFS is all about sport bikes, and this HD is, uh, sport-like, depending on your definition of sport. It is just like a homologation racebike – unless you consider dirt tracking right up there with lawn mower racing and monster trucks… You see, this XR1000 has all the elements of what should be on RSBFS. Still, I'm keeping my Nomex nearby in case a flame war erupts…
The Motor Company created the XR1000 to be a street-going equivalent of the all conquering XR750 dirt track racebike. Utilizing alloy heads with bigger valves atop what is basically a Sportster bottom end, breathing through 36mm Dell'Orto pumpers fitted with K&N filters from the factory, the XR1000 was reported to enjoy a 10 HP increase over the Sportster of the day. With uppright seating position and huge mufflers tracking down the left side of the bike, the bike looked the dirt tracker part.
Sadly, what might have looked good to the buying public did not work as well in real life. Interest in the XR1000 was limited, and dealers struggled to sell their stock of these race replicas at just under $7,000 a pop. This is a rehash of the XLCR story; the H-D buyers didn't want a sport bike, and sport bike riders didn't shop at H-D dealerships. Jeff Karr of Cycle and Motorcyclist fame wrote an excellent piece about the XR1000 in his April 2009 "Stupid Money" column which can be viewed online HERE.
From the seller:
this is an exceptional bike in fine condition, has all original parts available. Passenger pad not shown but is here. all original paperwork and manuals included. If you are looking for a rare collectable ridable bike, this is it! email me with any questions.
The amazing thing about this bike is that as I sat and debated about posting it to the rabid fans that are the RSBFS readers, the bidding caught fire. With only a few days underway, there have been more than 20 bids on this bike. And what started as a $1,000 opening ask has exploded to $10k plus with reserve still in place. When all is said and done, my guess is $12,500 – $15,000 will buy this bike. Say what you want about the suitability of this bike on RSBFS – the eBay community has certainly spoken.
To check out this oddball wonder from H-D, you can visit the auction here. Look, learn, read and enjoy. It might not be Italian and it might only strafe apexes on the left hand side of the track, but this is one rare bike that you won't find every day.
MI