For Sale: 1984 Harley-Davidson XR-1000
Boxes can be tricky things. They seem to ignite the imagination of collectors and cats alike. Take for instance, this particular packing crate. The bidding on this box is currently in RC30 territory. The bike inside is indeed quite rare – a 1984 Harley Davidson XR1000 similar to the one recently written up here. I know I should have learned from the last H-D experience, but RSBFS is all about the rare and collectable and the recent bidding on this box tells me this bike belongs here – even if only in a "freak show at the carnival" type of capacity.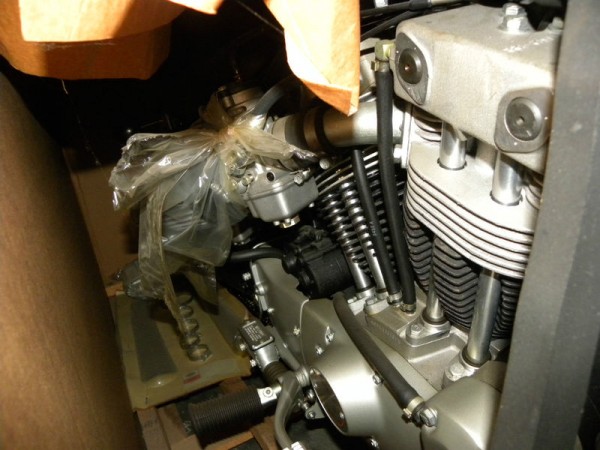 From the seller:
Up for auction is a 1984 Harley Davidson XR-1000 Motorcycle. This bike was delivered to Thurnalls Harley Davidson in Clarksville Indiana. Due to slow sales at the time, the motorcycle remained at Thurnalls warehouse in its shipping crate. Mr Thurnall passed in 2003, and in 2007 the bike along with other motorcycle related items were purchased by the current owner. When the bike was transferred in 2007 a small C shaped cut was made in the crate so the local sheriff could inspect the VIN number. Other than that, the Motorcycle has been undisturbed in its crate. I was able to take some pictures by inserting my camera through the C shaped hole. We have a clear Ky title in the current owners name showing 3 miles.
I'll keep this short so I can still show my face around the RSBFS offices: A bike is only new in the box once in its life, and this one is perfect for collectors who value such things. There are a lot more pictures and detail in the auction – which at the time of this writing was up to $21,000. Jump on over and take a look.
MI