Update 1.31:2023: This bike has SOLD! Congratulations to buyer and seller! -dc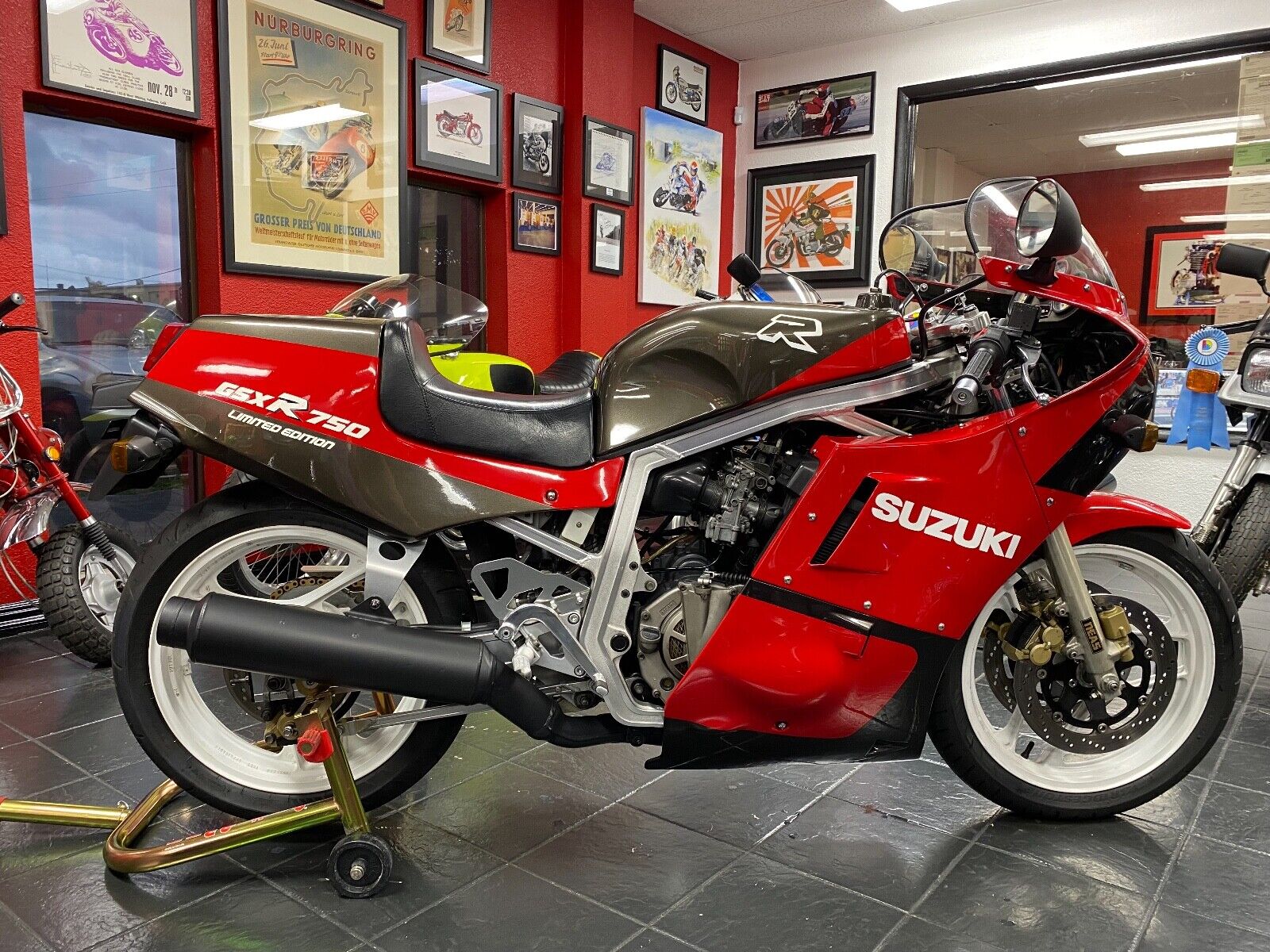 Firing a shot across the bow of 2023 is our first bona fide Collector Alert of the New Year. Brought to us by RSBFS regular Bob, today's Featured Listing is an ultra rare Japanese home market example of the much sought after Limited Edition GSX-R750R. Looking perfectly preserved, residing indoors for what looks to be its entire life span, and showing only 863 kilometers on those white-faced, metric clocks (a mere 535-ish miles for those of us that compute mileage in American), this is a wake up call for anyone who dreams of collecting. Born and bred for the race track with goodies and tech over and above the already stunning GSX-R of the era, the Limited Edition has gained cult status and remains a key model in a very exclusive blue chip collector club.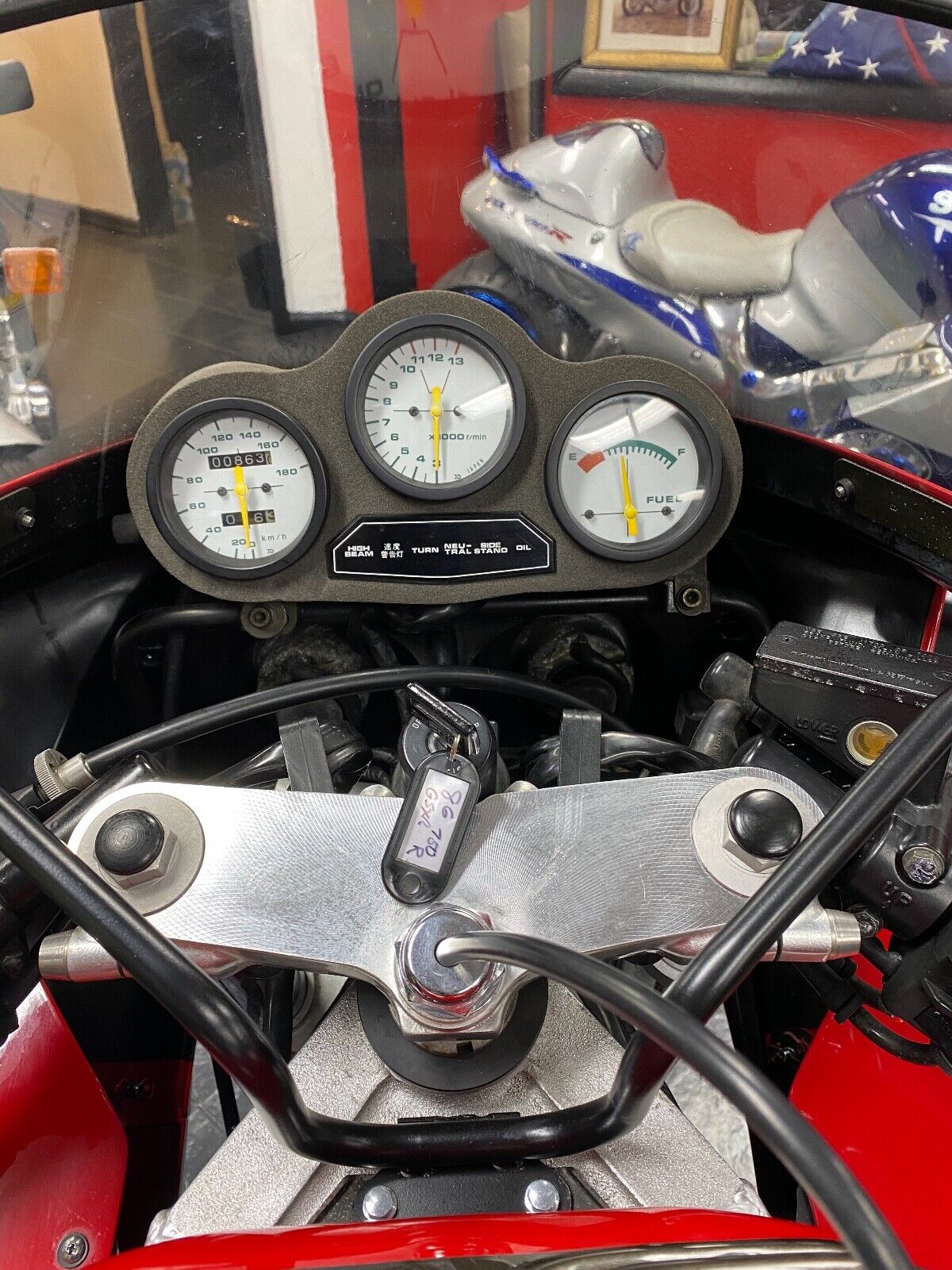 Much has been written about the mighty GSX-R750 and how it revolutionized sport bikes and production racers in particular. But the extra "R" in the Limited Edition meant that these special bikes were homologation specials more sharply focused for the race track. The biggest deal with the Limited Edition relates to the transmission. A close-ratio 6-speed is mated to a dry clutch setup, which is lighter (thanks to its magnesium construction) and has less parasitic drag than the standard oil-bath variety. Flat slide carbs replace the base CV vacuum units, suspension was upgraded for track duty (including New Electrically Activated Suspension (NEAS) forks from the 1100), and the package was wrapped in a special fiberglass solo tail.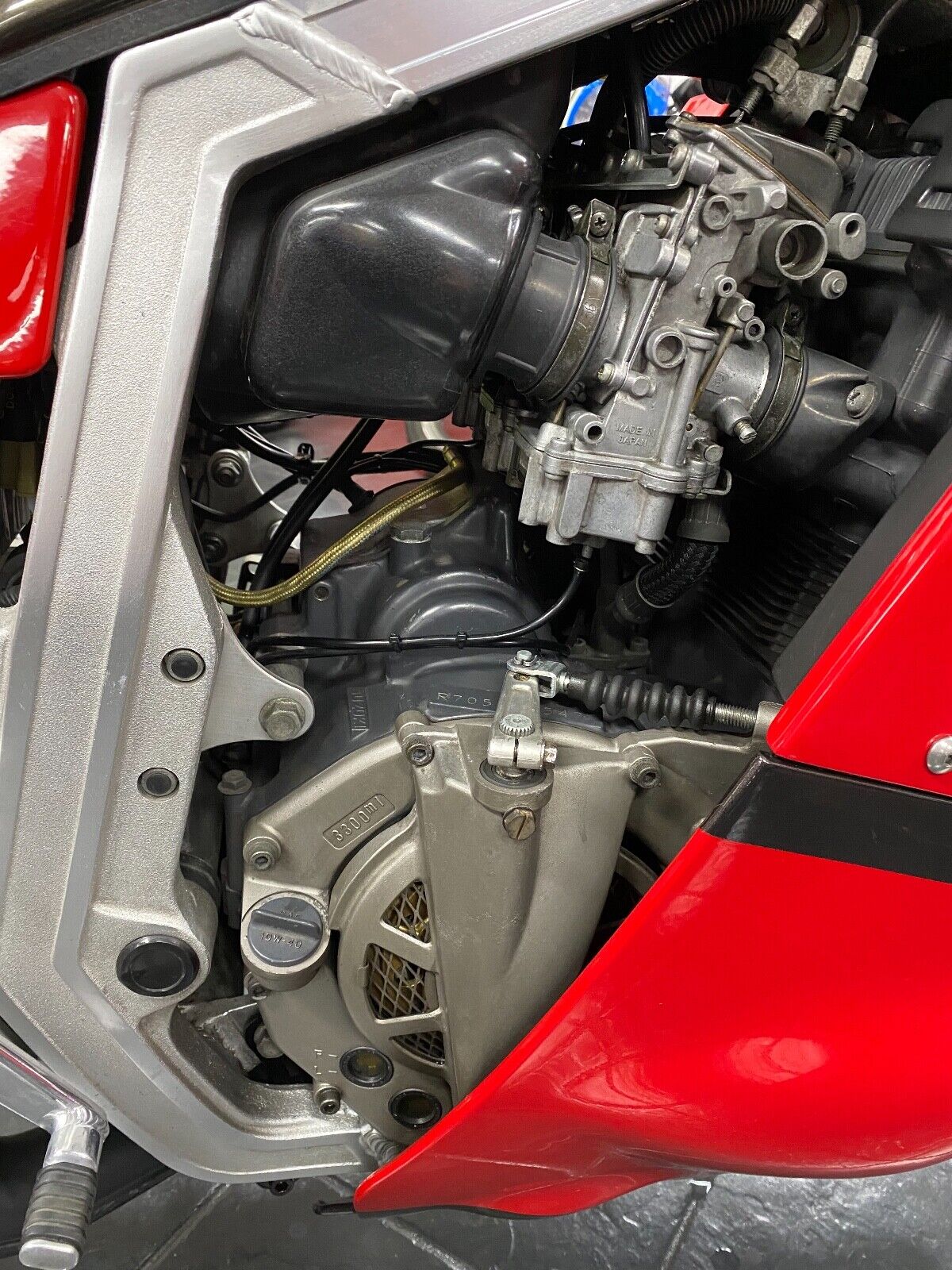 From the seller:
COMING OUT OF MY PERSONAL COLLECTION GLOBEMOTORCYCLES.COM OF OVER 120 VINTAGE MOTORCYCLES 🙂 GLOBE MOTORCYCLES

THIS IS AN AWARD WINNING, ALL ORIGINAL CONDITION ULTRA LOW MILES JAPANESE IMPORT 1986 SUZUKI GSX-R 1100 WITH ONLY 863 ORIGINAL DOCUMENTED KILOMETERS!! FLORIDA TITLE IN MY NAME.

ONLY A HAND FULL OF THESE JAPANESE IMPORTS EVER MADE IT TO THE US. THIS IS NOT THE RARE DOMESTIC LIMITED EDITION.

IN THE STUNNING MUST HAVE, HARD TO FIND FACTORY YOSHIMURA RACING BROWN OVER RED COLORS.
More from the seller:
MY FLAWLESS GSX-R 750 LIMITED EDITION HAS THE ORIGINAL FACTORY ORIGINAL 4 INTO ONE EXHAUST, FACTORY ORIGINAL WINDSCREEN, FACTORY ORIGINAL FLAWLESS SOLO SEAT COVER, AND THE FACTORY ORIGINAL CARBURETOR WITH THE ORIGINAL AIRB BOX. SHE STILL HAS THE JAPANESE WRITING ON THE FRAME DECALS

THE ENGINE:
THE ENGINE IS ALL ORIGINAL AND HAS NEVER BEEN REMOVED FROM THE FRAME AND NEVER BEEN PAINTED. SHE HAS THE ORIGINAL EXHAUST IN FLAWLESS CONDITION, FRESH ULTRA SONICALLY CLEANED AND OVERHAULED CARBURETORS.

THE FRAME:
THE FRAME HAS ALL THE ORIGINAL JAPANESE LABLES AND HAS NOT BEEN TAMPERED WITH AT ALL. ORIGINAL CHAIN AND SPROCKETS, CHAIN GUARD, TURN SIGNALS AND MIRRORS, GRIPS, ECT.
More from the seller:
THIS BIKE HAS BEEN IN THE CLIMATE CONTROLLED CARE OF 2 COLLECTORS SINCE NEW. HERE IS YOUR CHANCE TO HAVE A HUGE PART OF MOTORCYCLING RACING HISTORY IN THE IMPOSSIBLE TO FIND JAPANESE IMPORT COLORS.

I HAVE BEEN COLLECTING, RESTORING, REPAIRING, RIDING, AND RACING MOTORCYCLES SINCE BEFORE GRADUATING FROM AMERICAN MOTORCYCLE INSTITUTE "AMI" IN DAYTONA BEACH FLORIDA IN 1980. I HAVE OWNED OVER 22 GSX-R'S BUT ONLY 1 OF THESE JAPANESE LIMITED EDITION 750'S I NEVER PLANED ON SELLING HER BUT I AM OUT OF ROOM. SO DON'T MISS OUT ON YOUR CHANCE TO OWN ONE OF MY AMAZING BIKES.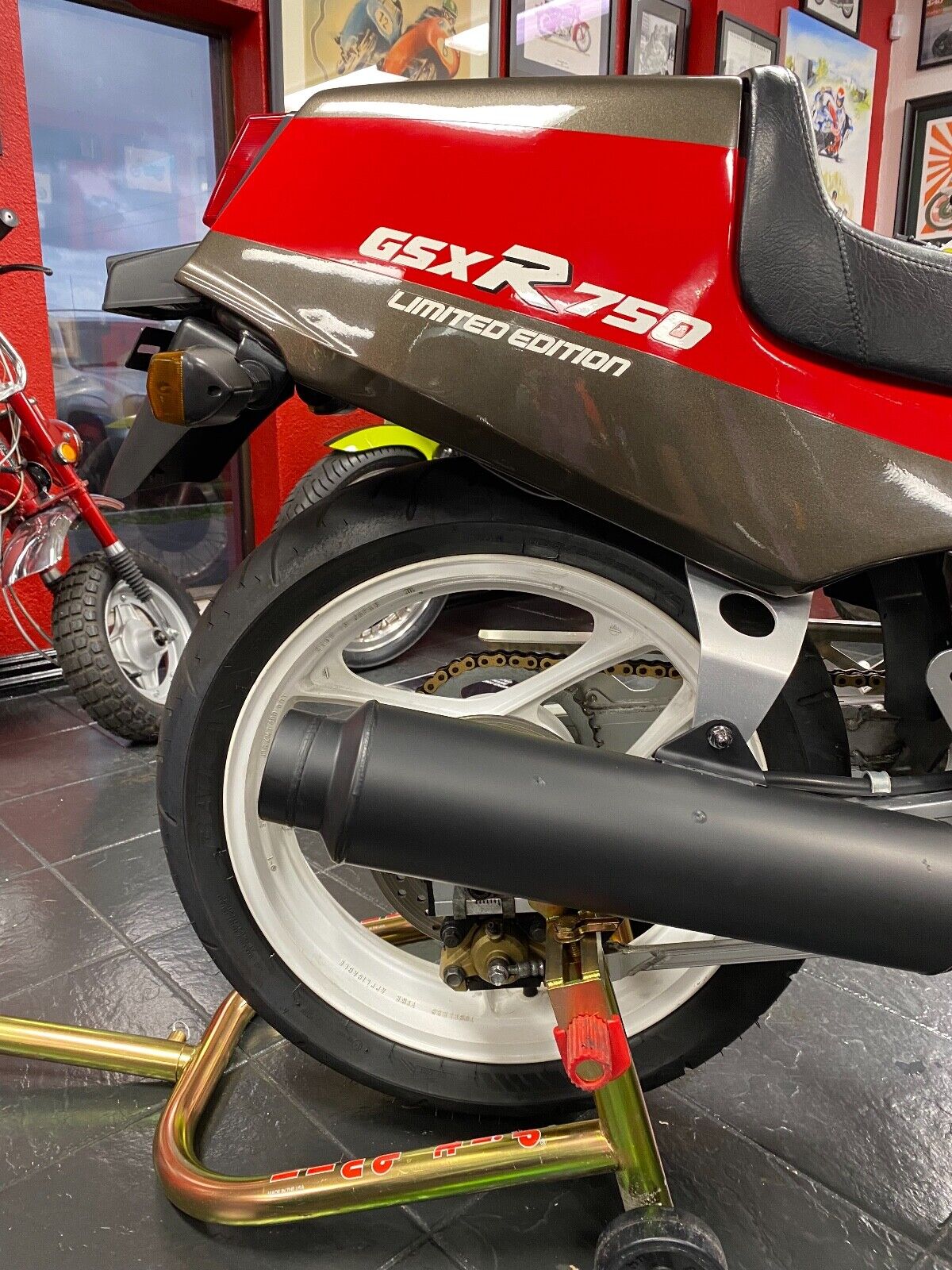 Over and above the rest of world Limited Edition, the Japanese home market LE model came with very distinctive paintwork, a 4-into-1 exhaust that deleted the heat shielding look, and lighting specific to the Japanese market. These bikes also added a fuel gauge to the cluster, but were otherwise mechanically similar to the exports. But there is no looking away from the striking paintwork on an imported LE, and today's example is one for the ages.
With few miles, no observable blemishes, a long ownership history and a clean and clear title, this Japanese home market GSX-R750R Limited Edition looks to be as good as it gets. There is no doubt that when it comes to collectible Gixxers the LE is THE ONE to have, and the model has been outperforming market estimates as handily as the homologation market outperformed the competition on the race track. Bob has started the bidding low, with reserve in place. There is a Buy It Now that can be activated at the reasonable sum of $28,000. Located in Florida, this rare 1986 Suzuki GSX-R750R Limited Edition is deserving of a close up look, and a new home that will appreciate it as much as the seller obviously has. You can check out all of the details on eBay here, and Good Luck!!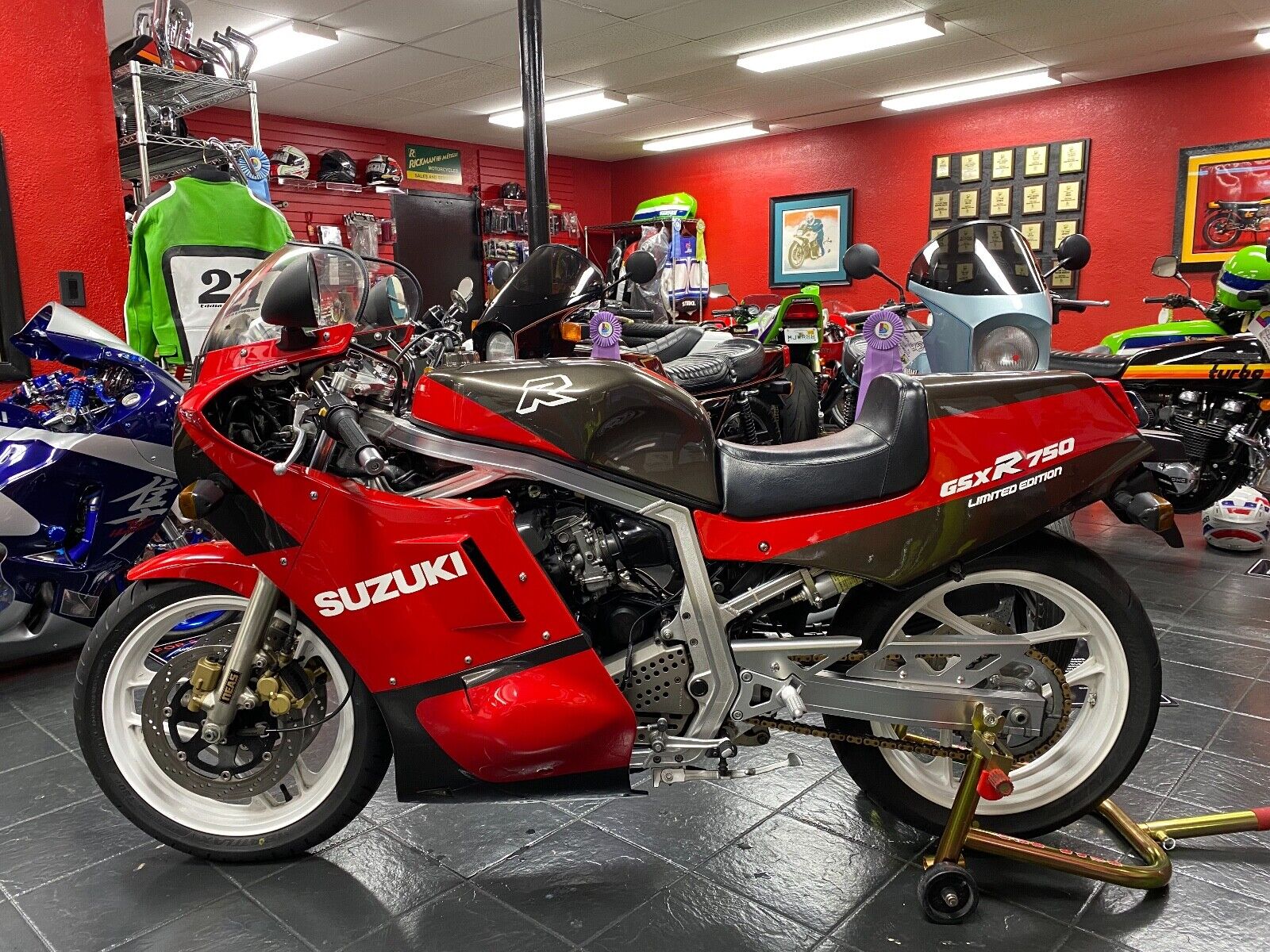 MI