Warning!
This post is in our archives. Links in this post have been updated to point to similar bikes available to bid on eBay.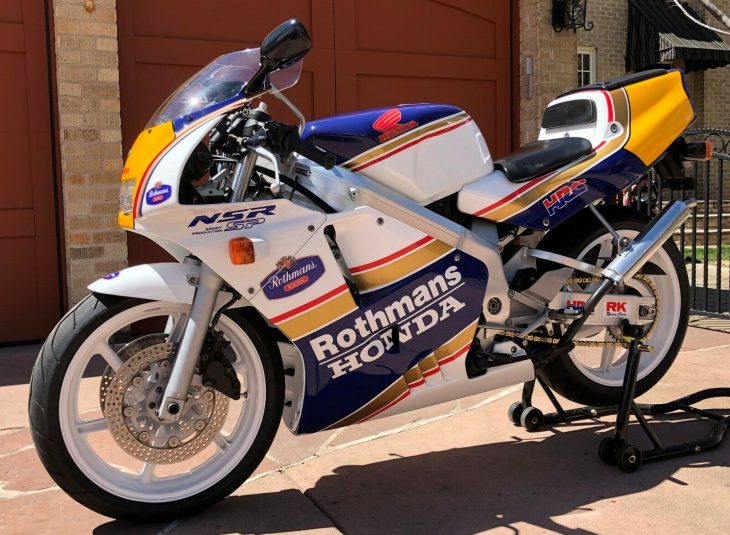 Many Japanese bikes aren't intentionally sexy, in the way that a Bimota or MV Agusta often is, and they often fall flat stylistically when they do try to put style ahead of function. Italian machines are almost gratuitously beautiful, full of details that don't enhance the bike's performance, they just make the parts more interesting to look at. But Honda's two-stroke NSR250R SP isn't that kind of bike. Introduced in 1988, the MC18 version of the bike was motivated by a liquid-cooled, two-stroke 90° v-twin with a cassette-style six-speed gearbox, with the SP or "Sport Production" version adding a dry clutch and Magtek magnesium wheels, along with fully-adjustable suspension.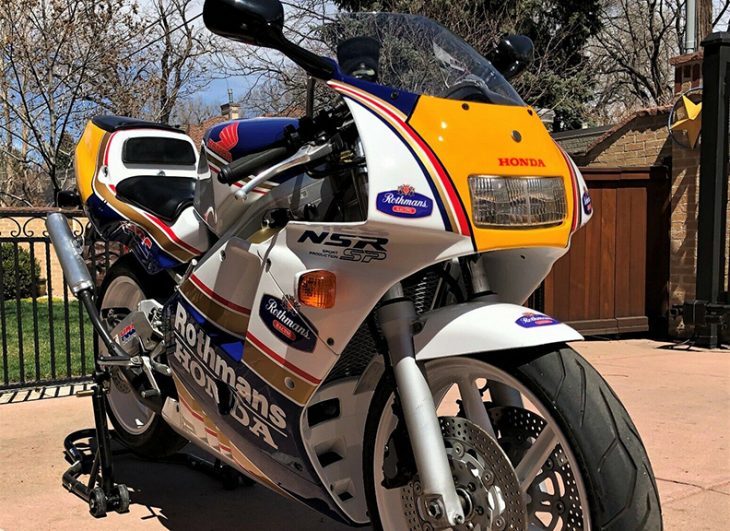 At its heart, a motorcycle is lean and elegant, and should include nothing that doesn't absolutely need to be there. That's especially true for a lightweight machine like Honda's NSR250R, where every extra ounce is an enemy of speed. Instead of swoopy fairings with exposed carbon fiber details like you'd see on something else, it just has simple, elegant bodywork to enclose the hard parts, channel air to the radiator, and improve the aerodynamics.
Instead of an Aprilia's organic, sculptural frame, it's just a pair of extruded aluminum beams with cast sections, light and strong. A cool "gull-arm" swingarm allowed clearance on the right-hand side for the exhaust and expansion chamber to tuck in close to the bike for improved cornering clearance. And all that elegant simplicity adds up to one of the best-looking bikes of the era. It just looks right.
Of course, the "elegant simplicity" goes right out the window with the Rothmans Replica. Subtle, it isn't, but it works, and this is one of my favorite sportbikes of any period. Obviously, I'm not alone, and the NSR250R and Rothmans Replicas in particular are highly sought after, especially clean, low-mileage examples like this one.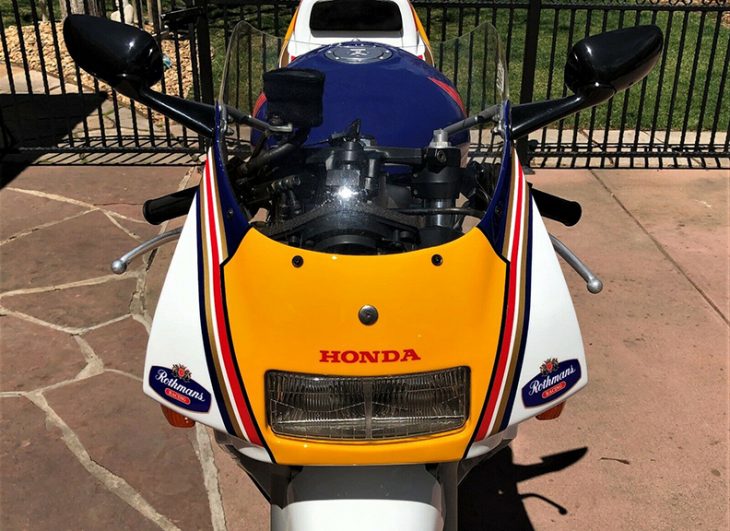 From the original eBay listing: 1991 Honda NSR250R SP Rothmans Replica for Sale
You are bidding on a 1991 NSR250 MC21 with the Rothmans Blue/White livery paint scheme. I purchased this motorcycle from Moto2 Imports in February of 2017 with 8,050 kilometers (5,002 miles) on the odometer. Moto2 Imports brought the NSR250 in from Japan and completely refurbished it. In the 27 months I have owned it I have only put 335 kilometers on the bike and all those miles were mainly for dialing in the correct jetting for my high-altitude riding in Colorado. The NSR250 is in perfect condition and has been stored in my heated garage along with all my other motorcycles. In addition, I installed a 3M clear bra on the upper and lower fairings. All the fluids are fresh and the battery is in great condition as it is hooked up to a trickle charger/conditioner that also desulphanates the battery. I have reluctantly come to the decision to sell my NSR250 for two main reasons, 1) My knees just can't take the relatively cramped riding position, and 2) I have 4 other motorcycles competing for my limited riding time in the summer months and the NSR250 just won't get ridden much and it is just doesn't make sense to me to own a great motorcycle like the NSR250 if it is not going to be ridden as I am not one to just have a motorcycle to look pretty on stand in my garage.

Please note the NSR250 is titled in the state of Colorado and it is also currently registered in the city of Denver. It is the winning bidder's responsibility to check with their local state, county and city of residence to ensure the NSR250 can be registered there. I will be glad to answer any questions or provide any additional photos if desired

The winning bidder is responsible for all shipping charges, but I will be glad to assist with the pick up on my end. I can recommend a couple of motorcycle transport companies I have had good service from in the past if desired.
This example is in very good condition, and has covered only 5,210 miles from new. As the seller mentions, you should check with local laws if you plan to register this for road use, as they vary pretty wildly from state-to-state. It's good that the seller is selling because he isn't interested in a display bike, as these machines were built to be ridden. But I think we can all agree that, if you did want a bike to adorn your garage or living room with some two-wheeled art, the Rothmans Replica would make a great candidate!
-tad