Warning!
This post is in our archives. Links in this post have been updated to point to similar bikes available to bid on eBay.

Update 5.2.2018: SOLD in just over 12 hours! Congratulations to buyer and seller! -dc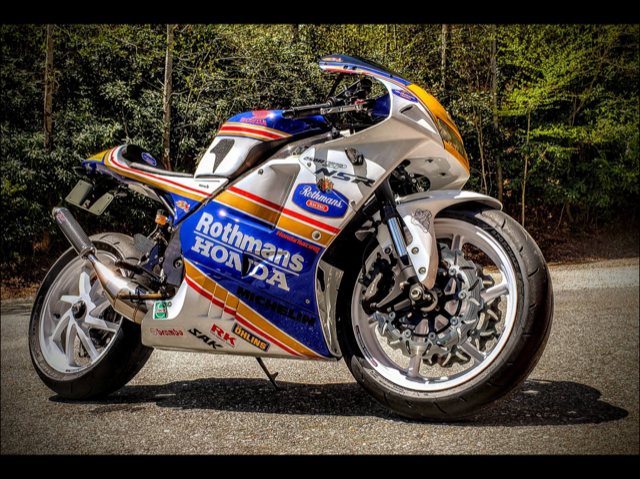 For the most part, we try to post up the very best, most unmolested examples of rare and interesting sportbikes for sale. But once in a while, we color outside the lines a bit and share something more personal, something customized to very specific taste. This Featured Listing Honda NSR250R SE obviously isn't completely original, a kind of Frankensteinian build that could have been a mess, but for the incredible attention to detail and quality componentry that's gone into it. This resto-mod starts with the basic bones of the last of the breed, the MC28, complete with a stylish single-sided swingarm and electronic ignition, then uses later suspension components and more modern bodywork to create a what if kind of machine.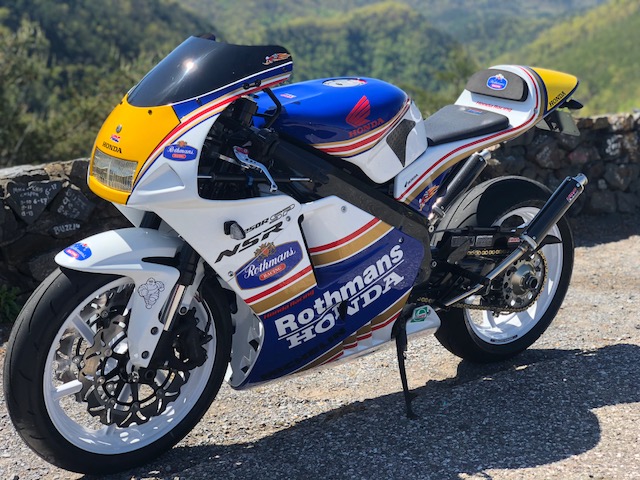 Honda's NSR250R MC28 was one of the most technologically-advanced two-strokes ever built. Sure, it ran carburetors in an era where injection was the fueling method of choice for top-shelf sportbikes, but Honda didn't skimp on the gadgetry elsewhere: ignition was via the aforementioned PGM-IV ignition system that created different, three-dimensional maps for each individual cylinder based on the throttle position, engine rpm, and gear selection. The MC28 also used "smart cards" instead of a key to start the bike. These cards included preloaded ignition maps, and you could exchange the standard card for a race-only unit to bump the power up from the government-mandated 45hp. The downside? The HRC cards with the race maps are nearly impossible to come by now if you don't already have one.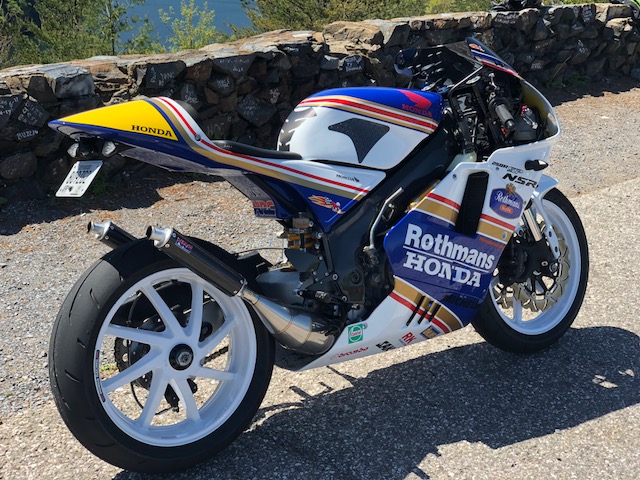 The aluminum beam frame and 249cc liquid-cooled two-stroke v-twin were pretty much standard for the class, but the NSR added a cassette-style six-speed gearbox and their own variation of the class' de rigueur power valve, here called the RC Valve, for more user-friendly power delivery. The SE version used as the foundation of this bike featured a rattly dry clutch for additional racebike credibility. Per the description, the engine in this example been built to a very high standard using quality parts and the included dyno sheet backs up the seller's claim of 61hp at the rear wheel. The suspension is new, with an Öhlins shock out back and a revalved CBR600RR fork up front, complete with much more modern brakes. Those radial front calipers might even be overkill, considering this probably weighs more than 100lbs less than the donor bike, which would already have had superlative stopping power.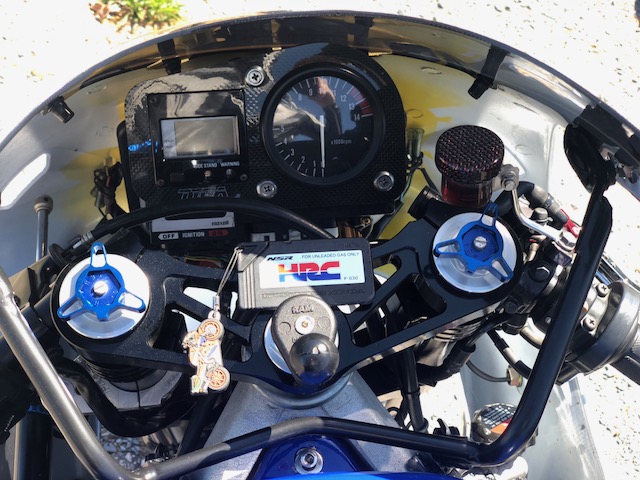 And then there's the styling. If you're a purist, you've probably already scrolled past this one, having noticed the comments section disabled. But for everyone else, the results are pretty stunning, a bit of the old and a bit of the new. I'm not generally a fan of rolling billboards, but it's hard not to love the Rothmans graphics seen here. I'm particularly glad that the builder was selective in terms of applying aftermarket bodywork to this build: I love the sleeker tail section, but Tyga's squinty headlight arrangement looks contrived, so the traditional single lamp seen here looks more NSR-y and a great bridge between the two styles.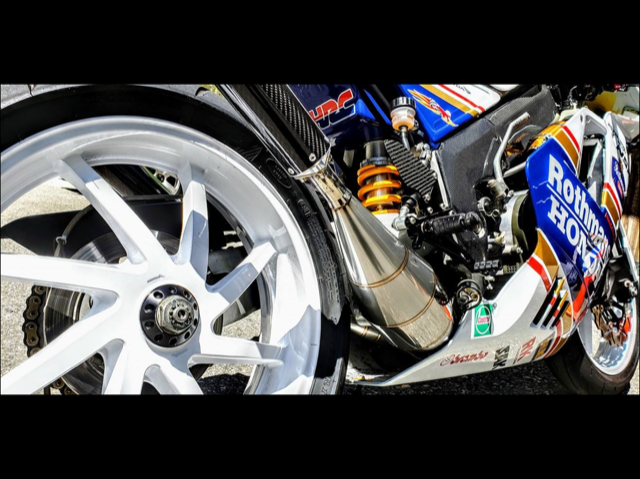 From the Seller: 1996 Honda NSR250R SE Edition (Dry Clutch)
Bike is complete restoration with HRC 030 card derestriction tuned to 61HP, stock air box with oil injection still intact. Engine was completely rebuilt with dynamic balanced crankshaft from Falicon, new Koyo OEM crankshaft bearings. Engine has all new gaskets, bearings, and seals, top end is fresh with 140 PSI compression in both cylinders. Lower cylinder has upper cylinder head for centralized spark plug location for more efficient burn, similar to HRC style head. Jetting HRC style jet kit from T2 racing with carbon fiber reeds and HRC reed stuffers, Tyga air box lid for more air volume with new OEM air filter. Over 10 hours of dyno time, tuned perfect and runs amazing with 61HP, bike runs and drives flawlessly, no flat spots with crisp acceleration. Tyga stainless exhaust chambers with carbon fiber short silencers. Has new EBC clutch and heavy duty EBC clutch springs.

Has SPAL electric fan setup wired to toggle switch for additional cooling. Tyga carbon fiber Frame and Swingarm covers, frame and swingarm are in excellent shape with no damage. Has Tyga similar type of rear sets. New Dunlop 120/70/17 & 160/60/17 Q3 tires. Comes with all OEM original parts included in sale with OEM original fairings.  HRC 030 derestriction PGM IV with wire splice to run HRC 030 card. 

2009 Honda CBR 600RR front end, radial mount calipers, with Tyga Triple tees, steering geometry stays the same with this setup, front forks rebuilt with new valving and springs set up for NSR.  Rear shock is Ohlins, suspension is amazing, bike handles perfect, much better than stock configuration. Wheels are OEM NSR wheels powder coated white, front calipers are stock OEM 2009 Honda CBR 600RR with HH sintered pads with Galfer brake rotors, OEM 2009 Honda CBR 600RR radial pull front brake master cylinder. Rear brake is 84mm Brembo caliper, new Brembo matching pads with Tyga rear brake mount system with braided steel brake line. New DID gold chain and Tyga sprockets, 16/41 gearing. After market body work with Tyga rear tail section and subframe, all painted to match Rothman paint scheme. Has LED head/tail/turn signal lights included. 

Bike comes with Tennessee title with matching VIN number. I promise you will not find another better built NSR in the world,  I spared no expense on this build, I have already sold one on this site and customer loves it, you may contact him for reference, I will provide information if needed. $21,000 or best offer .
If you're searching for a museum-quality collectible NSR, you should look elsewhere. If you're in the market for an affordable daily rider, this isn't the bike for you. But if you want something that answers the question "what if Honda kept building the NSR into the next decade?" A bike that combines the best of the old and the new with optimized two-stroke character and performance, updated suspension, and a more modern style, you'd be hard-pressed to build something like this for the $21,000 being asked.
-tad