Warning!
This post is in our archives. Links in this post have been updated to point to similar bikes available to bid on eBay.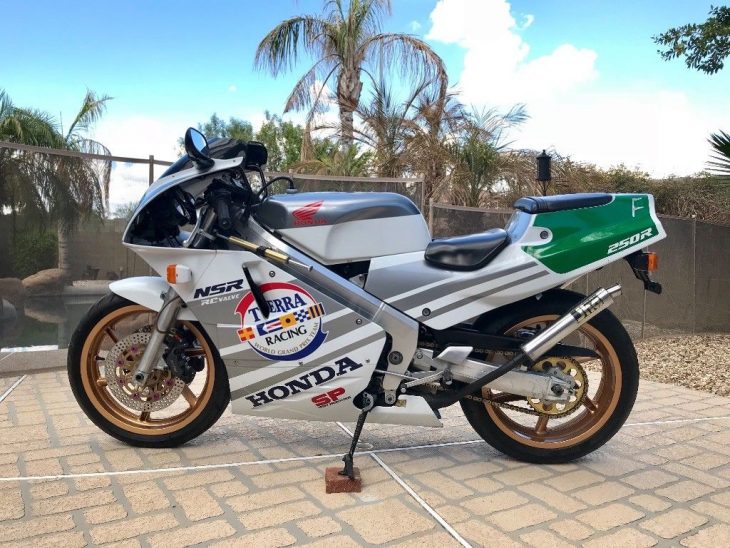 When you mention "race replicas" the phrase tends to conjure up images of lurid colors and graphics freed from any need for subtlety or adherence to an aesthetically-pleasing color palette. Or is that just me? Maybe just me. Anyway, as much as I personally don't tend to be a huge fan of them, there are obviously exceptions: I love the Rothmans and Repsol designs, in spite of their unsubtle styles, and MV's Reparto Corse graphics are pretty cool as well. Of course, the vivid colors and striking graphics obviously serve an important purpose: to help draw attention to what are essentially rolling billboards for the sponsors who pay big money to have their names and logos slapped on these speedy machines. This Honda NSR250R SP Terra Racing Replica is surprisingly subtle, however.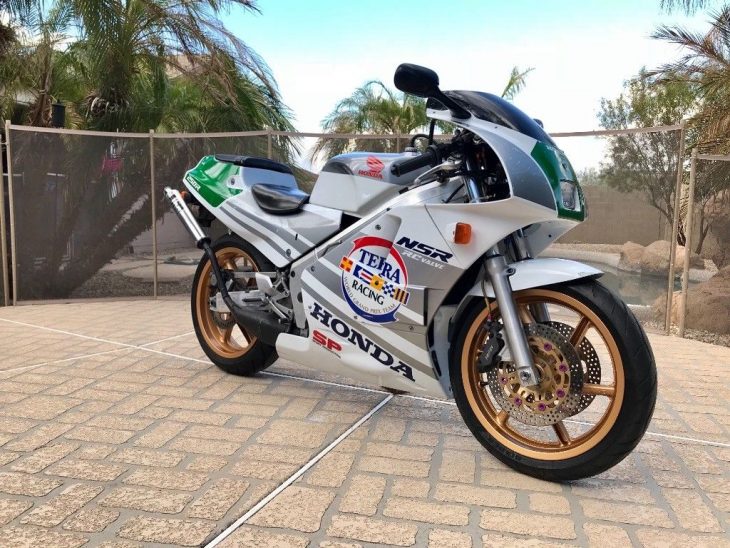 The NSR250R was Honda's standard bearer in the two-stroke sportbike class that was hotly contested pretty much everywhere but the US, where vast distances, straight roads, emissions legislation, and licensing requirements [or lack thereof] meant that the class is virtually unknown to the mainstream biking community these days. The original MC16 version introduced in 1987 set the tone for the series, with a 90° v-twin, alloy twin-spar frame, RC powervalve, PGM electronic ignition, and giant-killing performance.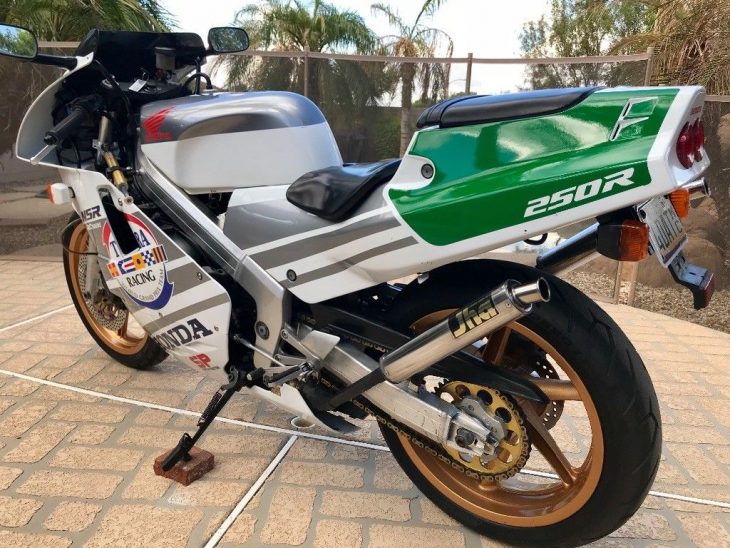 Of course, competition from Suzuki, Yamaha, and later Kawasaki were pretty killy as well, and the intense competition saw the bike quickly evolve into the MC18 in 1988 and the MC21 in late 1989, followed by the final MC28 that came along in 1993. This appears to be a late MC18 R6K, the middle-child version of the bike, since it lacks the larger headlight and distinctive "gull-arm" swingarm of the MC21, and the SP denotes the "Sport Production" version that came with a trick dry clutch and Magtek magnesium wheels, along with fully-adjustable suspension.
Power from the 249cc engine would have been rated at 45hp for Japanese-market bikes, but bikes intended for foreign markets and de-restricted versions can make much more. Even in restricted form, the NSR is pretty quick, with less than 320lbs wet to push around, although two-strokes require quite a bit of work to extract the available performance. If you're interested, top speed is around 130mph, but that's not the point of the bike. Find a tight racetrack or a set of canyon curves that would tie even a modern literbike in knots, make sure you eat a light breakfast to save a couple pounds, and spend a Sunday morning worshiping at the Temple of Lean.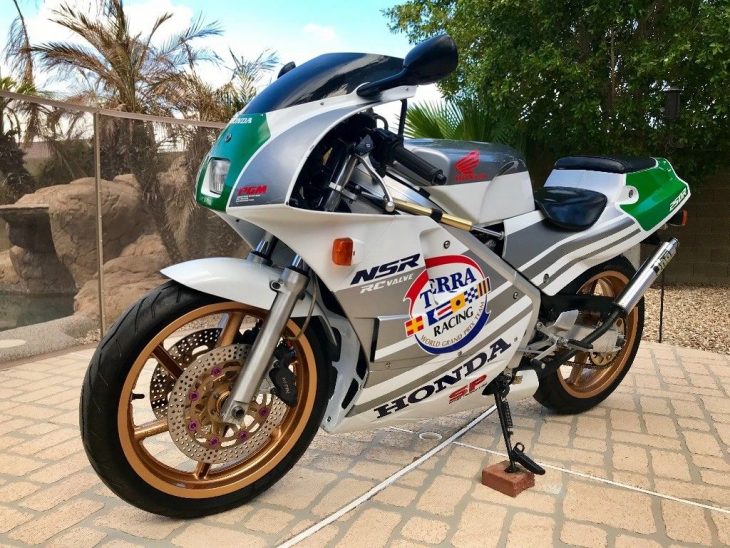 From the original eBay listing: 1989 Honda NSR250R SP Terra Racing Replica for Sale
Up for your consideration is a 1989 Honda NSR250 SP TERRA RACING. This bike is all original minus the full Jha exhaust system, and stainless steel brake lines. From the factory the bike is equipped with a HRC dry clutch, magnesium wheels, and a fully adjustable suspension. The bike sounds amazing and starts first kick every time. The bike  has been fully deregulated and runs absolutely great and is extremely quick despite the cc size. All fluids have recently been serviced as well as two new spark plugs.  Please view all images as this is a 30-year-old original bike with minor imperfections.The bike was legally imported into the United States and I do have a clean and clear Arizona title as well as a full set of aftermarket stock plastics still in the bubble wrap. I do encourage all bidders to please come and view the bike in person, or send someone on your behalf to inspect and view the bike. Please don't hesitate to email for more information as well as pictures videos of the bike running if needed. 
Bidding is currently up to $5,900 with the reserve not met and very little time left on the auction. There are some minor chips in the decals and paint, and some aftermarket farkles like the steering damper, brake lines, and the front brake rotor buttons are obviously not original and are of questionable taste, but simple enough to change or remove. Although they are surprising, considering the claimed [and indicated] miles. Regardless, it is a clean-looking bike and worth a look if the reserve is set at a reasonable point.
-tad