Update: A reader reached out to note that, "The forks are missing the compression and rebound clickers, those are R forks." Seller replied back to us, "I pulled out the books and it looks like the first year for the RS model was a 3XV8 which had the same forks as the standard R model. The next year, 3XV9 and 3XVA came with adjusters." Thanks to SmokinJoe B for the note and Gary for the response. -dc
Yamaha's two-stroke TZR250 was always a bit of an odd duck in the quarter-liter sportbike class. The first-generation TZR was the much more sophisticated follow up to the RD series of bikes and was pretty widely available everywhere but in the US, while later examples like the 3MA and 3XV seen here were only available outside Japan as grey-market or parallel imports and are considered exotic, even in markets where two-stroke sportbikes were common.
Early 1KT and 3MA TZRs used parallel twins, but the final 3XV version finally adopted an "if you can't beat them" philosophy and changed to a small 90° v-twin to match the competition from Honda and Suzuki. The new v-twin displaced 249cc and was backed by a six-speed gearbox. Like the NSR, it featured computer-controlled ignition and Yamaha's YPVS power valve system. In spite of all the trickery, it produced the usual 45hp, limited by the expected Japanese governmental regulations.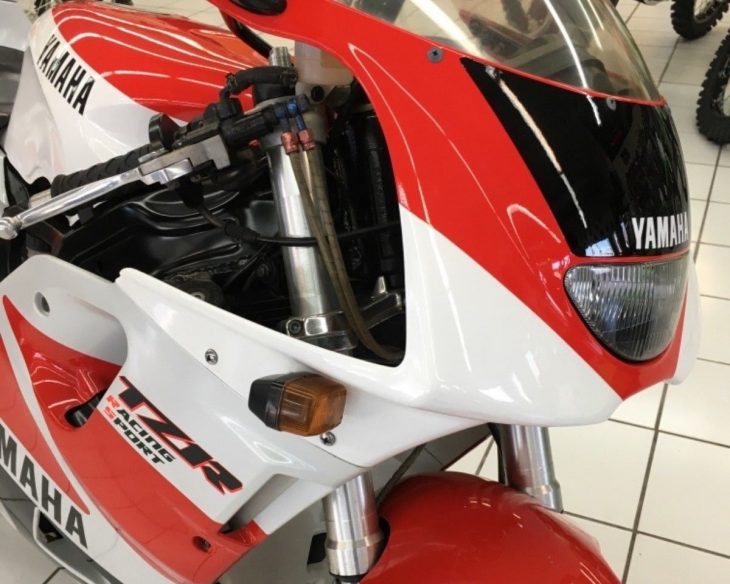 The rest of the specification was pretty similar to the rest of the class as well: a 278lbs dry weight with a stiff aluminum beam frame like other bikes in the class, in this case an evolution of Yamaha's Deltabox, with a banana swingarm to allow the bike's distinctive asymmetrical exhaust to tuck in close to the bike's centerline.
From the original eBay listing: 1993 Yamaha TZR250RS Racing Sport for Sale
Up for auction to the highest bidder with NO RESERVE is a 1993 Yamaha TZR250RS with 16,709 kilometers (10,382 miles). This is the dry clutch Racing Sport model that everybody wants. Bike is in beautiful condition with a few scrapes and scratches. Tank is in perfect condition. All fairings are 100% genuine Yamaha OEM. Upper fairing appears to have been professionally re-sprayed. Bike has a tremendous amount of curb appeal. This RS is a solid rider and is ready to go. Full service just performed with new battery and fluids. Bike runs flawless. Bike comes with Utah state title and is titled as a streetbike for road use.

Merry Christmas!
Bidding is up to just $6,100 with a couple days left and the reserve has been met! As rare as all of these two strokes have been up until recently, I've seen quite a few Hondas and even a few Suzukis, but the various iterations of the Yamaha TZR are still uncommon here in the US, especially in clean condition with OEM bodywork. I'm not clear what "beautiful condition with scratches and scrapes throughout" means exactly, but I'm assuming it means it's been well cared-for and the paint looks good, but has the usual minor blemishes a bike picks up through normal use: a scratch on the tank from a belt buckle, a scuff on the tail from a boot while swinging a leg over, a scrape where another bike parked too close at a bike meetup.
-tad