Warning!
This post is in our archives. Links in this post have been updated to point to similar bikes available to bid on eBay.
Every post will be sent right to your inbox every morning when new posts are made. We will never sell our list or spam you. Plus you can click links to bid or buy right from the email and skip the site entirely. Subscribe to Rare SportBikes For Sale today!
Update 7.3.2018: These bikes are sold and headed to their new owner. Congratulations to buyer and seller! -dc
Writing for this site, it's very rare I come across a bike that has me completely at a loss. I've got a great memory for weird motorcycles: Swallower-built Moto Guzzi with a girder front end and chain drive? Oh yeah, familiar with those. Wow, that's a Morbidelli V8? You mean with the original Pininfarina style, or the redesigned bodywork? Hey, look: a Dan Gurney Alligator in the flesh! I've only ever read about them… I'm generally at least passingly familiar with a pretty wide range of weirdo machines, even if I couldn't write a post about all of them without doing some research. But today's Featured Listing Gallina Hayashi Quattro 750 LE? That's a new one on me.
Digging around the interwebs, there's not much out there about the bike that doesn't require Google Translate. No surprise, since just ten were supposedly made, and this listing includes two of them! The overall look of the Quattro 750 is "Japanese Bimota": the bodywork has a very late 80s YB7 vibe, and the hybrid trellis frame with machined aluminum side plates has hints of both the early SB and later YB models. No real surprise, since the bike was styled by Roberto Ugolini, who had a hand in several famous Bimota designs, including the Tesi 1D.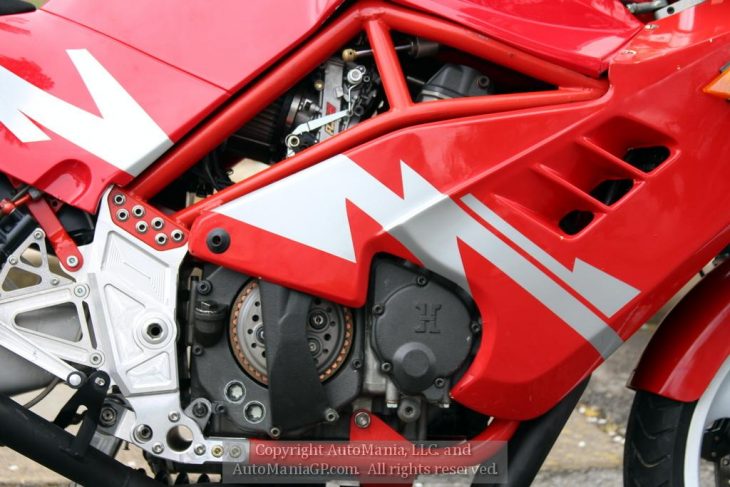 So who was Gallina Hayashi? Well the better question is, "Who were Gallina and Hayashi?" Roberto Gallina was a motorcycle racer who rode for several different Italian brands and went on to manage teams in Grand Prix and endurance racing, before moving into boutique road and race bike design. He was the brains of the project. The financial brawn came from Yoshiyuki Hayashi, a well-heeled and very passionate car and motorcycle enthusiast who wanted to fulfill every gearhead's ultimate dream: built their own vision of the perfect motorcycle.
The engine appears to be based on, or is at least inspired by, the Suzuki GSX-R750 as it uses a very similar cooling philosophy. The bike eschews water-cooling to save weight: the cylinders are air-cooled and the head is oil-cooled, although the fins on the Quattro appear to be more pronounced than on the GSX-R. Cases were magnesium to further reduce weight, and the Gallina Hayashi Quattro replaced the conventional timing chain with more precise gears to drive the camshafts. A dry clutch and six-speed gearbox from Suzuki put the claimed 130hp to the ground.
The initial production run of ten bikes proved to be the only production run, and all were hand-built, with slight variations between individual examples. Some were fitted with carburetors, although probably not the Keihin FCRs seen here. Other bikes were supposed to be equipped with fuel injection, but I'm not sure if any actually were actually built that way.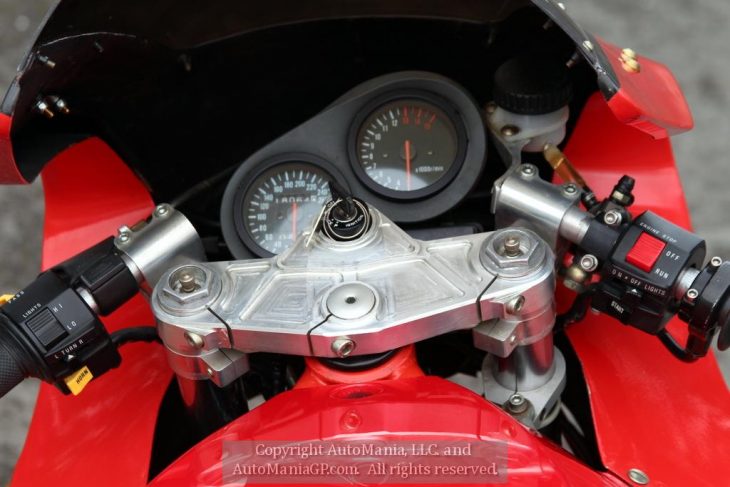 Honestly, there's more information in the customer's original post than I could find digging around the internet.
From the seller: 1990 Gallina Hayashi Quattro 750 LE for Sale
VIN#: A00007

Amongst all of Mike Canepa's motorcycles, the most exotic and best storied bikes are the two Hayashi Gallina's that he purchased from Rob Iannucci 20 years ago.

A brief back story of Roberto Gallina includes him as a team rider in the day for Benelli, Ducati and Laverda followed by team management in GP and Endurance Racing and onto design and production of numerous one off Superbikes and Race bikes out of his factory in La Spezia, Italy.

Yoshiyuki Hayashi was a Japanese well funded investor, owner of the Fuji Track, with deep support of different Japanese motorcycle and car teams and his own Grand Prix Motorcycle Collection. His dream became designing and producing his own motorcycle, turning to Gallina in Italy to express his vision. A quote of his was,

"Everyone is free to have a dream, however big it can be. How can a man without a dream be attractive? Once you, however, speak of it in the presence of others, you must make it come true with your efforts"

His is a fascinating story and for another time. This is about the ten motorcycles they created together, two of which sit in our shop for sale, the Hayashi Gallina Quattro 750 L.E. . Their mission, to create a motorcycle that 'must be faster than the Japanese bikes and more fascinating than Italian motorcycles in old days'. Things were humming along very well when the Japanese economy collapsed in the "Great Recession" of 1990. Hayashi was deeply affected and was forced to withdraw his financial backing immediately, leaving only the ten motorcycles completed before the program imploded.

It is a pretty involved story about the creation the design and technical aspects of the bike and to be frank, I am not up to the task. There is a very well written article by Alan Cathcart in the November, 1990 issue of what I assume is Cycle that covers all of this in detail. We have a copy of the article that will go along with the bikes. To be frank, we are selling the bikes and in that context, history and details are too beyond my capacities to be correct or accurate. Buy the bikes, get the articles for free, become the expert!

So, the bikes ended up with Rob Iannucci of Team Obsolesce back in the early 1990's. I have a bill of sale hand written on a scrap of paper showing frame number A00002 being sold for $60,000 in 1994. I do not know if that is when Mike got that bike and frame # A00007. It is not reflected anywhere in any of the paperwork that we have. What I was told by Mike was that he took A00007 to Carey Andrews in California and had Carey install the Gallina design dry clutch and flat slides. The odometer shows 18,064 kilometers. The A00002 bike shows 178 miles. There is no way to be certain either figure is accurate or actual.

What I can see and know about the bikes is that the engine was based on an air cooled Suzuki 750 with chain driven camshafts. Gallina recast the cases, the cylinders and the head, converting the camshaft drive to gear drive instead. The Trellis frame is obvious but the low mount rear shock with rising rate spring has to be seen by looking under the motorcycle. Looking over the images you can see all of the billet, machined components on the frame and steering assembly. After all, these were hand made, one off motorcycles. The best way to know what the bike is about is to look over the images.

And now they are for sale. A brief history since Mike owned them. They were not carefully stored. Nothing Mike had was carefully stored. The body work is scared and chipped from being moved around his shops over the decades. We spent some time cleaning A00007 but did not touch A00002. A00002 is missing the throttle control and front master brake cylinder and the body work is in rougher shape then A00007. Also, the ECM is held to the rear sub frame by electrical tape. Neither bike has a battery nor have we made an effort to start them. The fuel tanks smell terrible and we have no idea of the oil's condition. What also comes with the bikes is a spare set of cases, cylinders and head as can be seen in the images. Everything that is included with the bike is shown, nothing more is available that we are aware of.

Each bike has an Oregon title of ownership reflecting the VIN number stamped in the frame by Gallina. A00002 and A00007. We do not know the mechanical condition or if all of the parts that made up these motorcycles are here. What is being sold is what is being shown. Stated mileage is what is being read off of the gauges mounted to the bikes and we are not stating that to be actual or accurate. What we are stating for a fact is that we have two of the ten bikes built for sale. You be the judge of what is here. But what an opportunity, a once in a life time chance to own something this special, this rare and this beautiful. The task is not for everyone, only for the individual who knows what he is looking at, knows what has to be done and has the same dream as Hayashi-san to make it happen.

The selling price for both bikes and the spare parts is $30,0000. Oregon titles of ownership will be supplied. For other interesting bikes and collectible vehicles, visit our web site http://www.automaniagp.com 541-479- 8888 or come by and see us at 895 SE Gladiola Drive, Grants Pass, Oregon, 97526. Oregon Dealer DA1287.
So neither bike is perfect, and both will require a mechanical refresh before they'd be ready to ride. But aside from the bodywork, I'd expect the rest can be repaired or replicated, and $30,000 for the pair sounds like a pretty fair price, considering the rarity. Sure, neither have any sort of legitimate racing history or proud factory lineage. But the Quattro's creators certainly had credibility to spare and, if you ever had the nerve to actually use one in anger, I expect they would perform as well as any of the homologation specials that grace our pages.
-tad