This morning we have quite the rare find here in the states, a Ducati 888 SP4. Since we started the site, and I have been a Ducati fanboy, we have only listed one other SP4 available in the U.S.
1992 Ducati 888 SP4 For Sale on eBay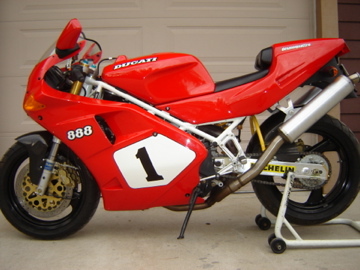 From the seller:
1992 Ducati 888 SP4 #465 2121Km or about 1317 miles total milage.

Some factory upgrades over Strada or SPO
Ohlins superbike suspension front and rear with adjustable rear ride height
Aluminum rear subframe
Brembo full floating cast cast iron rotors
45-50mm exhaust
Oil cooler
Twin injection per cyclinder
Special camshafts
Close ratio gear box
Carbon fiber mud guards front and rear

Bike was purchased new at MCC – Motor Cycle Center Viila Park ILL. I am the second owner. All paper work that comes with the bike is – original bill of sale when purchased new along with warranty registration / pre-delivery check list – owners manual – clear Minnesota title – and a copy of the state of ILL. title from when it was first titled. The SP4 is all original as it was delivered new except for the oil filter, fuel filter and in tank fuel pump which I replaced before starting the bike. It runs and idles well, I have not ridden it on the road because it still has the 20 year old Michelin TX Hi-Sports tires and cam belts from new and think they should be change before any spirited riding. The bike is NOT concours condition but is a nice all original bike. Some clear coat is flaking on the engine cases, the right hand fairing has two small cracks and a paint chip spot , the windscreen is also cracked on the right corner, I don't know how the damage happened. Some of the zinc plated parts are showing some oxidation ( battery hold down, Ohlins shock reservoir clamp) and a couple of the fasteners that were close to the floor. Flaws aside this would make a nice daily rider with some new tires and cam belts or bring back to new condition and show it as there is only maybe 5 or 6 888 SP4 's in the U.S.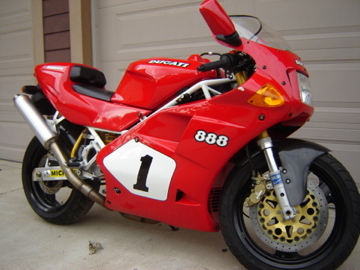 While there a few tiny blems, most will be relatively easy fixes and the rest I could live with considering it's rarity here and the upgrades over the models U.S. customers were originally offered. Bidding is over $13k as of this writing and reserve has not been met. Any speculation on what reserve might be? Leave a comment below.
dc