Update 8.26.2016: Sold! Congratulations to buyer and seller! -dc
Far less common and cliché than the 916, the Ducati 851 represents the connoisseur's choice for Ducati fans looking for a classic superbike. Although it's hard to argue with the significance of the 916, it's almost a victim of its own success. I mean, nearly the same bodywork for twenty years, in two different sizes, for three generations… there's just too dang many of them. So while the SPS and R models certainly qualify as "rare" and low-mileage examples are quickly increasing in value, it's not too hard to pick up decent 916s and especially 748s for under $5,000 if you look around.
But the 851 and 888 were made in much smaller numbers for a much shorter period of time. The 916 may have perfected the formula, but the 851 is the founder of Ducati's superbike feast. It was the first roadgoing Ducati to feature the four-valve, liquid-cooled Desmoquattro. The bike came about because of the company's need for a more powerful engine to compete in World Superbike racing. Their air/oil-cooled engines were certainly competitive in smaller classes in the early 1980s but Ducati needed something far more potent to compete against the 750cc four-cylinder machines from Japan.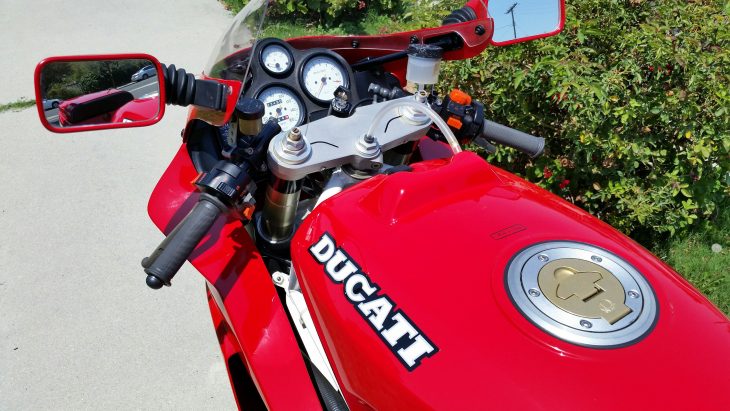 Introduced in 1987, the bike was a success both on track and in the showroom, and helped establish Ducati as the sportbike player it is today. The heavily-revised engine kept the fat midrange of a twin, but coupled it with more revs and a 93hp top end that helped it keep up with the screaming four-cylinder competition. Styling is chunky and less sexual than a 916, but it looks purposeful and distinctive, with a pair of traditionally-mounted exhausts announcing the bike's v-twin-ness.
Today's example appears to be very clean and well-maintained, with a number of tasteful and functional updates, and that very reasonable $6,400 asking price just sweetens the deal.
From the seller: 1992 Ducati 851 for Sale
This is a great bike that has had a few appreciative owners. Don't worry this girl has been well cared for. In the last 2 weeks and 50 miles the oil, brake/clutch fluid, and belts have been changed. When the Tech changed the belts he went over the bike and feels it needs nothing. I've had it for the last 18 months and I've ridden it about 1500 care free miles. This girl is ready to ride, needs nothing. 
I bought this bike about 18 months ago, I planned to keep it for a while but I recently lost my storage so I should sell a few bikes.

Metzler Sportec tires, less than 2500 miles
Shiny Carbon Fiber – Front Fender, Belt covers, Clutch cover, Countershaft Sprocket cover, Rear "Hugger"
Stainless front brake lines
Barnett Clutch – installed 1500 miles ago
Lightweight aluminum clutch Hub
Evoluzione clutch slave
Nichols Motorsports Engine Bolts
Classic Carbon Ferraci High pipes, these are the good ones with badge not the cheesy sticker. Ferraci Chip, K&N AirFilter (Don't have Airbox lid)
520 racing Chain conversion — DID O-ring chain, hardened sprockets – Installed 1500 miles ago
Forks were re-built with stock internals, 1500 miles ago.
23,300 miles
$6400
Miles on this particular bike are higher than on some of the top-dollar collectibles and it's not one of the rarer versions of the 851, but maintenance appears to have been pretty meticulous and the bike has obviously been owned by enthusiasts. "Low miles" is an appealing quality in theory but, when you're looking at a 24-year-old motorcycle, "high-mileage with regular use and careful maintenance" is a far better prospect than "low-mileage and has been sitting in my living room for the past fifteen years." Motorcycles, particularly Ducatis, do not do well with extended periods of inactivity but the basic mechanicals are, in fact, pretty robust and this example is just what you want if you intend to ride your collectible. Certainly, a 916 has the more iconic looks, but an 851 is rarer, has humane ergonomics, and offers up similar performance, making it the less-obvious choice.
-tad