When it was introduced in 1985, Suzuki's original GSX-R750 set the standard for production sportbikes that's lasted through the modern era. Interestingly, the first GSX-R's eschewed water-cooling to simplify the engine in a bid to save weight at the expense of overall power. The aluminum beam frame and monoshock rear suspension and fully-enclosed bodywork with endurance-racing style were a rarity in 1985 and rounded out the very complete package.
The second generation continued this tradition and otherwise followed the template set down by the original "Slabby," albeit with updated styling and 17″ wheels. That makes this particularly short-lived generation a great rider's bike, looking both backwards to a more classic style, and forwards, with a variety of tire choices available for the 17″ wheels.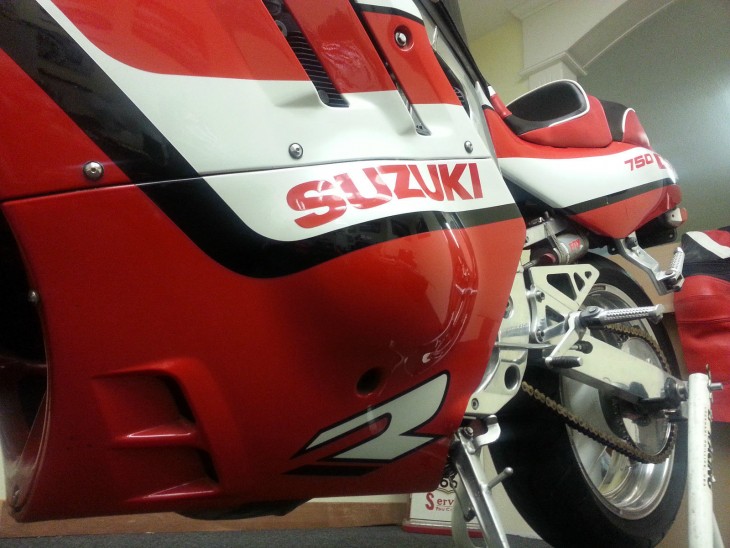 Suzuki sold plenty of these "Slingshot" GSX-R's, so named for their carburetors. But many were ridden hard, written off, or otherwise neglected, and bikes in this sort of condition are pretty hard to find. Not as collectible as the first generation bikes, not as competent as later models, but these are, to me, some of the best-looking Gixxers ever. When new, I'd likely have preferred this red, white, and black scheme, although these days I find myself more drawn to the classic Suzuki blue-and-white colors.
From the original eBay listing: 1989 Suzuki GSX-R750 for Sale
Up for auction is my 1989 Suzuki GSXR 750 Slingshot 17k miles 2nd owner… Very good condition all original plastics never been down. Little crack on left rear plastic from replacing battery last summer. Clean carbs will need to be cleaned does run good and strong. On the road last summer carbs need to be clean runs strong upgraded fox suspension polished wheels frame steering damper. Custom Corbin seat bike runs great and the suspension in handling is awesome. All original plastics in near excellent condition including tank registered..
There are a few questionable details here. The wheels do vary a bit from photo to photo: they're solid white in some of the pictures, and have a polished rim in others. It looks like they were going for the Marvic modular look as seen on the Ducati Superlight. And those flush-mount signals, while sleeker than the stock items, would absolutely have to go, were this my bike. I'm sure it wouldn't be too much work to fit some low-profile LED units or subtle bar-end signals, or something like signals integrated into the tail lamp and headlight units.
The Corbin seat is likely far more comfortable than the stock item, although the stepped design is a love-it or hate-it kind of thing. Plan to put real miles on your bike? Definitely worth keeping on there.
With 17,000 miles on the clock, mileage is very reasonable and, although it will need some attention, there's nothing outside the abilities of a competent mechanic. All-in-all, a great-looking classic Suzuki.
-tad