We don't normally post project or incomplete bikes here on RSBFS, but this one seemed too good to pass up: one of Cagiva's inspired but ultimately doomed series of 500cc GP machines, the V589. Battling against the established giants, Cagiva originally experimented with an inline-four configuration but eventually followed Suzuki's successful formula with a square four, before switching to a V4 in 1986. They may have struggled to win races, but if bonus points had been awarded for looks, the Cagivas might have stood a better chance, since they're considered by some to be the prettiest racebikes of all time.
Even if you don't agree, the specifications are certainly stunning: in an effort to keep up with the more established players, Cagiva experimented with some really wild technology, considering these were racing in the late 1980s and early 1990s. Extensive use of carbon fiber, traction-control, and electronic suspension were all tried to give Cagiva a competitive edge, although consistent success eluded them and they withdrew from competition at the end of 1994.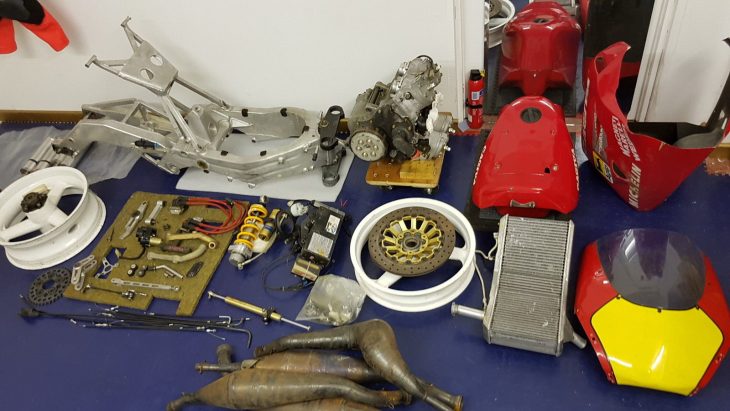 Earlier machines like this one had clear stylistic links to the Ducati 916 and Cagiva Mito which should be no surprise, as the V589 was designed by Massimo Tamburini. Some versions included a carbon fiber swingarm, although this one has the aluminum version. Much of this V589's bodywork is missing, but that's no surprise as those bits are pretty expandable on a race bike. Fortunately, it has the all-important frame, although it sounds like that will require some changes to re-orient the shock, as it was modified at some point to try an alternative configuration.
From the original eBay listing: 1989 Cagiva 500GP V589 for Sale
This is a genuine 1989 Original Factory Works Cagiva V4 500 Grand Prix race bike, as ridden by Randy Mamola etc. It is sold as an incomplete project and is for restoration.

The engine has been rebuilt recently and is fresh but I would still check it as it's stood for a little while. The factory records confirms the original build date of 23/06/89. The frame is chassis 4, it has a special fuel tank which was used to test the ignition in the tank area and also modified to try a top mount shock rather than the original horizontal fitting. The swing arm and shock are the original horizontal type so the frame would need reverting to take the horizontal mounts. There is a linkage arm, the shock is a special Öhlins 500GP unit made for Cagiva. The dash includes temp gauge, Magnetti Marelli ignition, rectifier, battery, PV controller. There is a radiator, coil packs, PV motor, magnesium wheels with front discs, sprocket, cables for throttle and pv, the complete triple clamp magnesium assembly, footrest hangers, rear master cylinder, cast water pipes, upper front fairing, belly pan with air box sections. There are exhausts and silencers but will need modifying to fit as they are later year. Some small parts also. So it is a very good basis. All the parts are original Cagiva GP but as the bikes changed constantly from race to race some parts are from varied dates and may need work to fit. Please study the photos to see what is included, everything is shown.

The main missing parts are fork legs (Marzocchi or Öhlins were used at various times) carburettors, brake calipers (Brembo or AP were used) seat unit, mid-fairing section, tacho, bars with levers and throttle, wiring, some other small parts.

I can put the buyer in touch with a collector who has other Cagiva parts to finish the bike.
The price for this one-of-a-kind bit of racing history? Just $55,000 but, considering the missing parts and what they will cost to track down or create, this is definitely an "experts only" proposition, but those of us with reasonable means can still look at the possibilities and dream…
-tad