Orlando, FL – 58,837mi – $5,500 BIN
Update 4.8.2013: Links corrected, sorry for the error. -dc
We have seen a handful of FZR1000's pop up for sale in the last couple months, with a lot of very clean examples in the group. Some have been earlier non-EXUP models and some have been the later, and seemingly more coveted, EXUP models like this one for sale here. If you're like me, then you never get tired of seeing clean and well maintained FZR1000's.
This bike up for sale here is another example of a well maintained and tastefully upgraded bike. Can you believe this bike has almost 59k miles on it? It sure doesn't look like it to me. The bike has some tasteful and performance oriented modifications including an Ohlins rear suspension and steering dampener. The engine has had a refresh with a 1mm overbore as well as some NOS fairings (some old included with sale).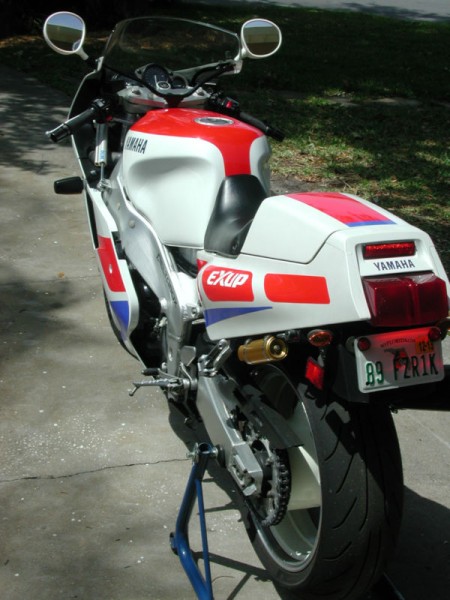 From the seller:
1989 Yamaha FZR1000. One owner since new. Same technician has serviced since new. Numerous upgrades including Ohlins rear suspension, Ohlins steering dampner, Werks front springs. Full D & D exhaust. EXUP has been removed. Engine has extensive head work, carbs are 39mm smooth bores. Motor was refreshed in 2000 with 1mm over Yamaha pistons, all new bearings and seals. All rubber dampners replaced. Steering head bearings and rear swingarm bearings replaced. All fluids recently changed.New fiber clutch plates. New front brake rotors. New chain and sprockets. New Michelin Pilots. Valve cover also replaced as original was starting to peel. Bike has been maintained religiously and with painstaking detail. Even stock bodywork was replaced with NOS bodywork to keep looking new. Have original body parts as spares. No expense has been spared in keeping bike in near perfect condition. Bike is very fast, not for beginners.
The last FZR1000 EXUP that went up for sale here had about 20k less miles and was closer to stock, but just as clean as this one. It went for $5,500, which is the BIN for this bike. I suspect the Reserve to come off somewhere around $5k. Miles are higher, and this bike is not as close to stock. However the condition is very good and the maintenance sounds good and that this bike is well cared for. I would put this bike right around its BIN for a selling price. If you want it, you better act fast as there are only a couple of days left. Check out the auction by clicking here!
-JS