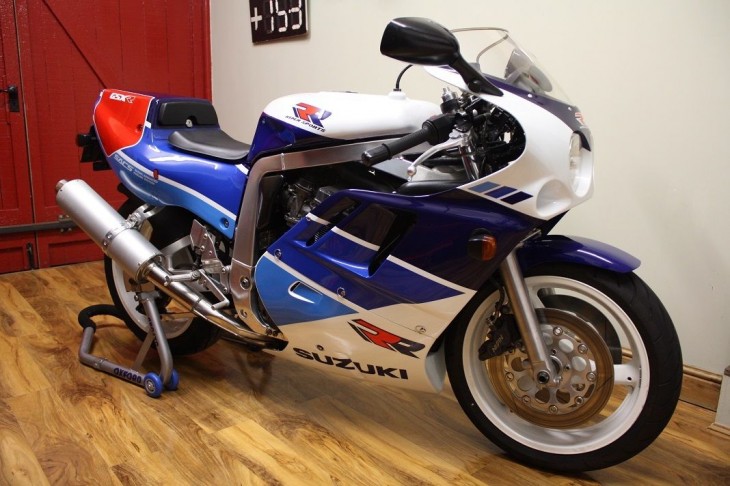 Beloved of squids, teenagers too young to hold a motorcycle license, stunters, track-day junkies, racers, and well basically everybody, it's hard to get excited about a Gixxer up for sale. Their sporty good-looks and sheer competence mean that they're basically everywhere, in every sort of condition, and certain generations were aesthetically challenged to say the least.
But none of that's a problem for this particular example, a 1989 Suzuki GSX-R750R.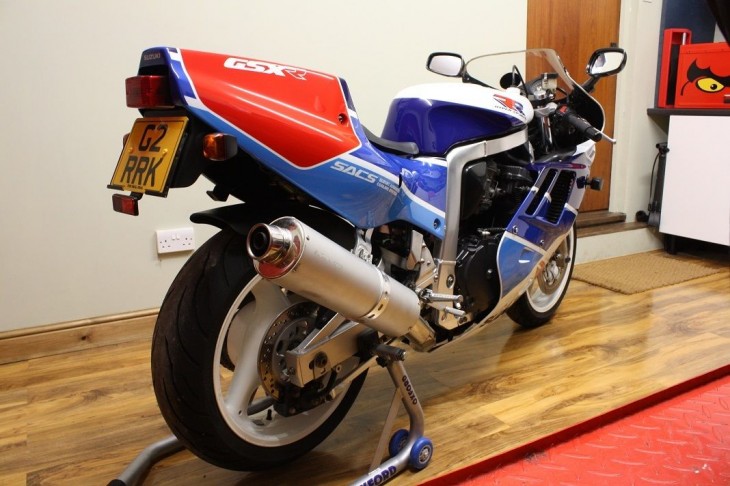 "Race replica" of course really describes all GSX-Rs, but this one's a real race replica: only 500 were produced, with just 200 making their way to Europe, 50 to the UK, and basically none making it to the US, except as grey-market imports. On the surface the Double R might have looked like a standard GSX-R with a red solo tail section, but it featured many redesigned, strengthened, or adjustable parts intended to make the bike competitive in racing
These were homologation specials, and many were snapped up by race teams and collectors, making them exceedingly rare and collectible when they end up on the open market. This example is claimed to be "one of the finest examples left in the world". Although I'd have liked more pictures to ogle, the couple the seller did include suggest that it's every bit as good as that.
From the original eBay listing: 1989 Suzuki GSX-R750R
Absolutely standard trim, with a mere 2,190 miles since new and still with its original tyres!

I am reluctantly selling my very rare, exceptionally low mileage Suzuki GSX-R750RR also known by its model prefix as the RK. One of only 500 units made in 1989 to homologate for World Superbike racing, there are reputedly less than 100 of these left in the world. Of those left, ones in this condition are in numbers of less than 10. 'The Real Deal' as she is aptly known is number 260/500 and was built at the Hamamatsu plant in Japan.

Imported and owned by my late father from its first owner in Japan and now owned by me, this family owned example was still shod on its original factory issue Michelin tyres from 1989, which bear testament to the mileage of just 2190 miles (actually in km's). The original tyres are still with the bike but in order to pass an MOT which I thought essential for any would-be buyer, the bike has a brand new pair of tyres on it. She has also been fully serviced by the HRC technician who builds the official HRC engines for the UK and Suzuka 8 Hour racing effort. Again, I felt essential to ensure that whoever buys this beautiful machine, can be happy in the knowledge that she is mechanically superb. The service / recommison included all ancillaries, battery and lubricants along with a full carburettor service including cleaning, new gaskets and seals and then balanced to ensure absolute perfection.  

The bike is immaculate in every respect from the underside of the belly pan to front fairing to the tailpiece and is totally unmolested. It does bears age related patina such as small amounts of mottling on some of the aluminium components and the original Suzuki factory paint on the wheels has imperfections but this again demonstrates the absolute originality of this beautiful Suzuki. For the last 3 years she has resided in my walnut-floored garage, covered and only bought out for the odd show or to warm her through gently.

She has a personal registration plate ending in 'RRK', I have the parts catalogue in Japanese and English, an accessories catalogue in Japanese, magazine articles relating to the 'RR', GSXR books, the V5c, MOT certificates, two keys including the registration key (unheard of!) and a display board detailing all about this very special machine. She is SORN at present.

If rarity is your thing, then look past the RC30 or OW01, this GSX-R is the one to have. Of the few original units left in the world, this is undoubtedly the finest.
The Double R looks great in classic blue and white with that red tail section, with relatively simple graphics before the Japanese manufacturers went off the rails with lurid colors and graphics in the 90's… With such low mileage, it's a shame that this bike will probably be tucked away in a collection.
This is a classified ad, not an auction, and the asking price is £18,000 which is a ton of money for a Gixxer. But if you're a fan of fast, rare Suzukis, it really doesn't get any better than this.
-tad