When this one popped up on my eBay favorite searches, I just about spit my Stella out all over the monitor. My close friend and riding buddy Paul used to own a Katana 750 just like this one. I mean EXACTLY like this one: that champagne color, an 89, and completely stock. I remember when he bought it from this idiot who tried to sell it out from under him to a higher bidder after Paul had secured the bike with a deposit!
Take a trip down memory lane with me and take a look at this 1989 Suzuki Katana 750 GSX for sale on eBaymotors: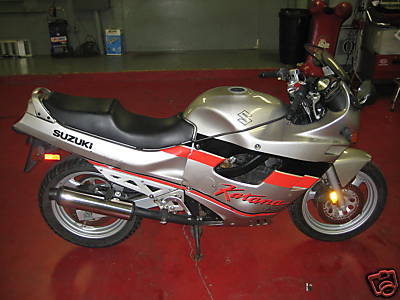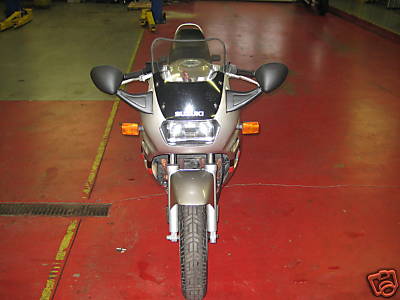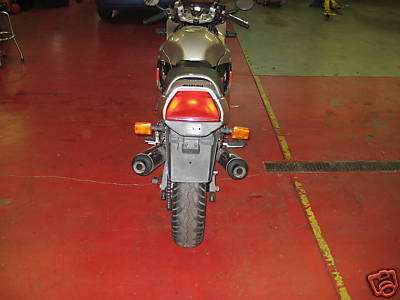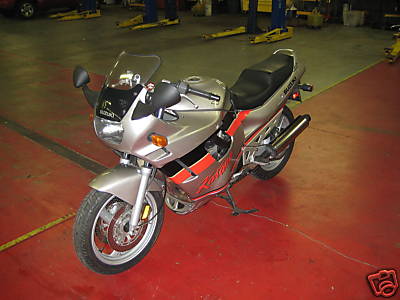 quote from seller's eBayMotors listing:
HERE WE HAVE A NICE OLDER BIKE READY TO RIDE I BOUGHT IT FROM THE ORIGNAL OWNER IT HAS SOME SCRATCHES FROM HAVING BAGS ON IT I DONT HAVE THE BAGS THE BIKE HAS FRESH BRAKE PADS,FLUID FLUSH,CLUTCH CABLE AND OIL&FILTER CHANGE BIKE RUNS AND RIDES GREAT REMBER THIS IS NOT A NEW BIKE THE HAS A SPOT WERE IT LOOKS LIKE SOME ONE SPLIT SOME GAS AND THEIR IS A MINOR DISCOLOR THAT I THINK CAN BE COMPOUNDED OUT EVERTHING WORKS IF I DONT SELL IT I WILL KEEP IT AND RIDE NEXT SUMMER I HAVE FOUR BIKES
Don't you just hate non-savvy users who insist on using all caps? Rant aside, this looks like a really solid buy at $2300 with such low miles and zero modifications. I asked Paul to highlight his experience with his bike:
[21:07] Tj Rubley: for the blog post and from a previous owner, give me the high and low points of the bike. Maybe a favorite ride?
[21:07] Paul: that is a rare find, all stock and in reasonable condition with low miles, still a lot of bike for $2300.
[21:10] Paul: High points: GSXR derived engine, lots of power and plenty of torque, sport-touring riding position for long-trip comfort, obviously an easy bike for novices balanced and smooth even if the rider isn't 😉
[21:12] Paul: Low points: to call the styling dated would be an understatment… honestly I can't think of much to fault if for, other than puting a 400cc non-O-ring chain on mine I really didn't do anything but an occasional oil change,
[21:13] Paul: Greatest ride: Sonoma, hands down, still the greatest motorcycle trip of my life (we need to do better next summer!)
[21:13] Paul: Shit, I'm serious if that thing was closer to home I'd buy it
He went on to say he originally purchased his with about 23k miles for $2900 in 1995, and sold it about a year later for $2500 to another close friend of ours, TravelEd. Hopefully I can get Ed in here to give his .02 too!
Here's a gallery of our trip to Sonoma years ago:

dc