1987 saw the introduction of a new four-valve, water-cooled L-twin engine in Ducati's new 851. While the air/oil cooled two-valve motor was and continues to be a motor with impressive tuning potential and durability, it had hit its performance limit in racing, and something new was needed to compete against the four-cylinder bikes from Japan. The liquid-cooled twin was based generally on the air/oil cooled motors: the clutch covers are even interchangeable. But the new engine could rev higher and breathe better, and this meant that Ducati could once again compete on the world stage. Displacing, strangely enough, 851cc's and producing nearly 100hp in roadgoing trim, the bike challenged the high-winding fury of the fours with a thundering midrange, while the narrow engine allowed for slipperier aerodynamics.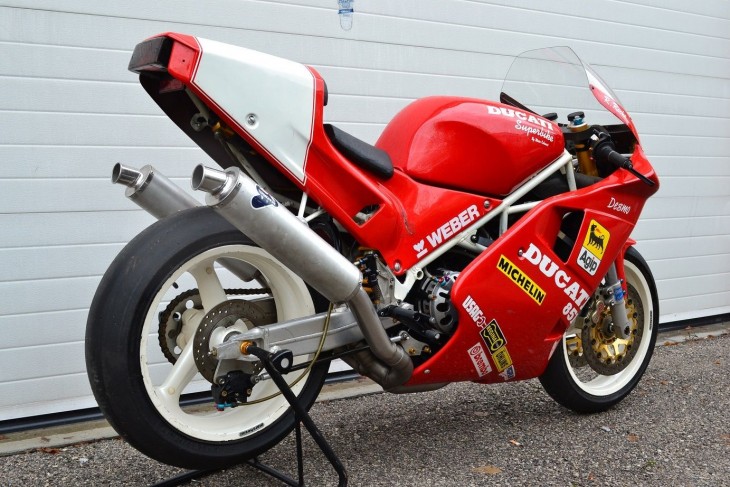 Some bikes look great, no matter what paint scheme, like Ducati's 916: in nearly any color or race-rep scheme, it always looks terrific. Some are best as roadbikes, like the Triumph Daytona 675: the missing headlights on track bodywork give the bike a sort of blank look to replace the smirking catlike face of the stock machine. Other bikes look much cooler in track bodywork: I really dislike the design of recent GSX-R's in roadbike trim, but somehow that bulging fairing center that replaces the headlight on an aftermarket fairing gives the bike an aggressive, shark-like aspect.
With slab-sided bodywork and rectangular headlight, I always feel like the 851 just looks dated as a road bike. As a race bike though, it looks brutal and purposeful and this example is much, much more than just some battered privateer 851 racer…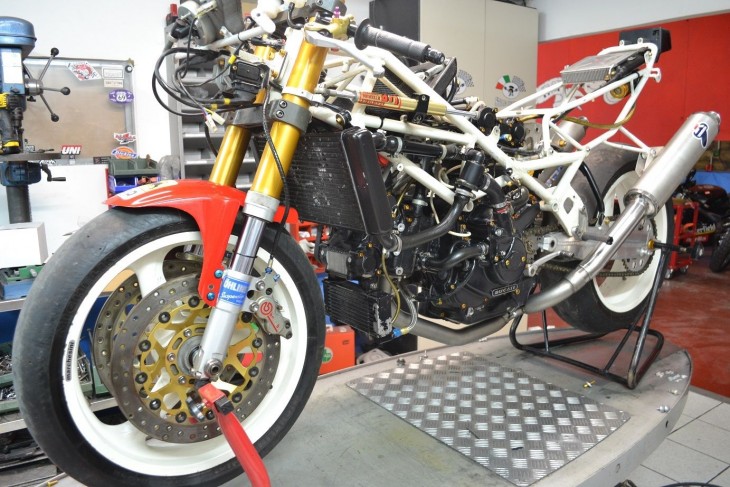 From the original eBay listing: 1989 Ducati 851 Factory Superbike Prototype for Sale
Fresh from over 20 years of ownership by Mario Calonaci is this Ducati 851 works SBK 1990 prototype. He was a works Ducati mechanic for Giancarlo Falappa, season 1990, 1991, 1992 (and later in SuperSport with Gia.Ca. Moto Ducati 748 with Casoli) but his experience is impressive! He was partner of Segoni and was the mechanic for all his bikes through all the Endurance competitions in the 70's, then 2 years in Formula One, etc… Unbelievable…

The bike is amazing even if conditions are a little scruffy (stored since 1991, untouched!) as from every detail you see it is a real prototype- hand built!

It has many AMAZING details…such as the casting of the engine cases is marked 1987!!! Please note that production of 851 started in 1988, these are proper early prototype cases (you see also from other details).

Very rare front brake calipers like only the 1990 works (the 1989 were same shape but more gold)-magnesium Marchesini wheels-only works 1989/1990 magnesium yokes made by Marchesini forged (this one marked 20) the following ones were production made by Ohlins-MagnetiMarelli/Weber elettronics with Raychem (f1 silver cables) wiring with position of the CPU on the back, from 1991 they were in front close to the dashboard-all bottom of engine cases machinered for lightning reasons (!!!)-engine cases casting 1987 as only the first racing serie bikes had-amazing unique prototype swingarm!-rear metal subframe, only 1989/1990 works, from 1991 was alluminium-alluminium Termignoni silencers, from 1991 works were carbonfibre- 1989 works clutch -handstamped VIN (with also the homologation code, SBK rules!) as only the first Racing had, later ones were different stamping-as you can see the heads inside are machinered and unused-spring on the rear brake master cylinder as i the works 1989
There are plenty of other quality photos at the original listing, and are well worth a look. The listing also includes a letter from previous owner Mario Calonaci that describes a bit of the bike's history. The starting bid is $27,500 so you're looking at a hefty chunk of change for an 851, although even bone-stock examples are steadily increasing in value. This is a very cool machine, although it will probably need a bit of [expensive] love before it's ready to terrorize your local race track, as it's been sitting for a while. So buy it and leave it as-is to display it, or get it ready to go as well as it shows and expect to answer a whole lot of questions when you arrive at the track.
-tad