Moto Guzzi advertised the Sport 11oo as the ultimate two cylinder, two valve motorcycling experience, and one could quibble but not truly disagree.  Today's Goose has some miles, but still looks very good and has a few interesting upgrades.
Seeming to fit into the general Le Mans form without being so named, the Sport 1100 used Guzzi's new 1064cc twin with carburetors and electronic ignition.  Power was good at 90 hp, but 70 ft.-lbs. torque at under 6,000 revs made the 5-speed the way to go.  Marzocchi forks were conventional but adjustable, and W-P monoshock supported the shaft drive.  Brakes were the 320mm Brembo offerings, un-linked by popular demand.  Helping the just under 500 lbs. change direction, a 17-inch front wheel was fitted with an 18-inch rear.
Helped by the temperate N.C. weather, this Sport 1100 has the Keihin flat-slide carburetor upgrade, which appears not to use a choke.  Might need to warm up before riding away but the accelerator pump makes for great throttle response.  A carbon Mistral exhaust has replaced the original, and has a no-nonsense sound in the – video – shared by the owner, who also has these comments in the eBay auction:
-I bought this bike in 2012. It has been well maintained and is a blast to ride. – -When I first purchased the bike I sent all the suspension to Cogent Dynamics for maintenance.
-The bike is equipped with Keihin FCR41 carbs.
-The bike runs great and I have never had any issues with it during my ownership it has been a very reliable motorcycle.
-Maintenance has been performed by International motorbikes here in Hickory NC. The owner, Chuck, is a moto guzzi enthusiast and also owns an 1100 sport which he bought new back in the day.
-It is equipped with stainless Mistral exhaust and it sounds fantastic. The bike pulls hard and is a looker.
-I have posted plenty of photos so please look carefully. There is a scratch on the windscreen, you may be able to sand and polish it out or replace it, I just lived with it.
-You will also notice a weld on the exhaust. This repair was there when I bought the bike and it is well done.
-This bike has the impossible to find Heli-bars mounted to the bike. These bars help with wrist fatigue and is a bonus for shorter riders. I can include the original with the sale.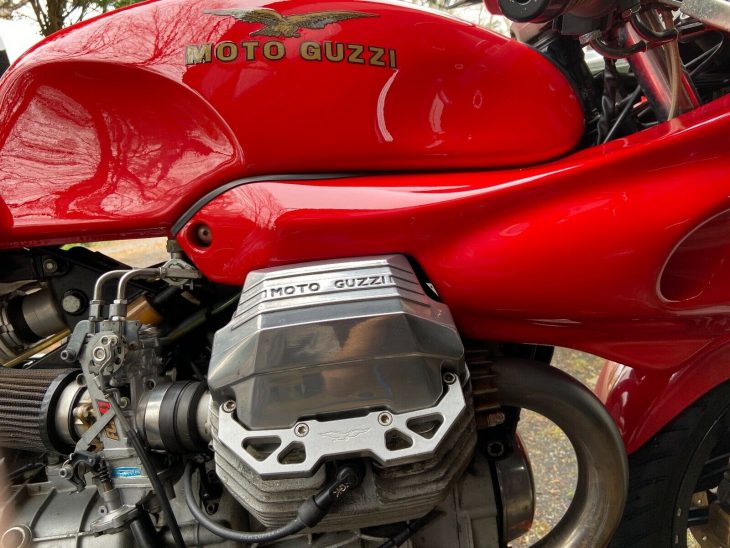 The 1100 turned out to be a winner for Moto Guzzi, and they stayed with it for the new V11 Le Mans in 1998.  Since 2006 though, the company has focused more on the sport cruiser segment, and didn't import the updated 1200 Sport.  Bids are getting up there but haven't met the reserve with less than two days to run.  Spring has almost sprung and we'll be watching !
-donn