Help us, help you.
Help us, help you.
Help us, help you.
Help us, help you.
Help us, help you.
Help us, help you.
Help us, help you.
Help us, help you.
Help us, help you.
Help us, help you.
Sorry, I got a little flustered and had to count to ten. Seriously though, cell phones can take great photos if you push the correct buttons. However, screen shots of photos are never your best marketing bet. #JustSay'n
Machine: 1989 Suzuki GSX-R 1100 Slingshot
Miles: 21,570
Gearbox: 5 Speed
Ponies: 140-ish
Tires: Not phat enough
Cooling: Oil and air (if you're moving)
Rare: No
Cool: Most definitely
Location: New Jersey
From the seller:
Suzuki GSXR 1989 1100 Slingshot. All original number matching bike. Tires, brakes, clutch and all fluids have less than 100mi. I have the passenger seat also. Bike runs and drives excellent. Carbs just rebuilt and new battery was just installed. Frame was polished years ago and still looks decent. Has some aging on solo seat top pad and clear peeling on solo seat stripe, top only. Some scuffing on tree top where keys rub (normal). Please see pictures. Will not answer emails asking about low ball offers or trades of any kind. The air box is not available… Been looking for one for a long time. This is a rare bike which offers a great investment! Slingshots are hard to come by so don't miss out on bidding for this 9 out of 10 killer bike.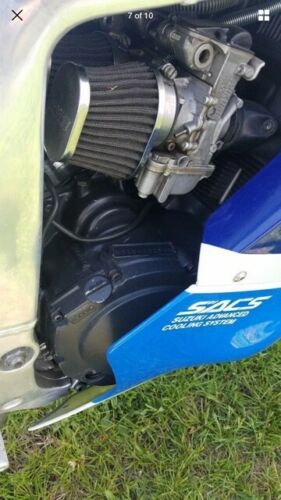 There- That's all you wanted to see anyway 🙂
It's pretty hard to tell from the pictures supplied, but this one looks to be a touch lower than "9 out of 10 killer bike". I'm thinking 7, but again, you'll never know unless you visit New Jersey. Other than the flat slide carbs the coolest thing about this machine is it's being offered without a reserve so, there could be a lucky buyer. Currently, it's sitting at $3,000.
Let's fire up the discussion and see what you all think of this big Gixxer.
Cheers,
dd