The GSXR1100 needs no introduction.  Since it was launched it has captured the hearts and minds of motorcycle enthusiasts.  Over time it became a bike with an extremely broad appeal.  There was something for everyone.  You loved road racing, no problem.  You wanted to go drag racing, the 1100 had you covered.  Your passion was customizing wild and outlandish street bikes, plenty of support for the GSXR.  Now some 25 years latter it is the collectors that have turned their eyes to the legendary GSXR1100.  The market is focused on finding the cleanest and best preserved examples.   This is exceptionally challenging based on how well loved and used these bikes were in period.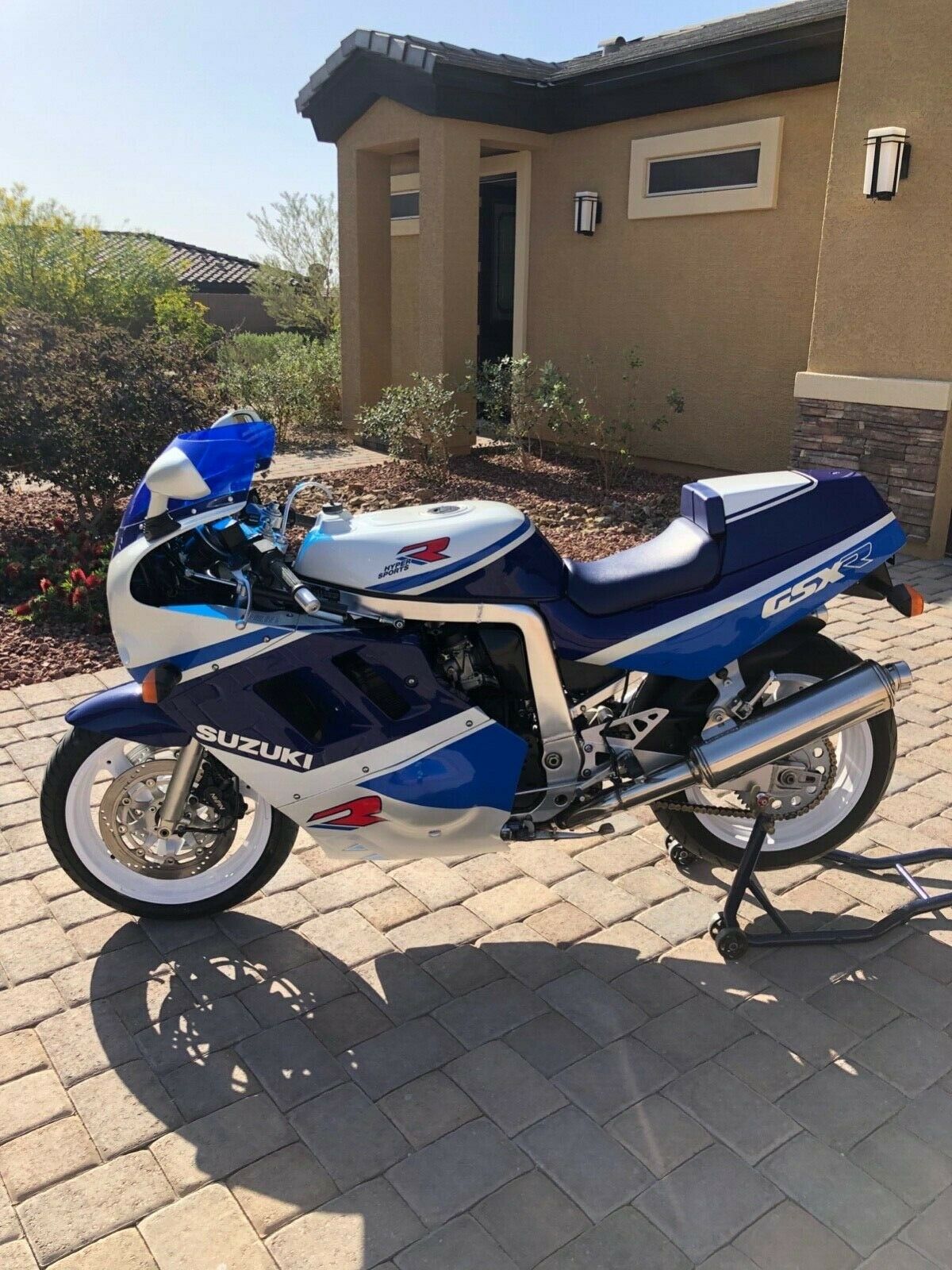 The example today passes the initial inspection most collectors will conduct.  It still wears the original exhaust and air box.  These two items might sound silly, but they are sure sign that this bike has not lived a life of track use, or been customized as those are the first things to get changed.  The few departures from stock can be excused as small period correct changes, and are also simple to reverse if the new owner want.  One would suspect the new owner will not be too bothered as this bike should ultimately end up in a dynamic collection.  With north of 35,000 miles and a few imperfections on the tank this will not be wheeled into a mancave as is, although it does look like a fantastic starting point for a full restoration.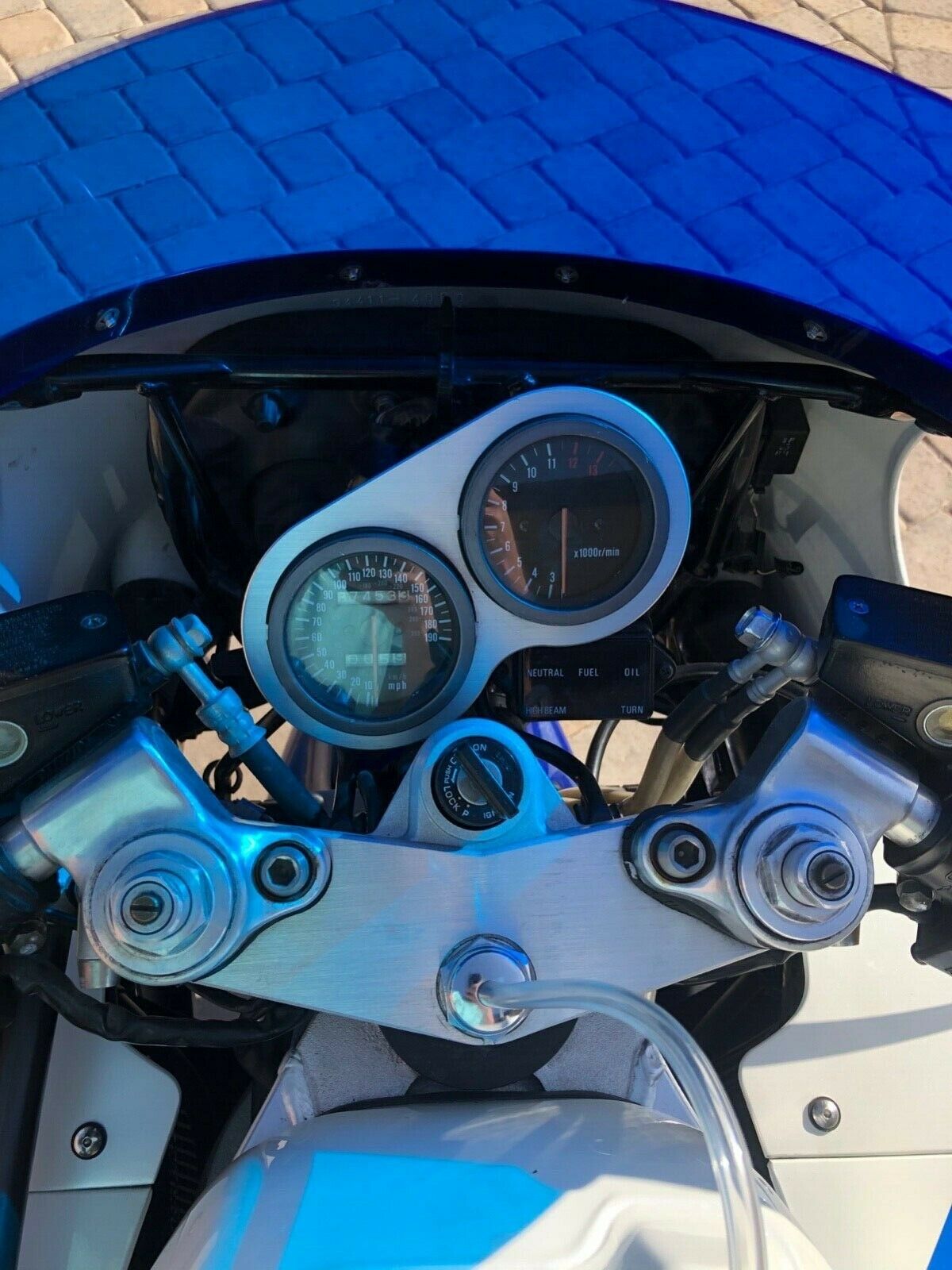 This is a great example of a classic.

It's a clean title, all original bike , to include airbox, mufflers, and even blinkers. The frame is original and untouched and still has the vin sticker. The bodywork is also original, with the exception of the period correct blue windshield, with oem windshield rivets. It uses one key for the ignition, tank, and seat latch. The bike does have some expected flaws, marks and a few cracks in the plastics, as well as a few scratches on the tank near the seat. It looks like the lowers have been touched up at some point. Please see the provided pictures.

The bike has a stage 1 jet kit installed. It also comes with the stage 3 portion of the kit with oem emulsion tubes if the new owner chooses to install an aftermarket exhaust. Included is a solo seat cover, with a new OEM NOS seat pad in blue, two Suzuki oil filters, and a complete decal kit if the new owner chooses to make it showroom new with a respray. I considered doing the respray, as I ordered the decal kit, but used the bike as a very clean rider and not a show bike. Also provided is the rear seat and grab bar with bolts and spacers if you choose to take a passenger.

Recent service includes new fork seals and fluid, rear brake pads, carb cleaning, air filter, petcock rebuild, as well as a new battery last month.

The bike starts right up and runs and rides great. Thank you for your interest.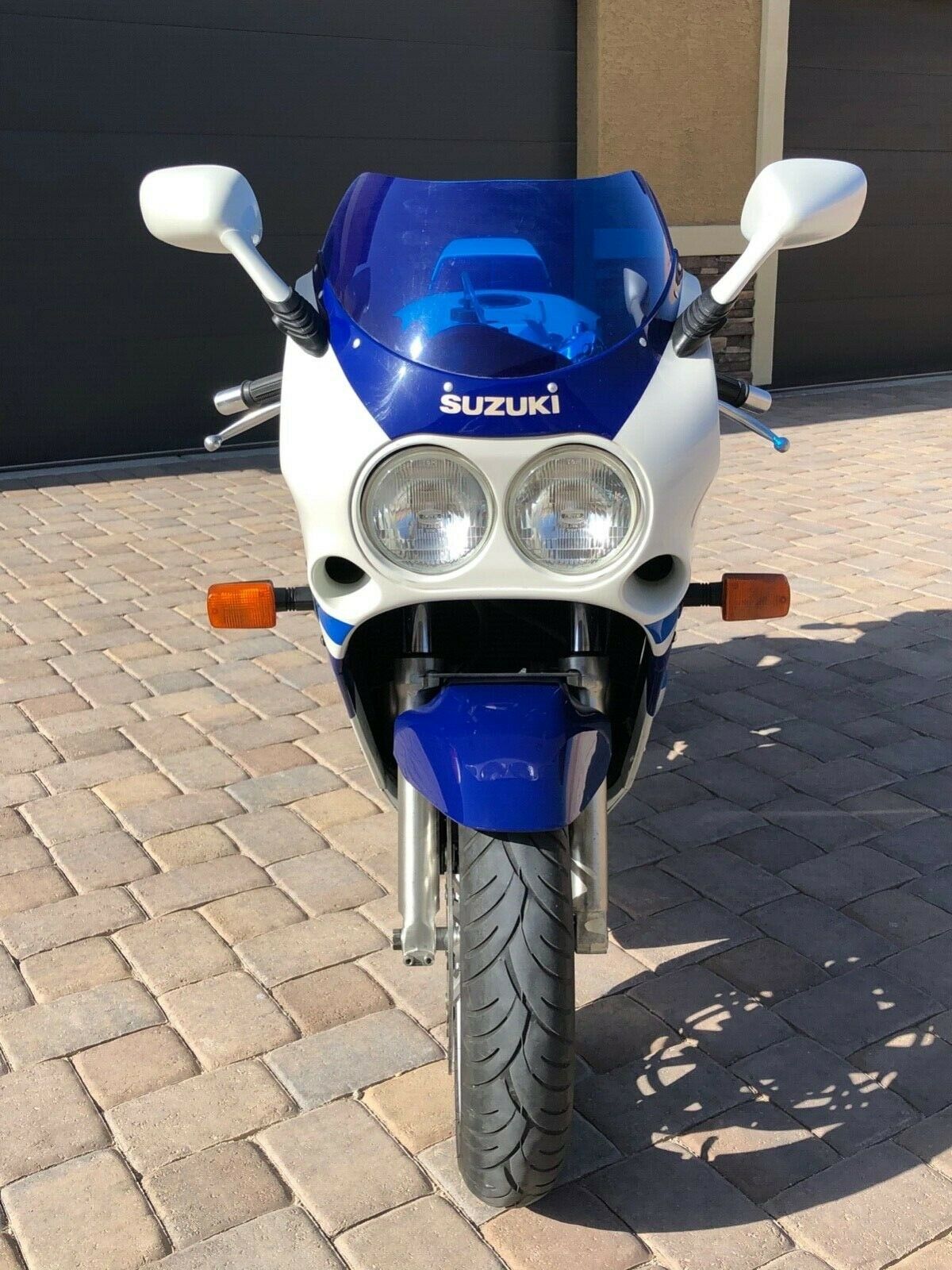 Nostalgia is a powerful force.  This bike ticks many of the right boxes and will do will to rekindle a past experience, or allow the new owner to enjoy a bike they did not have a chance to have in the past.  In the first couple of hours of the listing 30 bids have been entered and the price sits at under $6k with the reserve showing as not met.  There is no Buy It Now listed.  It is safe to say it will take a few more bids before the reserve is passed.  Demand is high, and for good reason.  These bikes can be used and enjoyed on the modern roads and there are more an more events happening that are devoted to this era machine.