Update 8.1.2022: This bike SOLD to an RSBFS reader in just 24 hours! Congratulations to buyer and seller! -dc
Featured Listing – 1992 Suzuki GSX-R1100 for $15,500 – RSBFS Exclusive
Some of the sharpest bikes that have sold on RSBFS come from Chris Perkins (gsxronly@aol.com). We're glad when he reaches out since we don't really have to do much. Immaculate photography and quality collector pieces always make for an easy sales pitch. However, we're not the only benefactors. When Chris decides to sell, he's really doing the rest of the world a favor by spreading some his survivors or restomods around for the community to enjoy. His most recent offering is what I like to refer to as an OEM+ 1992 Suzuki GSX-R1100 with 3,172 miles.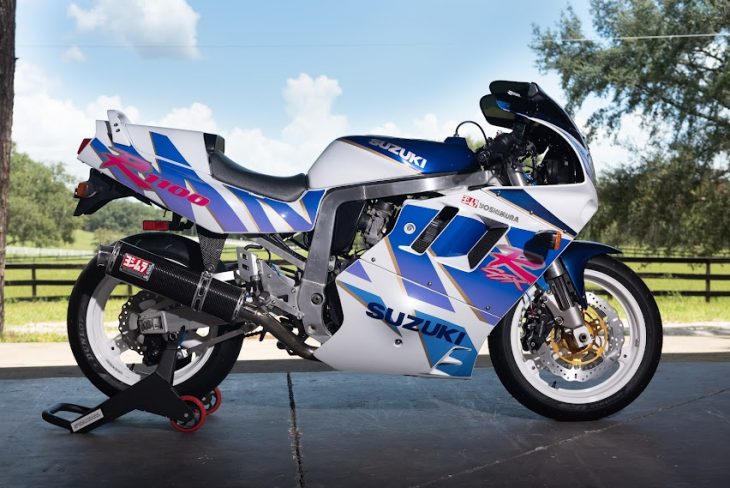 There is a strong argument to be made that the Suzukis and Hondas that rolled out of Japan in the 80s and 90s are the hottest collector motorcycles out there today. The combination of Jennifer Anniston-esque aging and now-wealthy prior owners is resulting in incredible values for a generation of bikes that were on death's doorstep not too long ago. The feel that comes with a bike designed without heavy electronic influence is very hard to achieve today and therefore all the more valuable.
It all started with the GSX-R750. The 750 class of race bikes were very stout due to the sport bike development race that started in the 80s. Eventually, these bikes and their race technology ended up in the hands of enthusiasts and adrenaline junkies across the globe. While the 750 was popular amongst this group, the lust for power never really subsides. The desire for more power meant a need for more displacement. The role of the 1100 in Suzuki's lineup was to provide time-warping speed with the sporty feel and technology that was present at the racetrack. The 1992 1100 added nearly 25 hp over its original model year and that was mainly due to a 10% bump in displacement and the addition of oil cooling. All that power could spin the GSX-R1100 up to nearly 170 mph. Nothing to scoff at for a bike that is 30 years old.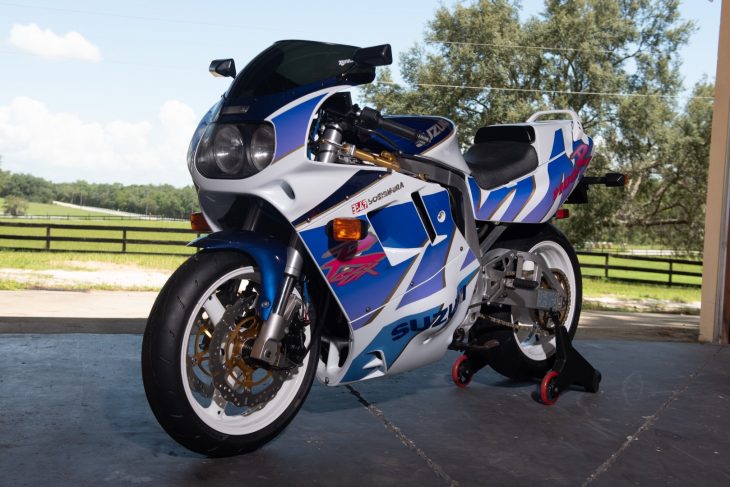 From the seller
-Up for offer is a Reconditioned, Slightly Modified 1992 SUZUKI GSX-R1100

-Purists need not apply

-Completely serviced and ready to ride, dry stored (no fuel)

-Perfect for shipping, display or fill it with fuel and ride it

-It takes quite a bit of time, capital and skill to resurrect these old bikes

-If you are thinking of restoring one of these, be prepared for lengthy delays in finding parts no   longer produced, shipping delays (6 weeks w/ DHL crate from Japan) when you do find the   parts, and the time to install all of them. As well as the expense of international shipping….

-CLEAN FLORIDA TITLE

-Mileage Exempt due to age of bike, arrived with 3172 miles on the clock

-Former Massachusetts bike stored for years

-All work not otherwise noted was performed by GSXRONLY in Clermont FL

-Bike is located in Clermont FL, shipping is the responsibility of the purchaser

-Assistance can be given with respect to coordinating with your shipper

-All receipts and work orders are available for review and copies can be included in sale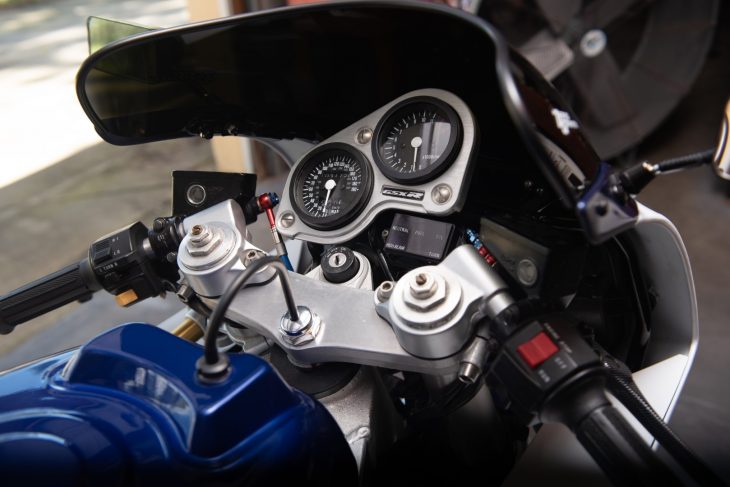 The entire build starts with the wheel bearings and continues from there:

-Stock GSX-R1100 (1127) engine

-New NGK plugs

-New Oil and OEM Suzuki filter

-Suzuki OEM Wheel Bearings

-1998 SUZUKI GSX-R1100 Front and Rear Straight Spoke Wheels Powder Coated by Metal   Finish Clermont FL

-Rebuilt Front Forks to OEM Spec (bushings, seals and fluid) by Seminole Power Sports North   Tavares FL USA

-Triple tree bearings serviced

-1998 GSX-R1100 Rear Swing arm

-NEW DUNLOP Q3 Tires Front and  Rear

-NEW EBC Wave Rotors, Front and Rear

-6 PISTON TOKICO Calipers, Fully Rebuilt with OEM Suzuki Parts, Powder Coated by Metal   Finish Clermont FL USA

-SPIEGLER Clutch Line

-Titanium Banjo Bolts And Double Banjo Bleeder from Addiction MotorSports UK

-Rebuilt Front and Rear Brake masters  by Seminole Power Sports North Tavares FL USA

-Rebuilt Clutch Master

-EBC PADS

-RK 520 Gold Chain

-SUPERSPROX Chain Wheel set

-FOX TWIN CLICKER Rear Shock Fully Rebuilt By Blommel MotorSports Dade City FL USA

-YOSHIMURA Duplex Header

-YOSHIMURA  Carbon Fiber Silencer

-OEM SUZUKI Bodywork

-OEM Solo Tail with Suzuki Decals

-OEM Sub Fender

-OEM Turn Signals

-OEM reflectors

-Clean Original Tank with no Rust

-New OEM Suzuki Fuel Petcock

-ZERO GRAVITY Windscreen

-LOCKHART PHILLPS Carbon Look F1 Mirrors

-Carbon Look Bar Ends

-Carbon Fiber Exhaust Hanger By Smith and Sons Motorcycle UK

-Lithium battery

-SUZUKI OEM Air Box

-1991 Suzuki GSX-R750 Intake Boots

-38 MM Mikuni CV Carburetors fully rebuilt by LANIER RACING  Apopka, FL USA

-Front, Rear fairing stay and tail brackets powder coated by Metal Finish Clermont, FL USA

-K&N Filter

-"Mono Post"  Passenger delete option
Although these bikes were incredibly popular during their reign, they did fall on hard times until their recent resurgence. Recently, sky high hp and electronic gizmos has had buyers flocking to modern bikes and left many of these now-classics out to fend for themselves. A quick search on eBay can tell you all you need to know about parts availability and that can be used as a proxy for how many of these are left out there. If you're interested in these bikes, it's wise to jump on examples such as today's featured listing. The seller has serviced many of the wear items and also has the OEM bodywork and a full Yosh pipe, which are extremely valuable pieces of kit on a classic Suzuki. Everything done here is so perfectly tasteful that 99% of enthusiasts would likely guess that this is a fully stock bike. Any additions such as the 1998 GSX-R1100 race-inspired swingarm, Fox rear shock, and steering damper are all quality parts that have a legitimate impact on performance.
Ride it or don't. Either way you can easily anchor a collection on this bike. Big power. Good looks. Low miles. Road or track capable. It hits on all the right notes. I'm probably preaching to the choir here as most RSBFS readers understand the value proposition of this GSX-R! Opportunities like this don't come often nowadays so if this is a bike you fancy, reach out to the seller: gsxronly@aol.com
-Norm