Well, this
GSX-R 1100
is definitely one of those bikes that wasn't especially rare when new, but has become so by being a survivor: "Gixxers" of all displacements are much used and abused. 600's get treated as "starter bikes" by noobs and crashed left and right. 750's get raced, stunted, tracked, the 1100's get drag-raced, and finally they all get parted-out when they've suffered one crash too many.
So "slingshots" in relatively pristine condition are pretty hard to come by, although this one is a bit less than stock under the skin…
It's not completely original but is, as the seller describes, a "sleeper". The 1100 is a fast bike, even by today's standards and this one, bored out to 1340cc's and 190hp should be terrifyingly fast in a straight line, and possibly more so in the corners: while the 750 was the original race-replica and had some of the best handling available at the time, the bigger 1100 was heavier and far less nimble.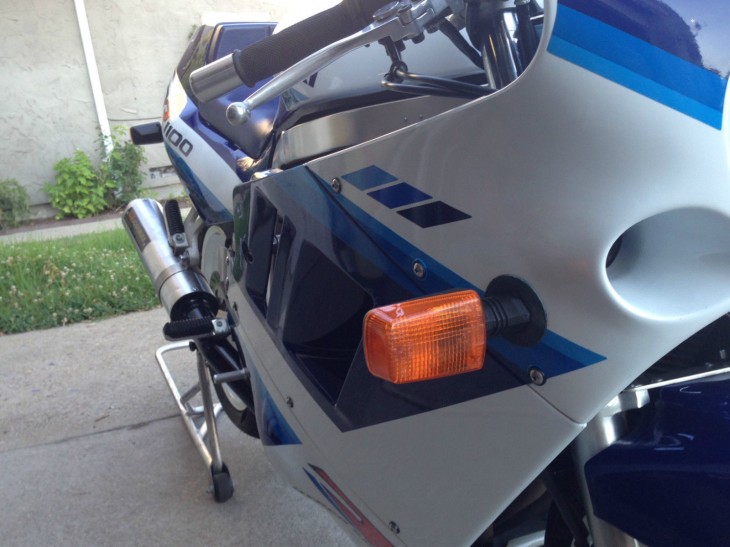 I have a great issue of SuperBike magazine from 1998 that covers four notoriously piggish machines and how to fix them, including the GSX-R 1100. Titled "WrestleMania" it described the bike as "… quite pretty. To look at, sure, but never to ride." It's obviously exaggerating a bit for effect, but their point is taken: handling was stable, but far from nimble.
The article blames a frame that carries weight way too high and makes the bike top-heavy. Luckily, there are a million shops that work on these and parts are readily available if you want to improve things a bit, and some bits from the 750 and later models will bolt right on.
Modern sport-touring bikes leave me pretty cold in general, but I bet something like this could be made to eat up miles in retro-style…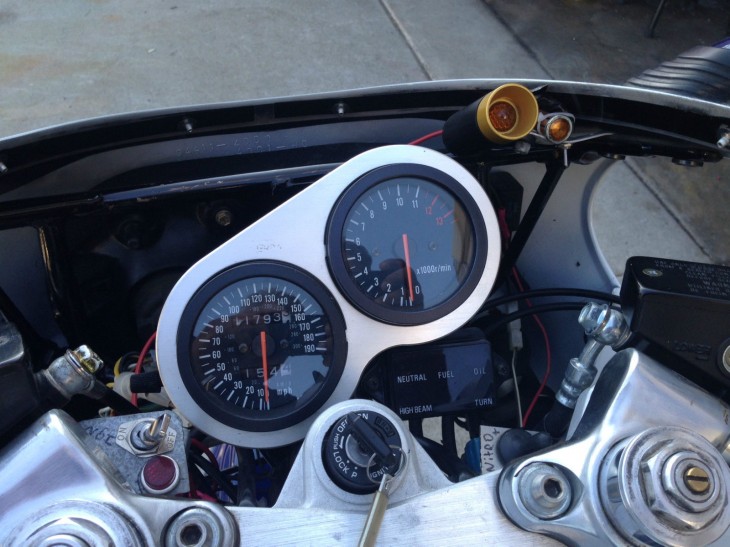 From the original eBay listing: 1990 Suzuki GSX-R 1100 for Sale
Here's your chance to buy one of the baddest old school Gixxers around. 11k original miles, looks like a total sleeper, original 1127 motor built to 1340cc, (190 hp) APE cylinders, custom ground cams, Wiseco pistons, top end oiler kit, braided oil lines, Carrillo rods, 38mm Mikuni flatslides. Brand new Michelins Pilot Pure 2CT, 48T rear sprocket, battery. Yoshimura Duplex exhaust, Original Yoshimura carb covers, Fox twin clicker shock. Body work is all original paint and in excellent condition, a few small flaws. Bike never been crashed or even tipped over. This bike was built to drag race but I put it back on the street. Still has NOS (bottle removed but will be included), air shifter is there but not connected, shift light, Schnitz Pro Street ignition controller, etc. Totally street legal now. Currently registered until June 2015. Bike runs great, very streetable and tons of torque. You can't even build a motor like this one for reserve asking price..
I'm not typically a fan of Japanese motorcycles. A bit too mass-market and committee-think, their cars and bikes look like a bunch of designers sat around to discuss their individual goals, then the resulting bike is a hodge-podge of conflicting priorities. They are amazing machines, but they look bland to me, with all the passion optimized out of them. And growing up in the 80's and 90's, these things were everywhere, shrieking around, piloted by riders with little gear and fewer brains, so I lumped all the garishly-painted plastic rockets together.
But the 1988-1990 GSX-R's have a purity of line that I really like. It was actually Icon [yeah, the apparel guys] that got me hooked on these: the builds they post up on their site are usually all ratbike, Mad Max-styled weirdness, but they did one very simple, classic build of a GSX-R 750 that got me thinking. They're simple and well-proportioned, and those dual-headlights suggest endurance racing and the simple goal of speed at all costs.
In classic blue-and-white paint, in very presentable condition with none of the cheesy aftermarket weirdness these so often feature, this bike has mods in all the right places and a price that seems to offer a whole lot of bang for the buck.
-tad