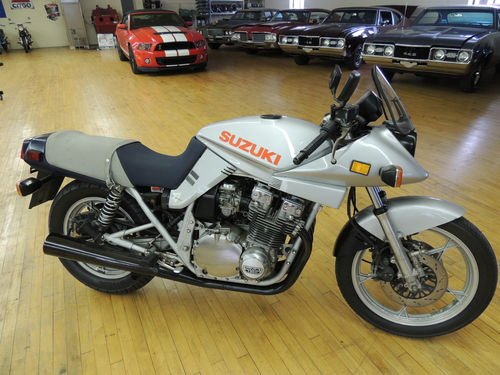 When this first year, 1000cc Katana showed up on eBay, I knew it was perfect for the RSBFS faithful. Who doesn't like a classic survivor like this? Built to be the baddest road rocket of the day, the Katana still turns heads with its knife-edge styling and purposeful looks.
This particular bike does not appear to be a museum piece. With a claimed 3,325 miles on the clock the bike has certainly not been ridden much. The pictures show that all the right pieces are there, and it still sports the original (and getting hard to find) exhaust system. The best part for collectors is that it looks to be original and unrestored. In short, it appears to be used but otherwise in great condition for its age.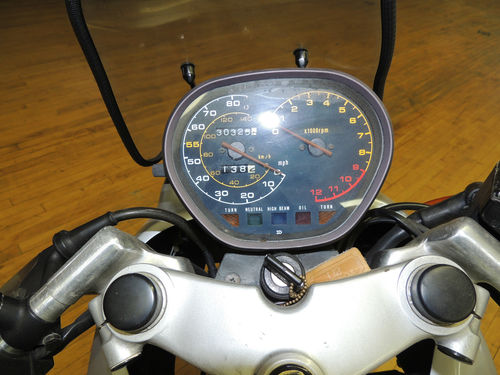 From the seller:
WE HAVE HERE A 1982 SUZUKI KATANA 1000CC GSX100SZ, GS1000SZ. IN OVERALL PRETTY DECENT CONDITION. GUAGES WORK EXCELLENT AND HAVE NO BROKEN NEEDLES, ALL LIGHTS WORK, EVERY PART IS ORIGINAL THE AIRBOX,PIPES, HAVE NEVER BEEN MODIFIED IN ANYWAY. PIPES ARE IN AWESOME CONDITION WITH NO SCRATCHS ON THEM. JUST SERVICED VALVES AND CARBS. WITH A BIG CLEAN UP AND MINIMAL TIME THIS WOULD BE ONE OF THE NICEST KATANA 1000'S LEFT. TITLE IS CLEAR AND READY TO GO.
This bad boy has the torque to spank most smokers in the real world, and does it the old fashioned way: with cubes. Although Suzuki would increase the capacity to 1,100cc in the next model year, the '82 bike is still no slouch. The GS-derived motor with its Twin Swirl Combustion Chambers (TSCC: another great acronym from the 80s!) was the powerhouse of the day.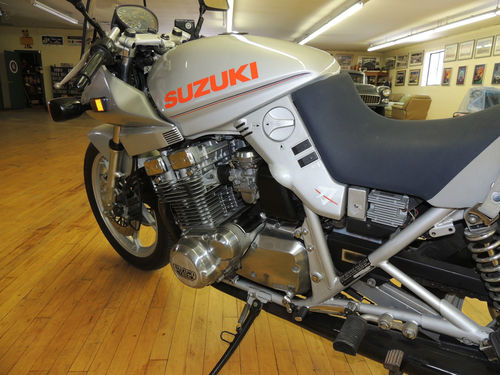 Katanas are getting harder to find in reasonable condition. This one certainly fits that bill – and then some. This auction just opened and bidding was up to a scant $3,300 at the time of this writing. I would expect this one to go up quite a bit from there based on recent interest. For your chance to check it out, click the link and jump over to the auction. Who wouldn't want to jump back to the 1980s for this one?
MI