MV Agusta certainly got the basic components right when they introduced their exotic and achingly-beautiful F4 750, but it was down on power and a member of the suddenly superfluous 750 class. Luckily, they were easily able to bump their displacement to play in the liter-bike class, although the new MV Agusta F4 1000 was obviously much more expensive and no faster than bikes like the Suzuki GSX-R1000. It's tough for small manufacturers to keep pace with the rapid development of companies like Suzuki, so while the big Gixxer went through four different iterations between 2005 and 2008, the F4 soldiered on with very little in the way of fundamental updates. So how to stimulate interest in the same old [blindingly fast, exotic, Italian] thing? Take the fundamentally good chassis and engine, swathe it in lightweight bodywork and distinctive paint, and call it a "numbered, limited edition." In this case, the bike in question is named after the father of this machine and one of the most talented motorcycle designers of all time: Massimo Tamburini.
Well, they also added a few cool gizmos to the engine, in addition to all that shiny carbon and paint. Interestingly, MV Agusta's Torque Shift System and Engine Brake System are intended to improve rideability, not peak horsepower. Which makes sense since 174 claimed horsepower is really skirting the edge of controllable power anyway, for a bike lacking modern traction control systems. The Torque Shift System uses variable length intake runners to boost midrange power and keep the bike's screaming top end. The Engine Brake System takes the place of a slipper clutch, basically leaking fuel and air into the engine on closed throttle to provide engine braking without locking the rear tire. Surprisingly, the system works very well.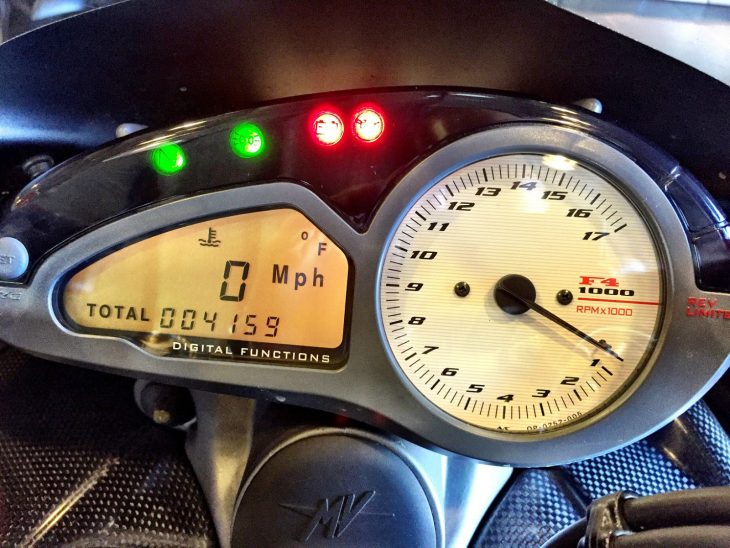 The result is a very fast motorcycle with stunning looks that still look modern more than fifteen years later. This particular Tamburini looks basically perfect. As it should be, considering the asking price and the low miles. These listed at a stunning $43,000 new, so today's example could be thought of as something of a bargain…
From the original eBay listing: 2005 MV Agusta F4 1000 Tamburini #85 of 300 for Sale
"My Dream, My Bike" – Massimo Tamburini

One of the most exotic motorcycles ever built. The MV F4 was limited to only 300 made, only 59 brought in to the USA. The plaque on the triple clamp shows #85 of 300. Very rare indeed. Few would argue its beauty. And even if you never ride the Tamburini, looking at it might be enough. Gold-toned mesh covers the fairing vent holes, while forged aluminum wheels are gold anodized to continue the theme, just as with the 6 piston billet Nissin front brake calipers. The low-friction titanium-nitride coating on the 50mm Marzocchi inverted fork sliders jives nicely with the gold anodized uppers.

Aside from the fuel tank which is steel, the Tamburini's bodywork is nearly all carbon fiber, finished to a very high standard. A nice touch is the F4 and CRC logo work on the fairing sides that lets the c-f weave "peek" through the high-gloss paint. Who needs decals when the underlying material itself is so nice you simply leave paint off? Sensual shapes and exotic materials set the Tamburini apart. Front axle carriers and brake calipers are machined from billet for maximum rigidity, while lower triple-clamp, frame sideplates and gorgeous single-sided swingarm are lightweight magnesium. And check out the carbon-fiber weave on the fairing panels!

Only 4,159 miles, adult owned and fully serviced. 

Arrow pipes and all booklets, plaque authenticating serial number, etc.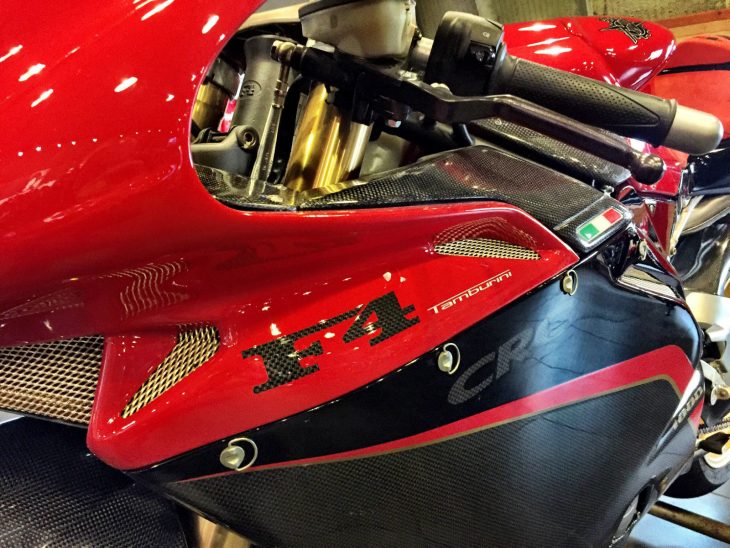 Low-mileage, low-production run F4s show up for sale pretty regularly,  owing to the fact that they're often bought as display pieces and objects of lust more often than they are as functional motorcycles. Which makes sense, considering how awkward and uncomfortable they can be to actually ride on the street… They obviously offer handling and straight-line performance on par with the rest of the class, but their outright expense, crippling ergonomics, and high maintenance costs mean these are best left as occasional weekend or track-day toys: you masochists out there using your F4s as daily transportation have my respect. Obviously, if you want the gorgeous lines and don't have the $35,000 the seller is asking for this Tamburini, a more common F4 can be had for less than a third of the price and is just as stunning, if not ultimately as valuable.
Hell, I prefer the very stylish five-spoke wheels on the original F4 anyway…
-tad