The Mark IV Le Mans increased displacement to 949 cc, and made few other updates to the venerable cafe racer that would take it into the 90's and see the development of the 1100 cc engine.  A neat closing chapter to the long Le Mans history, the big twin was fast if not super quick, a strong stable platform for the golden eagle.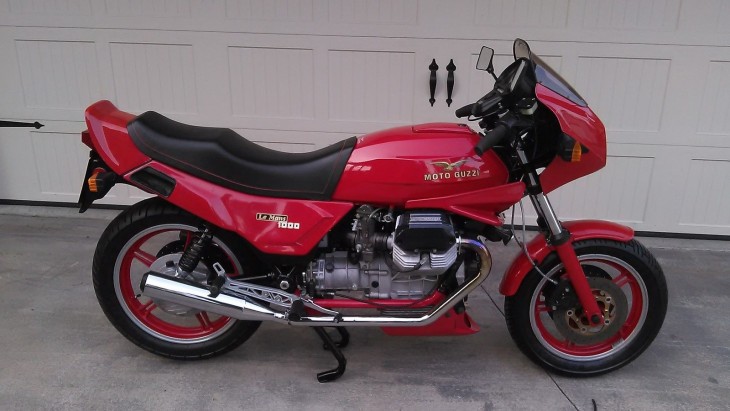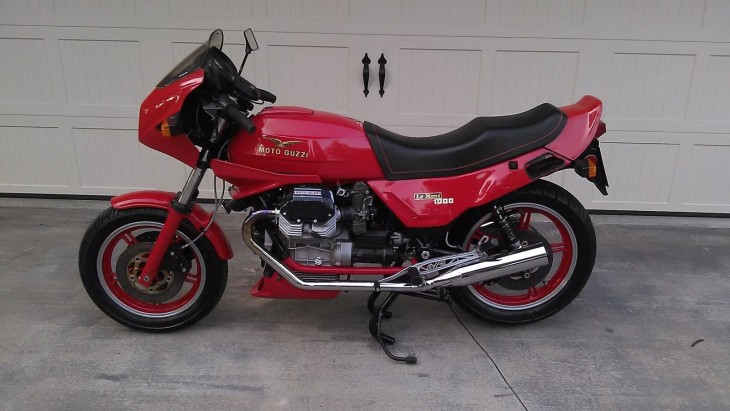 Capitalizing on the substantially redesigned engine for the 850 cc Mark III, the 1000 cc engine uses the square-fin cylinder head delivering 81 hp.  Updates include 40mm carburettors and a performance camshaft.  Plenty of torque available, the shaft-driven 5-speed being capable of 140 mph.  Never a lightweight, the Mk. IV crept over 500 lbs., making the three 270mm front disks seem just adequate.  Guzzi's linked braking system is used, helping provide better control.  1985 brought a 16-inch front wheel to the Le Mans, which helped the big twin turn in.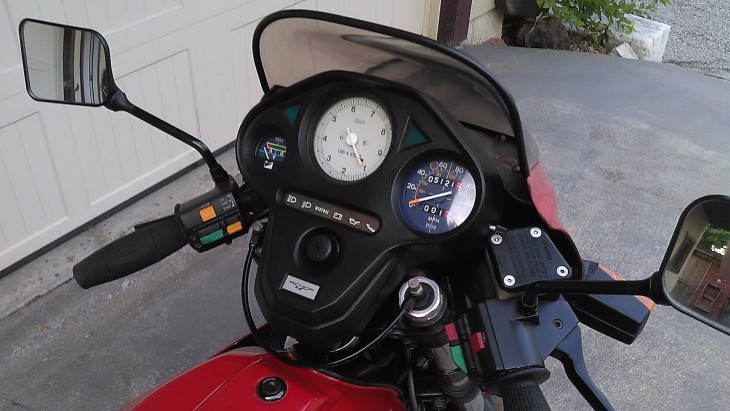 The bodywork is a delight on the 1000, a well-coordinated set of angular fairings and deflectors, including chin scoop.  Red is the message here, with some frame tubes, forks and wheels also in paint.  Sculpted side covers lead to the dual seat, with integral hand-holds for the passenger.  Great dash with giant Veglia rev counter.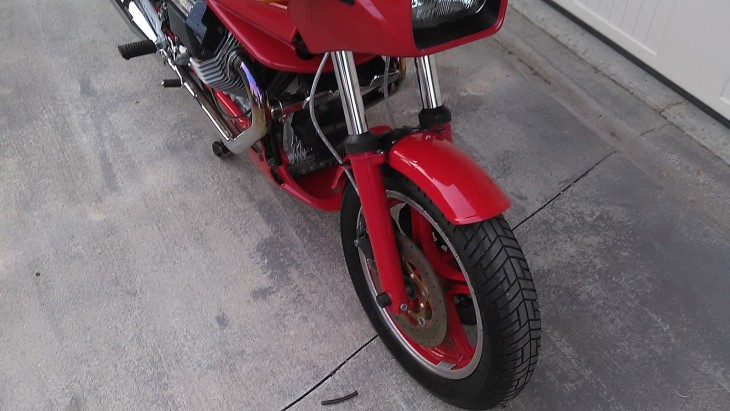 Not overly documented, this Mark IV looks very good, with just over 5,000 miles.  Chrome pipes appear to be an upgrade from the factory black exhaust.  Grips, levers, pegs and mirrors all look original.  From the eBay auction:
1985 Le mans 1000, very good condition, 5121 miles, runs well. These bikes will, or are, going up in value.
Obviously there's a lot of rest time in a 30 year-old bike with 5,000 miles.  Rubber and a seal or two might want replacement, and the fuel system might want some attention.  Thankfully no cam belts in the Guzzi though.  More pictures, some maintenance history, and maybe a visit to St. Louis are in order…
-donn