Update 1.4.2015: The seller has alerted us that this bike is back on the market. There have been some updates since our first post in June 2014 and all new pictures as well. Links updated. Good luck to buyers and seller. -dc
Hey, speaking of British bike magazines, here's one you're probably not too familiar with unless you read those publications. Suzuki's V-twin was intended to compete with Ducati, but the bikes they stuffed it into never really seemed to be able to cut the mustard. The TL1000S was brawn over brains, with a dangerous reputation and a compromised rear suspension, and the TL1000R wasn't quite right either, a bit too fat, maybe too soft, maybe not twin-y enough?
But they sound amazing, and both make pretty cool road tools, if you want the sound of a twin without the headaches of Desmodromic valves and $120/hr labor charges. And other manufacturers clearly agreed, since it ended up powering Bimota's SB8 and Cagiva's V-Raptors.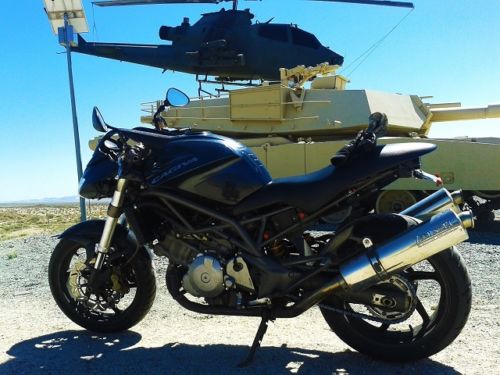 The V-Raptor was pretty wild-looking and designed by Miguel Galluzzi of Ducati Monster fame, although I think the design is trying a bit too hard. Period reviews suggest that packaging for this powerplant continued to be an issue and comfort was severely compromised for style, but Ducati Monster owners should be familiar with that. But the bike was striking and provided Italian style and booming noise without the pain of 6000 mile valve-checks. Yes, unless you do them yourself, those are every bit as annoying as you'd imagine.
From the original eBay listing: 2003 Cagiva V-Raptor 1000
Missing Left Side Panel (Plastic, can order Carbon Fiber Replacements for About $100)- Bent Right Side Exhaust (Due to Slow Fall in Muddy Puddle)- Missing Right Side Chain Tension Adjuster (Easy to Fix with Bolt/Washers from Home Depot)- Will Need New Chain, Sprocket Set, Valve Adjustment, & Front Tire within Next 2k-5k Miles Jet Black Paint with Metallic Clear Coat (Professionally Done), Seat Re-Upholstered to Black Carbon Fiber, Dual Zorstec Exhaust Pipes
Look, I hate to once again be the resident Cheap Weird Bike Guy, and this bike has all the hallmarks of being ridden hard, lightly crashed, and put away wet. But it's a Cagiva V-Raptor! You can take it to a Suzuki dealer and get it worked on!
To be honest, I had no idea these were ever available in the US and is registered in CA, a notoriously strict place relatively intolerant of DMV shenanigans. Maybe a quick email to the seller to ask the bike's provenance? He does include a photo of the title, which is nice. And a list of things that have been done or need to be done suggest that at least the seller is representing the bike fairly.
The photos aren't great, and the bike needs a bit of work to make it presentable, but might be worth it for the great, grunty motor and all the very confused looks you'll get at local bike nights.
-tad