In the late 1970's, longtime U.S. motorcycle importers Joseph and Michael Berliner requested a 1000cc Moto Guzzi to compete with the BMW R100RS, and while Guzzi had a more touring oriented 1000SP, they capitalized on the Le Man's good name and introduced the CX100.  Built in 1979 and only 353 units, it's quite rare to find a stock CX100 these days, most having undergone cosmetic surgery.  The distinctive fairing was honed in Guzzi's wind tunnel and looks tough but provides stability at speed.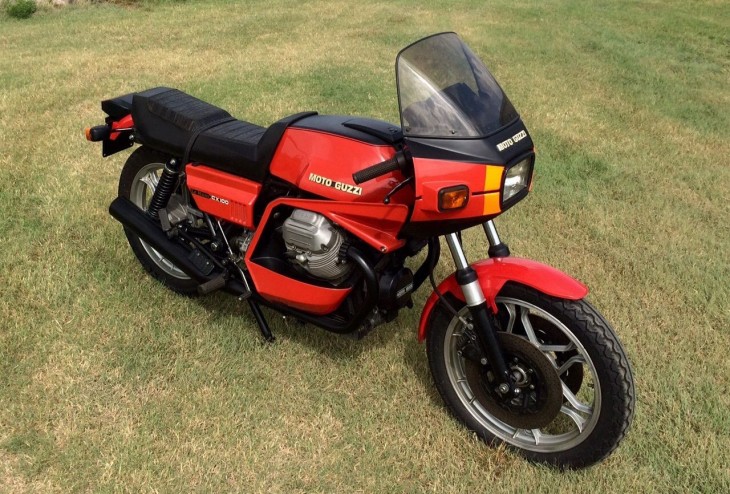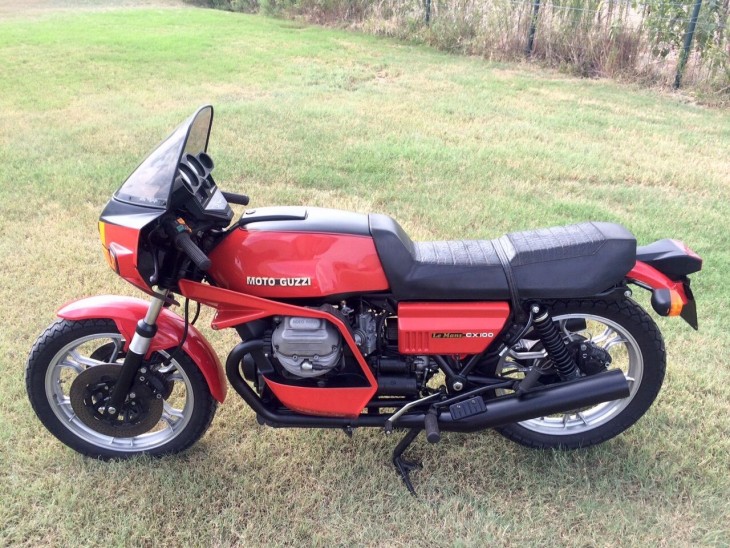 Using gear-driven overhead cams to actuate the 2-valve heads, the 949cc CX100 generates about 80 hp, but a healthy helping of torque.  With the good handling Le Mans frame, forks were up-sized and brake calipers moved behind.  The CX100 is equipped with Guzzi's linked brake system, which generated many complaints but tested very well.  The colorful and fully equipped dash came over from the 1000SP, and the bars tuck in properly.  The fairing from the Mk. II Le Mans re-design shares the angularity between the handlebar and engine fairings, protecting the rider better than the original bikini.
Stored for many years, this Le Mans has only 2,500 and change miles.  Part of its re-birth was a re-paint, but appears correct and well-detailed.  Hard to see anything that's not stock here, though the owner states that the airbox is in storage – from the eBay auction:
The motorcycle was purchased from the original owner who had the bike stored in his garage until 3 years ago.
The bike is in fantastic condition , over the years the tank and fairings picked up some scratches from being in a packed garage so naturally I had the bodywork repainted to factory specs. Looks amazing.
The bike is Concours ready, you could ride this bike anywhere or display it in your home, it is that nice!
The mileage is extremely low, I have yet to find another CX100 anywhere that is this nice, or with this low of mileage.
Velocity stacks are running screens right now , but the stock air box is included along with the original owners manual.
Evidently a collector with other Guzzis, this owner has done a smashing restoration of a particular moment in Moto Guzzi history.  Too long and heavy to be too sporty, this bike still cruises at 100 mph with surprising ability in the esses…
-donn