A bit of a hulking dinosaur, even when new, this Laverda RGS 1000 lives at the transition point between the old and the new, as the European manufacturers were being eclipsed by the Japanese when it came to sports motorcycles. For a long time, they'd hung on by being able to out-handle the upstarts from Japan, but bikes like the GSX-R750 brought power, handling, and contemporary racing style to the table at a bargain price.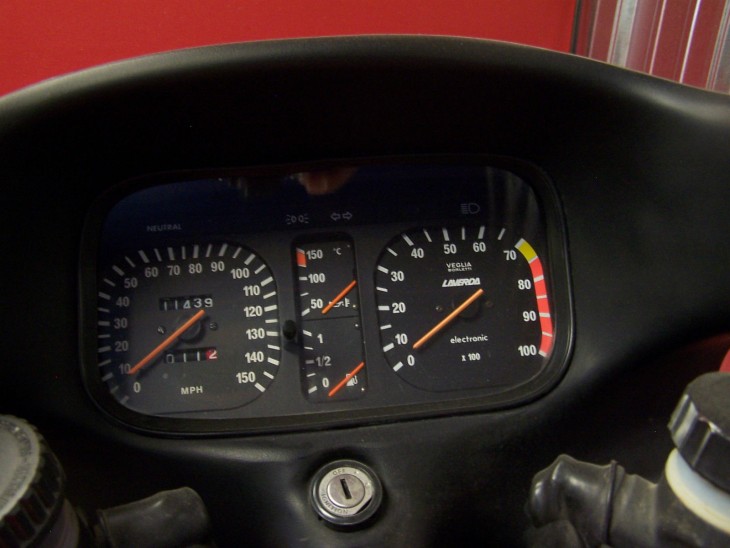 Look at the RGS compared to something like Honda's NSR400R, a bike that was more sophisticated in just about every single way, but with the same cylinder count: two-stroke, six-speed gearbox, fancy anti-dive forks, and significantly lighter weight and some of the best handling of the period. How could Laverda hope to compete with that? Well they did, for a time, recasting their big, bruiser of a triple as a classic GT, a "gentleman's express" with hand-built quality, character, and a timeless design.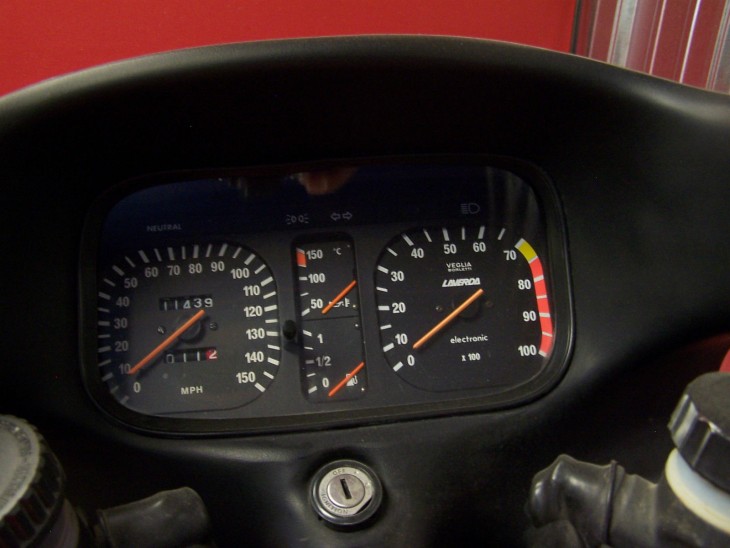 Powered by a revised version of their 981cc three-cylinder with a revised, 120° crankshaft to smooth out the famously raucous engine, the RGS featured a full fairing, comprehensive, if sometimes fickle instrumentation, and reasonably comfortable passenger accommodations. Fitted luggage was even available.
But the original three cylinder bikes were big, butch sportbikes and saw plenty of time on racetracks, so the RGS is no old-man touring bike. While it's no lightweight at 550lbs full of fluids and ready to run, it's pretty par for the course when compared to other big sportbikes of the period and offers up big speed and stable handling for mile-crushing sport-touring.
I almost passed on posting this bike, as the photography is less-than-stellar. But Laverda RGS is very rare here in the US, with just 250 imported, and this looks like a very nice example. Those upgraded ISR six-piston calipers should provide serious stopping power, although the stock parts work very well.
From the original eBay listing: 1984 Laverda RGS 1000 for Sale
This is an opportunity to own a very rare piece of motorcycling history.  This is a 1984 Laverda RGS 1000.  It is in excellent cosmetic condition and is complete.  The plastics are not broken or cracked.  It is currently on display so I can only take pictures of the one side, but the other side is in the same condition as the pictured side.  I have owned the Laverda for 30 years, but it has been in storage for the last 25 years.  It will need to have the carbs gone through, new tires, new brake and fork fluids, and battery at the minimum to have it in running condition.  

The Laverda has the following modifications:

Corsa high compression pistons
Port and polished head
Carbs bored to 34mm
Moto Witt ignition
Astro Lite wheels
Slater 3 into 1 exhaust
38mm M1R Marzocchi front forks
Werks rear shocks
ISR 6 piston front calipers
320 full floating front discs

I have the following stock parts that will go with the Laverda:
Mileage isn't listed, but shouldn't be of much concern, assuming it's been properly cared for: these are seriously overbuilt bikes, with top-shelf electrical components. But, like everything else Italian, it's the maintenance that can get you: there's no oil filter, so regular changes are a must, and shim-under-bucket valve adjustment means a major headache when the time comes for that.
Cherished by owners, these rarely come up for sale and at the $11,500 Buy It Now price seems very fair, although I'd recommend the photographer spend some time making sure his or her pictures are in-focus if the bike doesn't sell this time around…
-tad