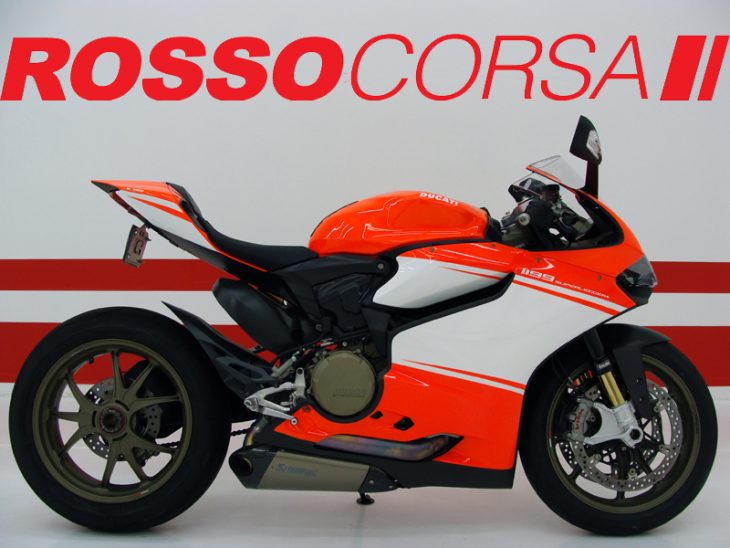 This 2014 Ducati 1199 Superleggera has barely covered its break-in period, and comes complete with a boxful of accessories and two Akrapovic exhaust setups. And, if you're so inclined, the option of a two-year warranty. On a 200-horsepower, 400-pound Scud missile. With a license plate. And turn signals.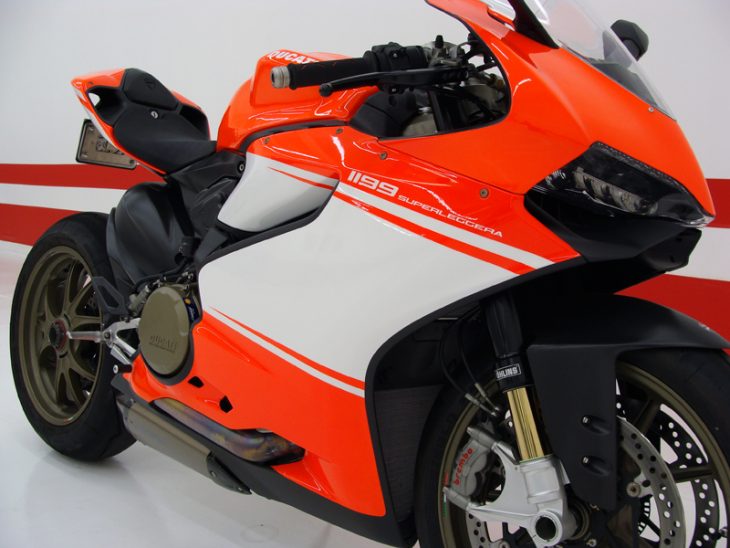 It is nigh on impossible to avoid cliches when describing the 1199 Superleggera, as writers have been trying to come up with ways to describe ever lighter, ever faster, ever more mind-bending bikes since Harley and Davidson strapped their first thumper to a Safety Bicycle. Weapons analogies seem appropriate, though, as a race bike handled carelessly will have the same effect on you as any of Beelzebub's evilest creations.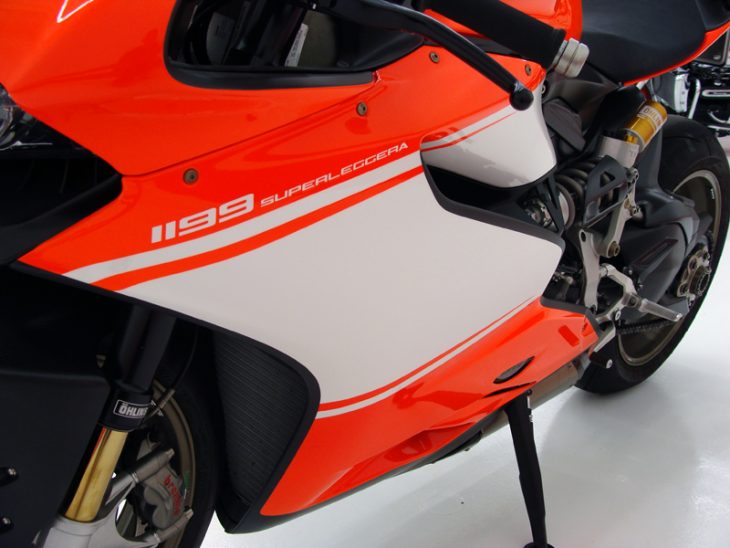 Even with three years under its belt, the 1199 is an amazing machine, carrying all but the final, infinitesimally small and expensive tweaks that Ducati's WSBK steeds do. Though it will pass emissions and safely indicate a turn, this bike has very little business on a public road, needing only its first two gears to land you squarely in jail, or turn you into Hunter Thompson's aptly-named creature.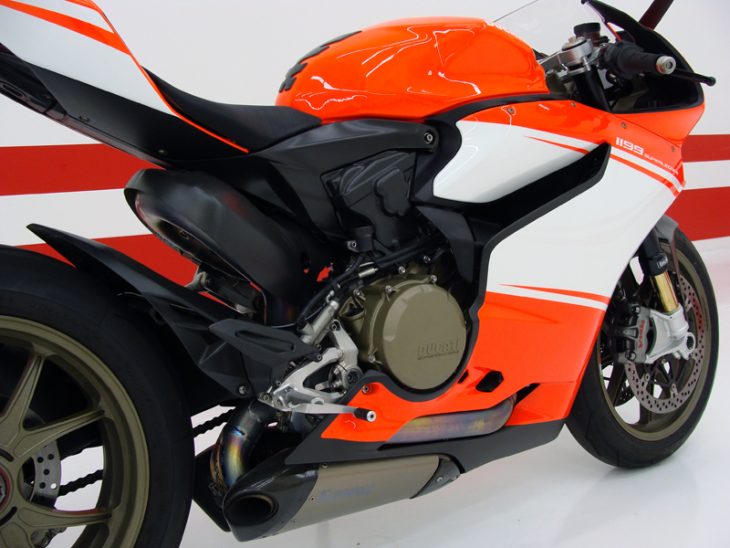 The bike seen here comes from a dealer in California and is, for all intents and purposes new. Judging by the size of the chicken strips on the tires, it has rarely, if ever been ridden in anger. It comes from smack in the middle of the Superleggera's production run, wearing number 294 out of 500 examples.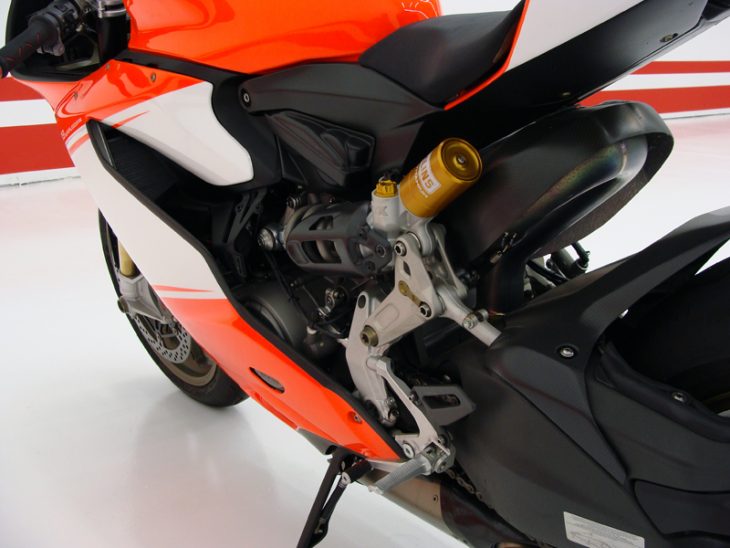 From the eBay listing:
2014 Ducati 1199 Superleggera RARE SUPERLEGGERA - PERFECT

Extended warranty for 12, 24 or 36 months available at a discounted rate.

WOW! We are proud to have this rare piece of motorcycle history available for sale. The 1199 Superleggera is exactly what its name translates to in English – Super Light. Ducati's performance recipe of lightweight and more power, and designed a machine that creates over 200 horsepower and has a dry weight of just 341.7 lbs., which is the same as Ducati's WSB racer. Ducati created 200 new parts for this most exclusive slice of exotica, including a carbon fiber seat unit, titanium fasteners, a feather-light 700g lithium battery and revised electronics.

Ducati outfitted the 1199 Superleggera with a lighter, tungsten-balanced crankshaft, titanium con rods, and a lighter flywheel. Ducati also used aluminum cylinder liners instead of steel

With these enhancements, the 1199 Superleggera produces more than 200 horsepower. To tame this type of power, Ducati incorporated a host of electronics, including Ducati Wheelie Control (DWC), Ducati Traction Control (DTC) and Engine Brake Control (EBC). These systems are optimized "with new automatic calibration of rear-tire size and final transmission ratio." Ducati also added a race-derived, handlebar mount to easily adjust the levels of these systems on the track.

Here is the chance to own the rarest motorcycle in the world and still save 1000's.

Stock #: R1697

We offer very attractive long - term financing and leasing on all of our pristine vehicles.

Shipping nationwide and worldwide is available with our trusted transportation partners.

Please contact us if you have any questions about this vehicle. We are looking forward to hear from you.

RARE SUPERLEGGERA IN PERFECT CONDITION / Collectors item / 2nd exhaust included

Extended warranty for 12, 24, 36 or 48 months available at a discounted rate.
The $45,890 Buy-It-Now price for this brute is closing in on Desmosedici RR territory, though this bike is nearly as rare, just as powerful and arguably more usable than its hand-built and directly GP-derived sibling.