Warning!
This post is in our archives. Links in this post have been updated to point to similar bikes available to bid on eBay.

Bad Knees= No Reserve Auction:  Custom 1985 Yamaha RZ500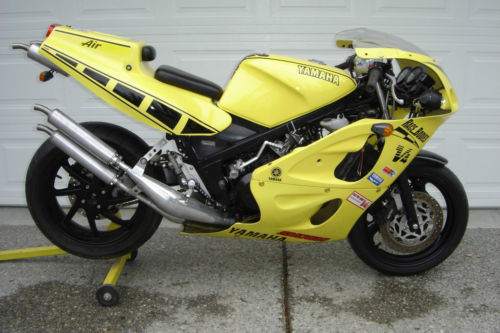 You hate to hear about anyone having serious medical problems but when it comes to road going two strokes for sale you have to look into any opportunity to purchase..  This seller has had the misfortune of having six knee surgeries in the past ten years so the cramped RZ has to go.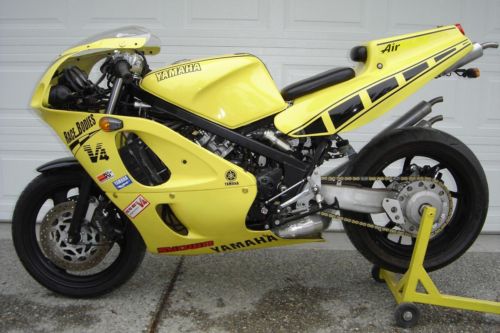 I'm sure you have already determined this isn't a collector type RZ500.  This owner has built an RZ500 to his liking and that includes a lot of items off different bikes.  They include a VFR750 rear end, a FZR600 front end and a CBR600 shock.  We sure seem to see a lot more custom RZ's than RG's.  I remember seeing some modded RG's at the Gamma Gathering but overall it seems like the Yamaha's get more attention in the custom modification department.
An interesting use of ram air ducts.
Here is the info on it:
 Custom rz 500, many mods.
VFR750 rear end
fzr600 front end
cbr600 shock
Mikuni flat slides
ported reed cages
Jolly moto pipes, ceramic coated
Dyna coils
fiberglass bodywork
new topend supplied by Bill Wilson with NO time on. Has not been put in gear since rebuild.
Braided brake lines and lots more I am likely forgetting.

I have owned the bike for 13 years and can no longer ride it. I have had 6 knee surgeries in the last 10 years, 5 of them on my left (ACL reconstructions) I am also 6'4″ which compounds matters.

I don't know a lot about shipping to the States but I think the bike being over 25 years old streamlines the process? Do your homework. I am about 2 hours north of the Sumas border crossing. I would prefer pick up but will work with you if you want it shipped, but you will have to do the legwork.
Looks a tad unfinished from the rear but an ass shot of a two stroke never looks bad.  If you were curious, the bike is located just northeast of Vancouver BC.  An easy drive for any RSBFS readers in the northwest.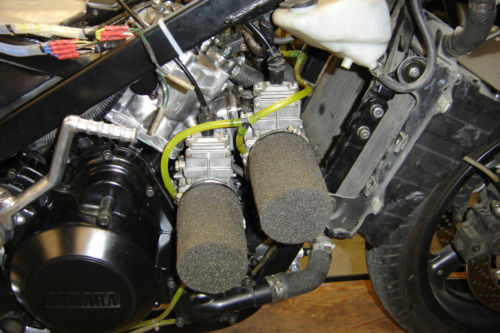 The bike has been up for auction now for almost 3 days with no action.  Is the $7,000 starting bid too high for a modified RZ500?  Sometimes bike's like this are hard to sell because everyone has their own tastes on how they would modify a bike.
Click for the auction and bring it stateside.
Ian