For sale: 1982 Honda MB5 50cc two stroke
So you've been lurking on RSBFS and lament that you can't afford some of the exotic two-stroke bikes that have been posted recently. Well, here is your chance to grab something equally exotic and rare – but more in the price range of the common man.
Imported into the United States for one year only, the 1982 Honda MB5 bridged the gap between the moped/scooter crowd and the big-bore sportbike. Powered by an air-cooled, single cylinder 50cc two-stroke with oil injection, the MB5 could zing up to 10,500 rpm on its way to its 50+ mph top speed. With approximately 7 horsepower on tap, and weighing in at about 170 lbs dry, performance was surprisingly good for the size.
Nowadays, these MB5s are downright hard to find. It is even harder to find one in reasonable, unmodified condition. This one is showing a little bit of its age, but the pieces are all there making this a rare find indeed.
From the seller:
I would consider this motorcycle to be in very good condition for this year, model, and type of motorcycle. I bought this motorcycle used locally in 1993, it has been in my possession and garage kept since that time. I used it as a pit bike at the local racetrack to get around the pits while at the track. It has not been registered on the street since I have had it. I have a clean clear title in my company name for it. This bike has the usual scratches and scuffs on it from garage storage and recreational use. To the best of my knowledge it is all original. It is missing the original heat shield on the exhaust that mounted behind the right footpeg. It still has the original tires on it that hold air. The back one is worn out (bald). Original lights, seat, key, mirrors, tool kit, etc.

The motorcycle runs and is in running condition, everything works, turn signals, horn, brake light, speedo, tach, hi beam indicator, neutral indicator, etc. When this was stored, the carb was always drained. Anytime I've needed to ride, I've simply cleaned the spark plug, put some fresh gas in it, and it has started right up. Original 2 stroke injection pump is still hooked up and functional. The current battery is dead, it was the one that was with it when I purchsed it. For those that don't know..this bike doesn't need a battery to run. The ignition and headlight are magneto powered and work when kick started. The battery and charging system are for taillights, turn signals, horn, gauge lights, etc. I have ordered a new battery which should be in shortly. The bike will be sold with the new battery installed and operational.

I also have the original owners manual, a service manual, and an original article on the MB5 from a US motorcycle magazine. These will be included with the purchase.
Some quick web searching turned up these fun Honda brochures on the MB5, featuring the alternate red paint scheme. This model was only offered in two colors in the US.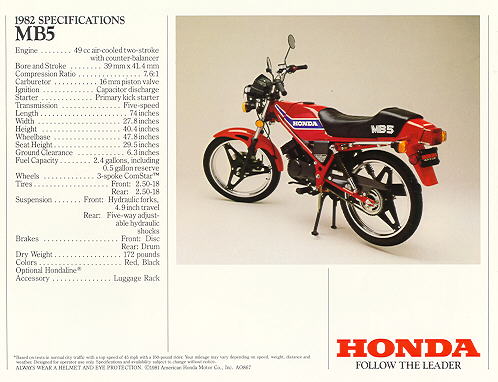 The seller has also included this fun video showing the start up and running operation of the bike:

Due to the engine size, the Honda MB5 was legal in all 50 states (yes, even California). Thus, there should be no issues with registering the bike where you live. It is not the best highway mount due to the displacement and limited top speed, but it will handily keep up with city traffic and the average commute.
If you want to join the ranks of rare, two-stroke collector, this bike just might be for you. With an opening bid of only $600, this little jewel is downright affordable! and start burning some two-stroke oil!
MI