Project 1992 ZX-7R K2 Homologation Superbike on Ebay
Location: Gageslake, IL
Price: $2,200 B.I.N.
Mileage: 26,000 or 32,000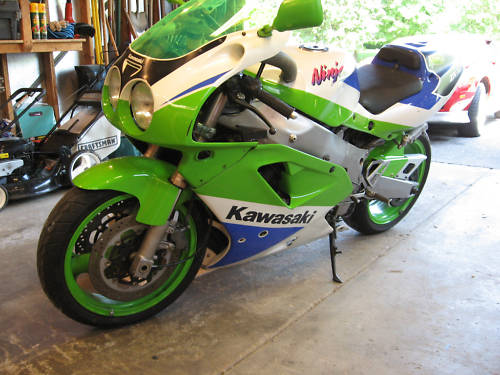 Hmmmm, something interesting here for the tinkerer.  This is not a garage queen by any means but might be a nice gem in the rough for the right person.  It is a fairly high mileage bike with 26,000 miles (for some reason the seller has listed the mileage at 32,000 in the auction) on the odometer.  It looks like it has had a  small slide as evidence by some rash.  I guess the big question mark is the countershaft.  It is apparently stripped where you mount the sprocket.  Good news is the seller is including the replacement part.  Bad news is what might have caused this.  Might be a simple fix, might not.  The bright spot here is the seller realizes the bike needs some work and has it listed at a very modest price.
From the seller:
Super rare 1992 Kawasaki ninja zx7r 750r only a few hundred ever brought to the states. This bike came with aluminum gas tank adjustable suspension 39mm flat slide carbs and much more . The bike is in very good shape with tons of new parts on it like a brand new stainless steel full muzzy exhaust system.There is a minor crack in the fairing and some scrapes and scratches but not real bad for a bike this age. The bike runs but will need some work the carbs probably could use a cleaning and The front fork seals will need to be replaced.the worst part about the bike is the shaft were the front sprocket goes on is stripped . I have a replacement shaft for the bike it just needs to be installed. The bike is in very good over all condition and road fine before the shaft stripped out
If  you have the tools and the time I'd jump over to the auction quickly.  Project bikes at reasonable prices seem to go pretty quickly and the seller has a buy it now price of just $2,200.  It's not everyday you can pick up a rare bike for a modest price.  .
IK