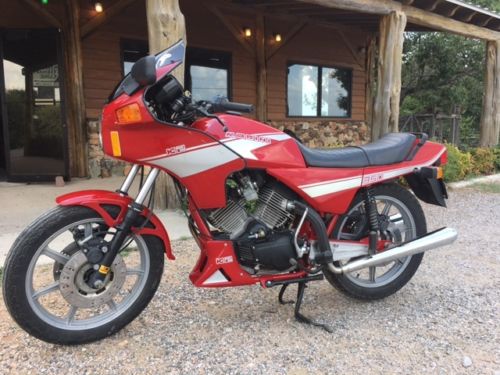 The Moto Morini 350 K2 was, in theory at least, a contemporary of the Suzuki GSX-R750 and Kawasaki GPz900 in terms of cost and mission. In reality, it was light years behind those bikes in terms of outright performance. By the mid-1980s, the Italians were already unable to keep pace with the Japanese manufacturers' relentless technological development and the Morini was a bike you bought because you were a fan, not because it made any practical sense.
That's not to say that the little Italian twin was completely outclassed in every way: handling was always a strong point and the bike was light at just 330lbs dry. The 344cc 72º v-twin was air-cooled and used pushrods to actuate the valves, but was otherwise pretty sophisticated: the pushrods were driven by a toothed rubber belt and the engine featured "Heron" heads that helped gave great fuel economy and simplified manufacturing. Heron heads have a nearly flat surface, with small recesses for the valves and spark plugs, shifting the combustion chamber from the heads themselves to the dished top of the piston. The resulting 35hp and six-speed gearbox could push the little bike to more than 100mph, impressive for an air-cooled 350.
Styling is subjective, but the little K2 has origami good looks and simple graphics that give it a strong dose of 1980s class, and you're certainly unlikely to mistake it for anything but an Italian bike. Earlier Moto Mornis' classic looks always seemed at odds with the angular design of the powerplant, and this updated bodywork seems to gel better as a whole. I think I prefer the style of the older 3½ in general and yes, for some reason, Moto Morini called its 350cc machine a 3½…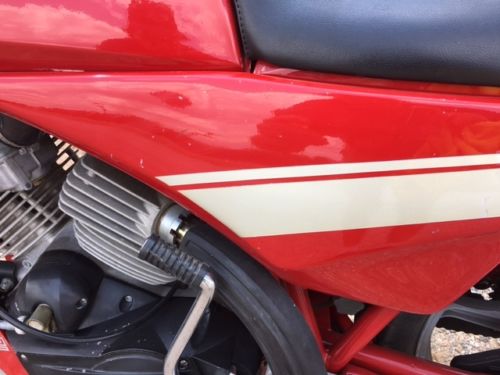 From the original eBay listing: 1986 Moto Morini 350 K2 for Sale
This is my last Morini . I had this bike quite a while runs rides and handle like an Italian bike should this is a very collectable bike, just selling my collection. Probably less than 10 in the USA.  ASK questions there are a few small scratches in the paint. But I rode it hundreds of miles . It's NOT new but it could be New to you. Clear Texas title in my name.Ship anywhere in the world at buyers cost.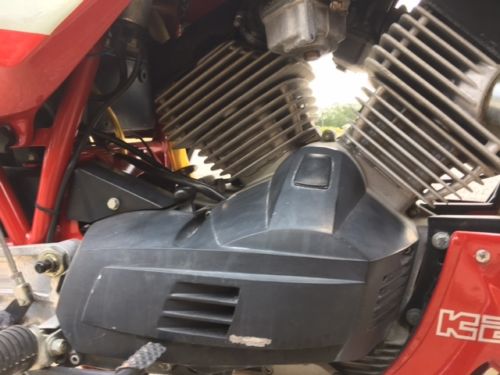 Moto Morinis fell into the "cheap, but hard to find" category for a long time, but values in recent years have basically exploded, although that generally applies to the earlier, classic-style bikes. Miles are very low at 2,392 and it isn't perfect but appears to be in very original condition, which is great because sourcing missing bits on a rare, relatively "affordable" classic can quickly erase any bargain pricing. Bidding on this example is up just north of $2,000 with the Reserve Not Met and very little time left on the auction.
-tad