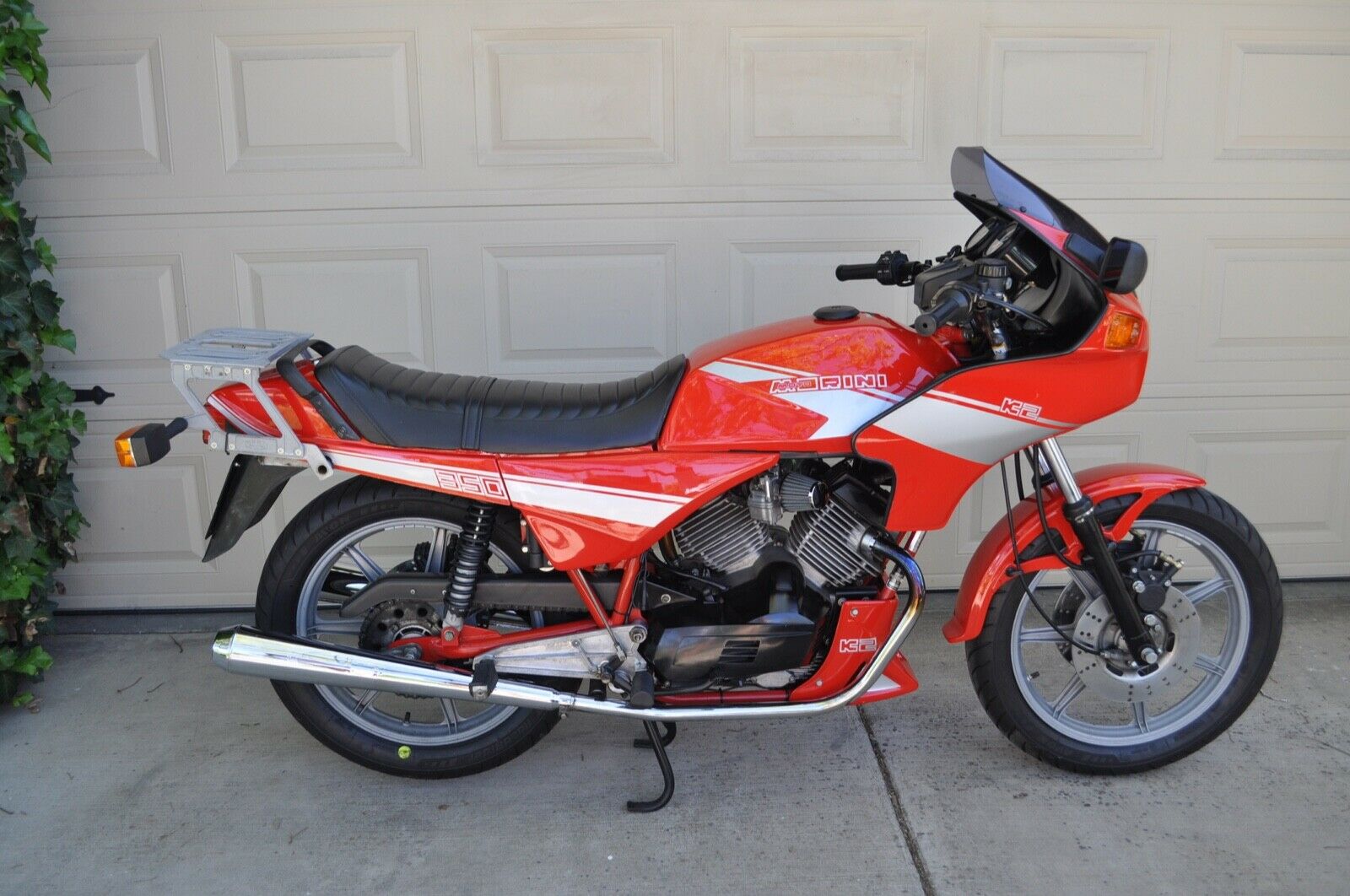 While not exactly the fire breathing homologation dragons usually befitting the pages of RSBFS, there is something unique and irresistible about the Moto Morini brand. And while the company produced a number of models over the years, it is the little 350cc v-twin that we see the most. These are beautiful bikes that lack the total exclusivity of a Bimota, lack the displacement of a Moto Guzzi, lack the high speed touring prowess of a Laverda, and lack the race track creds of a Ducati. Yet they have a place in the collector world, and are suitably rare in the United States.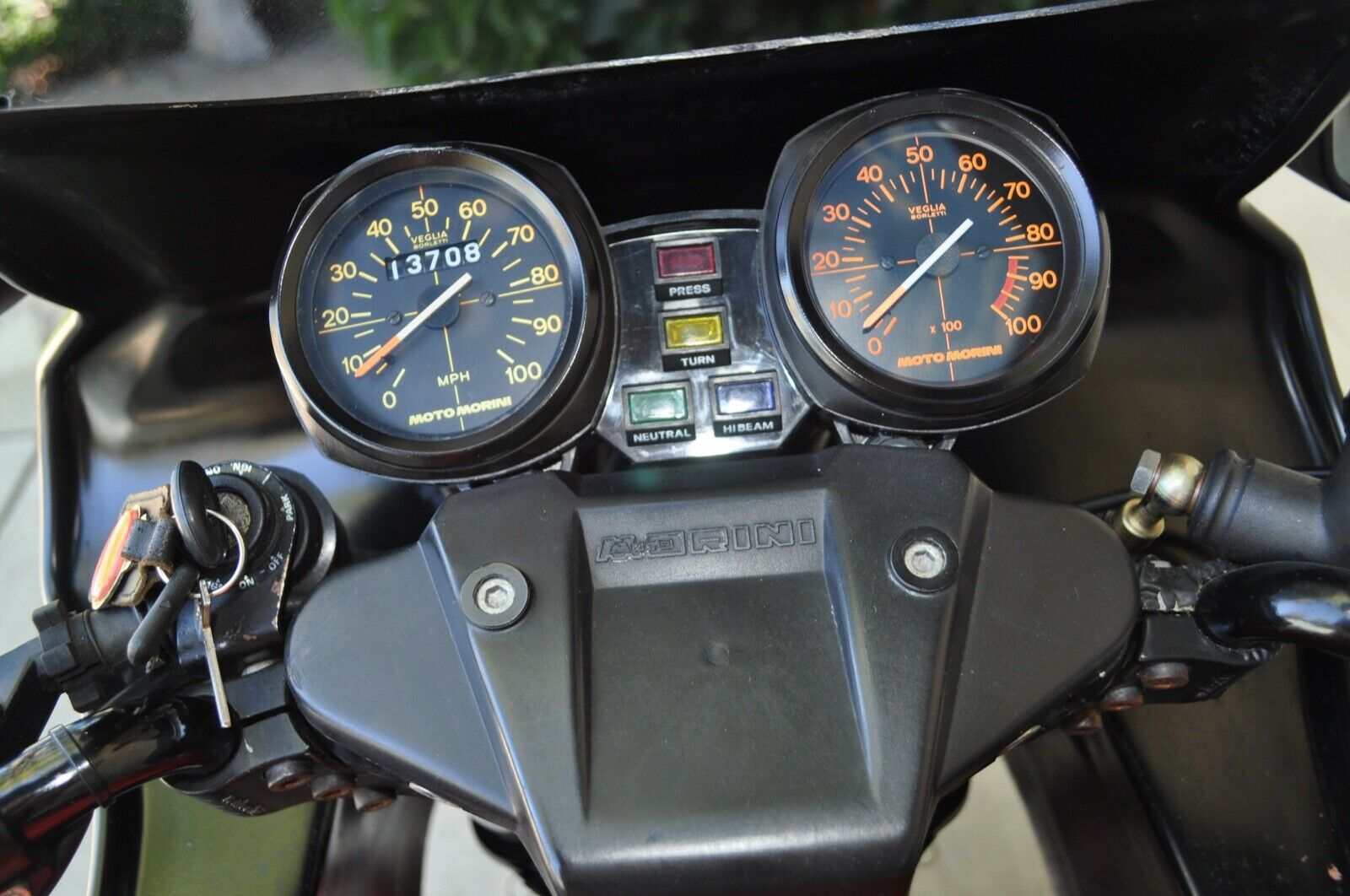 The Morini 350 (previously known as the 3 1/2) is a very approachable motorcycle – both from a rider as well as a collector perspective. With both electric and backup kick start available, the 72 degree, overhead valve twin certainly won't hurt you. The vee angle produces some buzz at certain RPM, but otherwise these bikes are smooth and gentle. And while that Ducati or MV Agusta looks like it wants to spit you off while still on the stand, the Moto Morini chugs away delightfully, while oozing out an estimated 35-ish HP. Wrapped in a style that can only be evoked by the Italians, the 350 is a bike to ride. The collector aspect of the little Morini that could is just as clear: with few examples imported into the United States these are rare yet not terribly expensive. They are not overly complicated to work on, and represent a good entry point into the rare and wonderful.
From the seller:
1986 Moto Morini 350 K2 v-twin. Heron heads. Very original. Rebuilt DellOrto carbs w/ OEM carb kits and sonically cleaned. Replaced CAM belt less than 100 miles ago. Adjusted valves. Replaced electrical starter clutch with OEM part from Europe. Replaced solenoid fuel tap w/ manual fuel tap as I prefer manual petcocks – but still wired for solenoid (just uncover labeled wire cap if you so desire).

Replaced original air cleaner with tasteful cone filters from European supplier that make adjustments/inspections easier and frankly look better too. Original air cleaner goes with the bike if you want to go back to original. Small crack in left front mud guard where it attaches to fork . Glued fiberglass and holds nicely. Not really stressed and non issue. You could sand and paint but left it as functional. I also replaced original tires with new Avon Road Riders w/ tubes (less than 200 miles on them) that are superb for cornering/riding. Telepathic steering is how I describe the K2 – with butter soft gear changes up and down 5 gears. Electric start or kick – both work nicely and starts easily.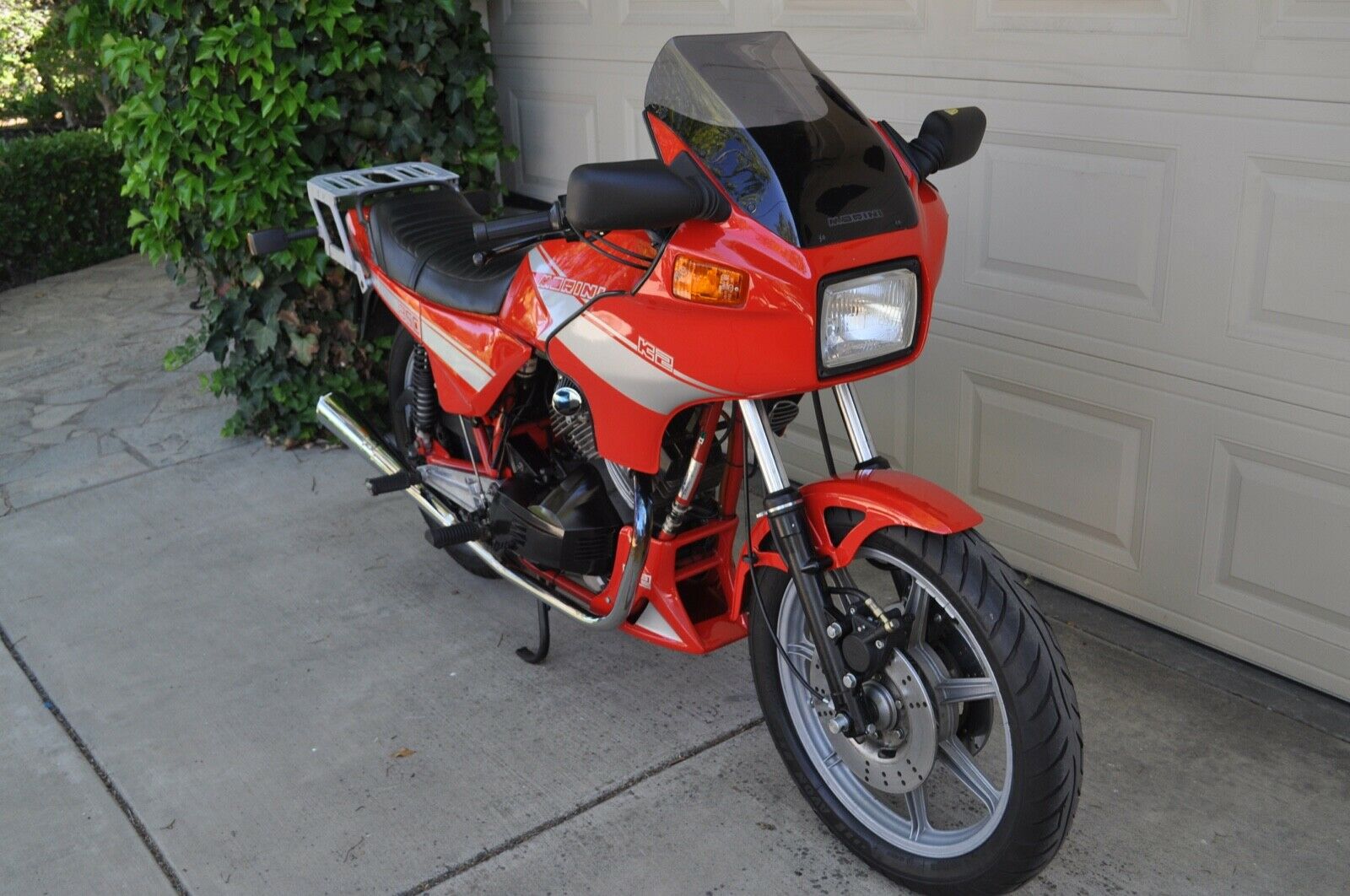 More from the seller:
I acquired this Moto Morini K2 from original owner in New York who bought it from US distributor Herdan. He chose to pick up at factory in Italy and rode it around Europe with Herdan group before Herdan imported it o US. During the Morini tour of a life time – he met his wife to be in France. Bike shows original mileage which now is 13714 miles – which is very low for Morini's. They are just broken in at this point. I have only put on additional 200 miles or less during garaged and cosseted ownership.

If you know Morinis you might know this is the final iteration of the 350. Supurb balance and handling. A tasteful modern design with comfortable riding position and adjustable handle bars. Nice integrated fairing circa 1980s's and originally supplied Italian rear rack I have never seen before. It is of light alloy and solidly constructed. Very cool.

Two sets of original keys. Manuals. Original tool kit. K2's are rare. Probably most original K2 in U.S. Ride it. Enjoy it. Solid bike and feels much like my Moto Guzzi 850 LMIII but light and nimble.
The K2 is the final series of the model line, and as such is the most polished and evolved. This particular example looks to have been well cared for, and even has a cute story to tell (read the seller's text). True, this is no homologation model, no two stroke, and probably left of center for what the core RSBFS audience mainlines, but RSBFS is all about the rare the the different and this one definitely fits in there somewhere. Would you want one in your garage? Check out all of the details here, and then let us know in the comments. Good Luck!!
MI