Erik Buell Racing had to provide a toned-down version of their flagship 1190RS superbike, since even their managers couldn't afford the RS.  The 1190RX has some of the expected Buell innovations and a refreshing level of tech compared to earlier offerings.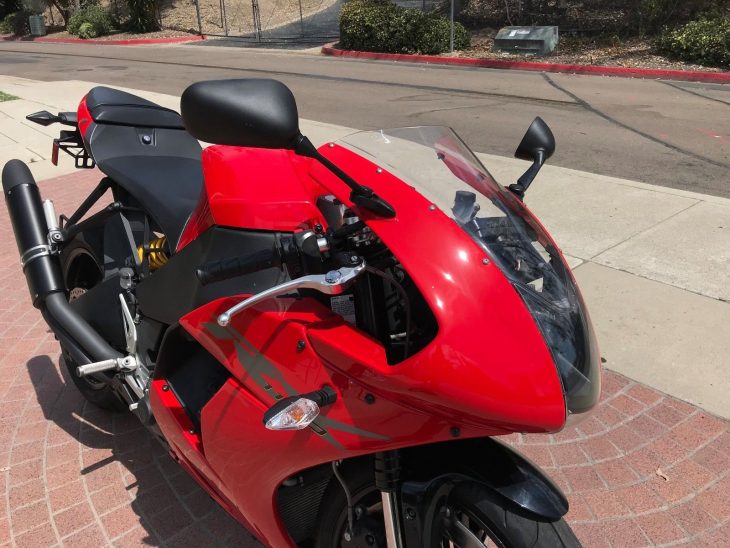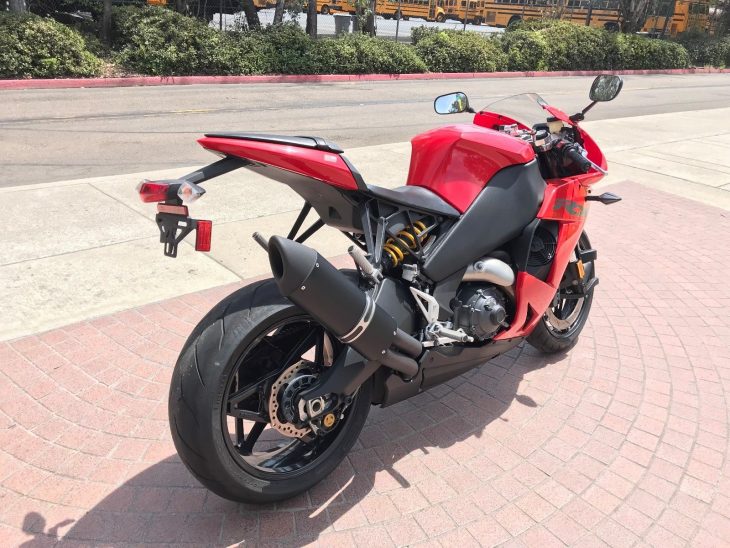 Buell had earlier turned a corner and used a Rotax-based engine for their 1125 series, and continued development resulted in the 1190cc engine adopted by EBR, delivering 185 hp and 102 ft.-lbs. torque.  Fuel is in the formed aluminum perimeter frame, and the "tank" holds the airbox.  Showa has provided the big piston forks and a more conventionally configured monoshock.  It would be news if an EBR machine did not have the zero torque load front brake, this one might be the pinnacle of the design at 386 mm with an 8-piston caliper.  Electronics jumped the shark to this model, with an LCD dash and traction control configurable on the fly.
Though it has low miles and looks excellent, the salvage title makes this a real opportunity.  States handle this differently, making a reading of your DMV's rules and inspection of the bike a requirement.  A couple of calls to local indie shops wouldn't be a bad idea either, to see how much support is available.  From the eBay auction:
There only about 1200 EBR's made worldwide. This one is production #26. This is a 2014 model EBR 1190RX. Makes 185HP and 101TQ. The bike just hit 5,600 original miles and runs perfect. The power and torque delivery on this bike is crazy! This bike goes head to head with the Ducati 1199. It has interesting features like all LED headlight, the fuel sits inside the aluminum frame and airbox is on top.

The bike also has traction control and different track modes. There is a single sided front brake rotor and single caliper and stopping distance shorter due to the size of the bigger rotor. The bike is in pristine condition and only has your normal wear. The bike does come with a California rebuilt salvage title from previous damage to the right side plastic. Damage was minor and have pictures to show.  All the parts were special ordered from EBR.
EBR had just a few years afloat, and accomplished a lot, considering.  The Cycle World head-to-head with the Panigale was basically a draw, their biggest complaint being the hefty clutch.  Most of the development costs had been well, amortized in the 1190RS, allowing EBR to offer this advanced superbike at mere Ducati prices.  Now you could have it for significantly less, but put an eyeball on it first…
-donn