The penultimate Buell came with Rotax power, and a typically edgy Buell design.  This owner would like to split the difference between the trade-in value and dealer retail, a righteous thought.  An afternoon of detailing might push this 1125R over the goal line.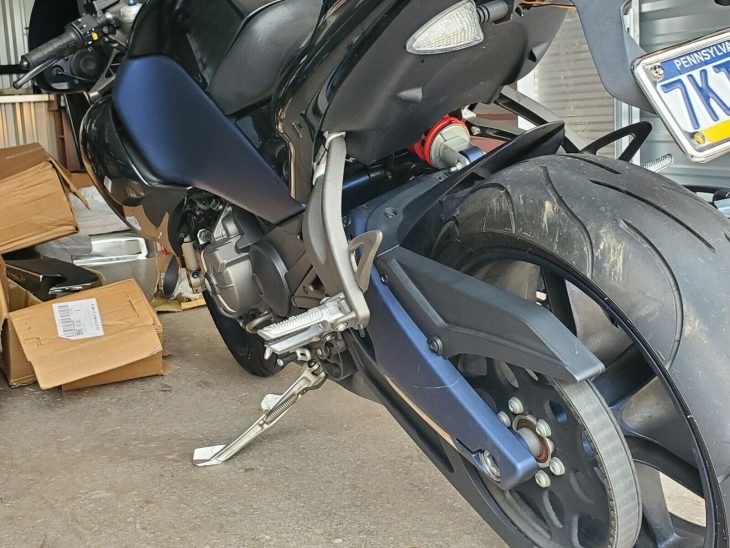 Rotax supplied their turn-key twin, a masterful use of 1125cc's to make 146 hp.  Buell's signature innovations are all aboard, the fuel-in-frame chassis, single 375mm rim-mounted front brake, and mass-centralizing exhaust.  Showa contracted for 47mm front forks, and the piggyback-reservoir monoshock, both multi-adjustable.  The seemingly overstated side radiator scoops funnel air under the rider to exit beneath the seat.  Buell's earlier experience with the quiet and maintenance-free drive belt led them to design it into the 1125R as well.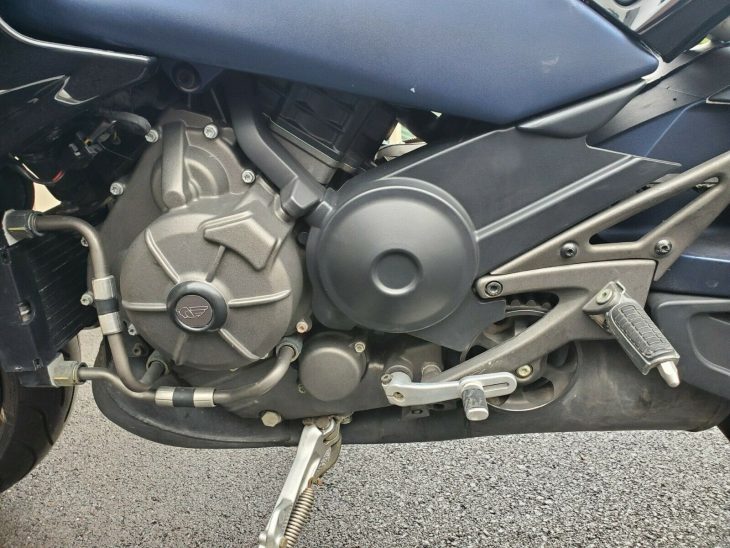 Despite the "storage wars" presentation, if the routine maintenance hasn't been overlooked, this Pennsylvania 1125R might just need some elbow grease to be sharp.  The exhaust could be hi-temp painted, ceramic coated or there are any number of aftermarket specials available.  No accident damage is readily apparent.  From the eBay auction:
Miles are higher than posted in picture, it has over 8000 miles. I drive it to circulate fluids so it remains in good shape mechanically. it starts, runs and drives perfectly. I'm trying to sell it to buy my fiancé her own bike she could ride comfortably since she's short it doesn't fit her well. I know what it blue books for and what a dealer will give me on a trade in but I want to sell to someone who would get it for a better price from me than from a dealer.
Despite their recent agreement on the not-invented-here powerplant, Harley would shortly change their corporate mind and shutter the Buell brand altogether.  This shaky support has to be factored into the next owner's offer.  It's a lot of bike for the ask, but a good relationship with a knowledgeable indy would be a big help.  In the right situation, it could be a smashing resto-rider.
-donn