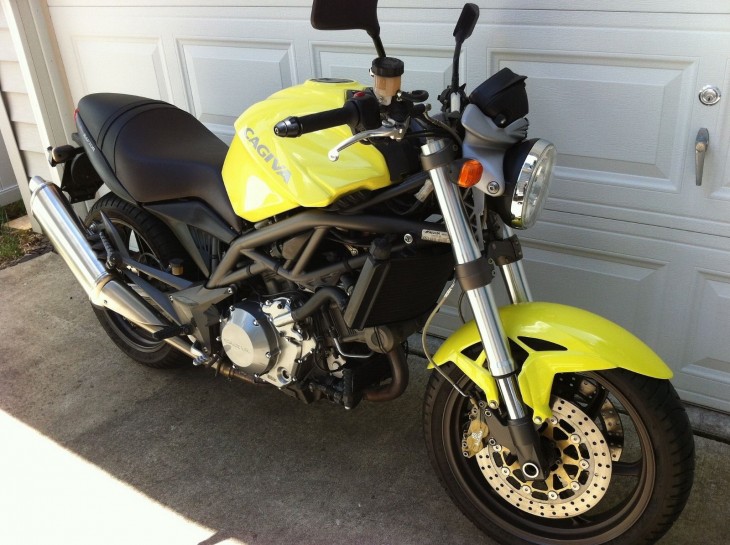 Cagiva's Raptor was a followup to the Ducati Monster by the original bike's designer, Miguel Angel Galluzzi. Powered by Suzuki's powerful, reliable and, most importantly, low-maintenance v-twin in both 650 and 1000cc flavors, the Raptor attempted to recreate the magical Monster formula for Cagiva. Unfortunately, while it was better in pretty much every quantifiable way than the air-cooled Monster, it never really captured the imagination of the buying public and was never officially imported to the USA, making this one of only a couple I've ever seen for sale here.
With 105hp and weighing in at around 400lbs with gearing to suit a naked bike, the Raptor 1000 is a fairly quick machine, although it obviously can't compete with modern supernakeds like the KTM Superduke. But those contemporary bikes would be virtually uncontrollable without modern electronic aids, something the Raptor obviously lacks entirely.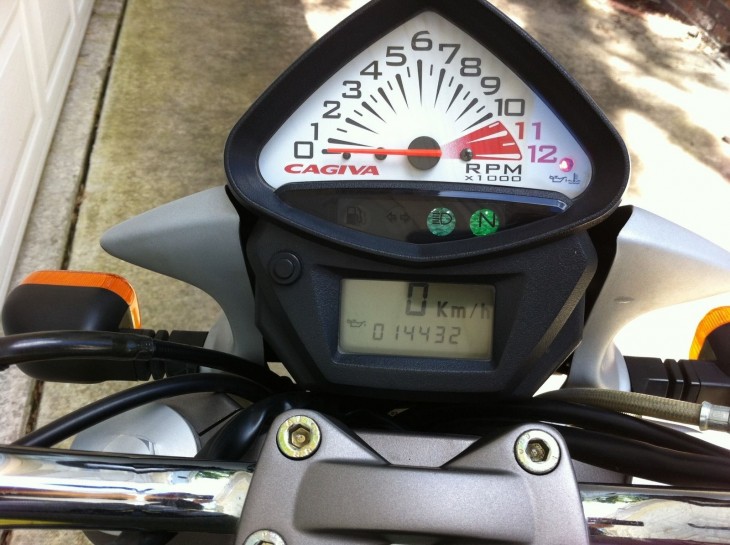 Unfortunately, the only couple Raptors I've seen here in the US are the "standard" bikes, not the much wilder V-Raptor that featured a slightly insane, very angular pointed headlight unit and a pair of air-tubes that curved back over the tank and look like they were cribbed off a Bimota SB8R… The standard Raptor is a good-looking bike but, in my opinion, lacks the elemental quality of Galluzzi's original Monster. It's bland and overstyled at the same time, with gimmicky gauges and a busy cast frame in place of the simple trellis unit of the Ducati.
From the original eBay listing: 2000 Cagiva Raptor 1000 for Sale
This bike may look like a Ducati Monster, since it was designed by the same designer, Miguel-Angel Galluzzi. However, when Cagiva divested Ducati (Ducati and MV Agusta were all owned by Cagiva under Claudio Castiglioni at the time) the later-designed Raptor employed the more powerful and reliable Suzuki v-twin motor. Google 'Cagiva Raptor 1000 (2000-2005) Review' to read some of the background of the genesis of the Raptor.

This bike is rare in the U.S. This may be the only Cagiva Raptor in the U.S. If you own one I would be interested to hear from you. I don't think they were ever imported here.

The bike is exotic in its Italian naked bike background but extremely reliable with its fuel-injected water-cooled Suzuki motor which doesn't require the valve adjustment every 6000 miles like the Monster. The Suzuki motor is also much more powerful than the air-cooled Ducati Monster motors of that vintage. The Suzuki motor is still used in production bikes and in flat track racing.

 

I bought this bike from the second owner in 2005, flew out to Los Angeles and rode the bike the 2000 miles back home to Springfield, Illinois without problems. Since that time I've put relatively few miles on it riding locally. The maintenance history of the bike during the time I've owned it is shown below.

 

The bike has metric instrumentation, so the speedometer and odometer readings are in kilometers. This requires some mental calculating when riding.

 

Everything works on the bike, except that the headlight does not come on with the ignition key switch. So I currently have a rubber band around the flasher switch (found on European-version bikes) to keep the headlight on continuously. I have an appointment with the local Cagiva dealer to have this fixed, so that may be remedied by the time of sale if it doesn't require parts ordering.

 

The bike runs strong and has a great v-twin exhaust note. It pulls cleanly and handles nicely, weighing only a little over 400 pounds. It is essentially in original condition as can be seen from the photos, still wearing most of its original 'MV Agusta S.p.A.' stickers. The tires only have a couple thousand miles on them although they were installed in 2007. The front fender and tank color have been changed to an original factory Cagiva color because the fender and tank were silver with MV Agusta badging when I bought it.

 

The bike is being sold with its original exhaust pipes which are in very nice condition. I have recently installed a new set of Staintune stainless steel exhaust pipes which have a somewhat throatier sound. These are not included in the sale price, but I would sell them for an additional $800 (these are $1200 retail if you can find them) above the sale price of the bike.

 

Please note that the photos shown in this auction were taken last year. However, they are still an accurate depiction of the bike's condition as only a few hundred kilometers of local cruising have been put on the bike since the time of these pictures. The bike has always been stored indoors in a heated garage with battery tender during the off-season.
When new, this would have been a lower-maintenance, more powerful alternative to Ducati's air-cooled Monster. Now, it's role is a bit more ambiguous. The Suzuki V-twin is a fantastic motor. It's plenty powerful, and I'm sure a set of TL1000R cams and other parts would likely slot right in to get the Raptor up to that bike's claimed 135bhp. Unfortunately, electrical parts and bodywork will likely be shipping over from Europe, so "reliability" becomes a relative term.
This particular machine has very reasonable miles considering its age and looks to be in excellent cosmetic shape. Which is certainly a great starting point for a bike this rare at this price point: you certainly don't want to buy a cheap, basketcase exotic.  In spite of the condition, there are no takers yet at the $4,500 starting bid. Considering a decent Monster of the same era can be had for much less, this may just be priced a bit high.
-tad