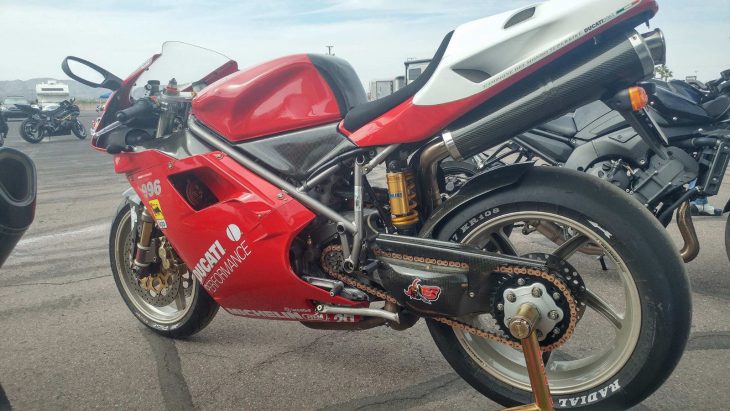 The souped-up version of Ducati's iconic 916, the 2000 Ducati 996S allowed Duc to keep the Massimo Tamburini styling that still did not look dated and make a raft of mechanical mods to keep up with the Joneses. The bores got embiggened, parts from the 916 SPS became standard, and horsepower climbed to the mid-120s, and the bike stayed in the spotlight attracted by its predecessor.
The 2000 models got five-spoke Marchesini wheels, which on the S were featherweight cast magnesium. The suspension was handled on both ends by Ohlins, which ratcheted up the exotica a notch or two.
This example is low mileage and comes out of the second owner's collection, where it has been ridden mostly to shows. It has been given an aftermarket graphics package, which is removable, as well as some carbon fiber dress up bits. It also sports Akrapovic slip-on cans and Ducati Corse rearsets.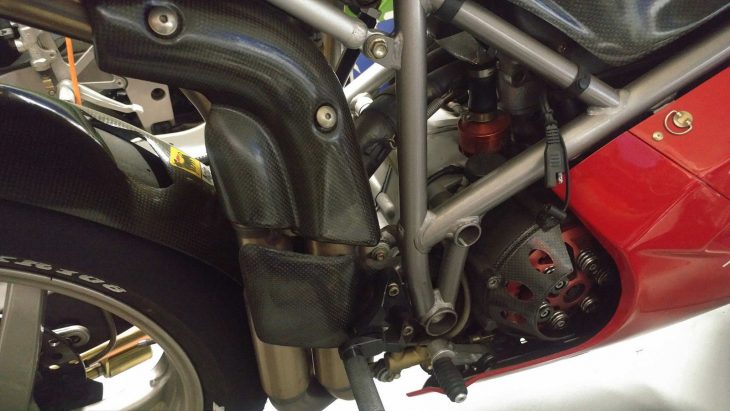 From the eBay listing:
Ducati 996S 2000.

Bike is located in Queen Creek, AZ. Clear title. Super clean bike with only 4123 miles. This is an S model which is limited from Ducati. #259 Upgraded components from Manufacturer such as Ohlins suspension equipment. Bike is well taken care of and comes out of a collection. I am the second owner. Services are up to date. Decals on fairings can be removed as they are not under a clear coat. Besides that everything else is pretty much OEM. Akropovic slip-on's, Ducati Corse Rearsets, correct Marchesini magnesium upgraded lighter wheels recently checked and painted. I have the owners manual and original tool pouch. You can take it home and ride it. I do ride it to shows so mileage can and will change. I do run Rear slicks on all my street bikes. I can put a new rear DOT on if requested. ie: this was not a race bike because it has a slick on. Besides that, new front tire, 520 chain, sprockets, oil, belts. it does literally look new. Please don't ask about other bikes in the pictures and if they are for sale. They will not be responded to. Thank your for your time. $7500 obo

Any and all other questions welcome.

Mike six zero two 909 855 five

For Sale Locally. I can end the listing at any time.

Please note 2 items are on the bike that will not be removed until sold. Rear Billet Brembo caliper, and WSB full floating rear rotor. I will leave the Brembo caliper on at an additional cost to listed price if negotiated. Rotor is not negotiable. I don't need to sell the bike and so parts will stay on until Sale. OEM items will be reinstalled.

I can help with transportation arrangements if needed. Buyer is responsible for pick-up.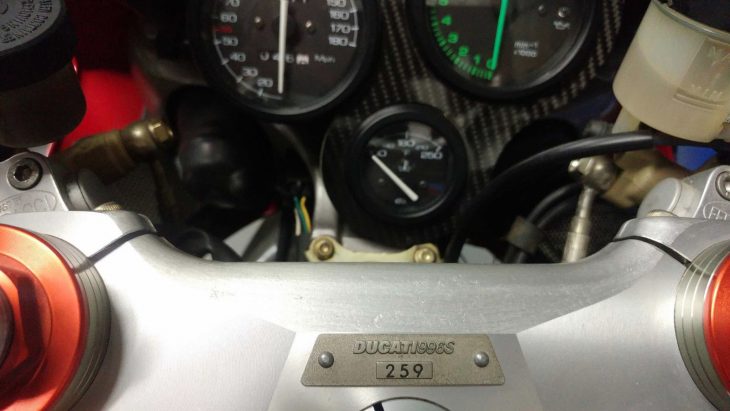 This bike is in excellent shape, has a very few reversible mods and is extremely low mileage. At $7,500, it's almost a no-brainer.