Just east of some of the best snow sports in the world, there's a classic and very sporty Moto Guzzi waiting for spring.  This Denver example looks quite original and very good for its 13,048 miles.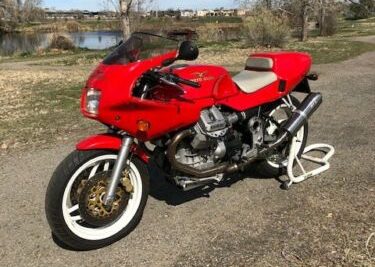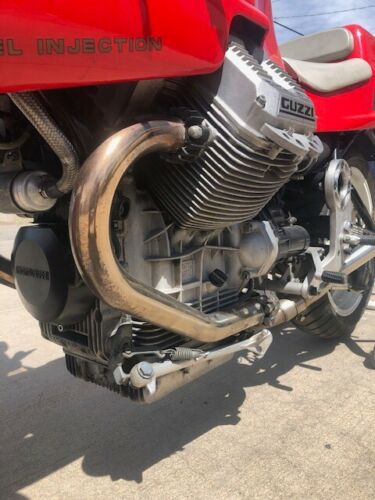 Midway through the DeTomaso administration, Guzzi was looking to generate some attention, and the leap to four valves did just that.  The liter V-twin pushed 95 hp, and used a single belt driven cam in the north side of each head.  The chassis didn't contain the engine so much as help it locate the steering head and swingarm.  17-inch wheels with conventional forks from Marzocchi and WP monoshock are sporty running gear, as is 320mm stopping gear from Brembo.  The upper-only fairing flows from nose to monoposto seat fairing.
Offered by the enthusiast owner, this Daytona is sharp and up to date maintenance-wise.  Looks like a regularly ridden superbike with the Supertrapp.  Comments from the eBay auction:
This Italian-made machine was largely the work of an American dentist-turned-engineer, Dr. John Wittner.  In the late 1980's, Dr. John produced special Moto Guzzi race bikes that were very successful.  The Daytona is a production version in honor of those race bikes, with a four valve per cylinder engine.  Note that like the Vincent, the Daytona does not have a frame. Instead,it uses a box section "spine".  The original exhaust system has been replaced with a SuperTrapp system. 13,048 miles, fresh service, new belts, very clean.
The eight valve engines must've been a budget buster, and though the engine was retired after 1999, BMW may have analyzed the almost-overhead cam's geometry while their R1100S was in development.  Dr. Wittner and his interns did well in thunder twins racing, and the Daytona remains an aptly named flagship.  This one is having its own endurance challenge, racing toward a third decade's finish line and new rider.
-donn