Ducati simplified their SportClassic offerings after the initial year, making the 2006 model the one to look for.  Today's monoposto looks very good even parked on a dusty shoulder.
Ducati wowed fans when the 2006 SC's were introduced, with three specific knods to a past classic.  The monoposto had a café racer's vibe, and one of Panigale's best engines, the 91 hp dual-spark air cooled 992cc.  Plenty of designer attention was given to keep the SportClassic's message focused, with two-into-two exhaust and spoked aluminum wheels.  Up-to-date brakes and suspension are hiding in plain sight but offer welcome performance, and Marelli fuel injection brought emissions down to the new Euro-3 standard.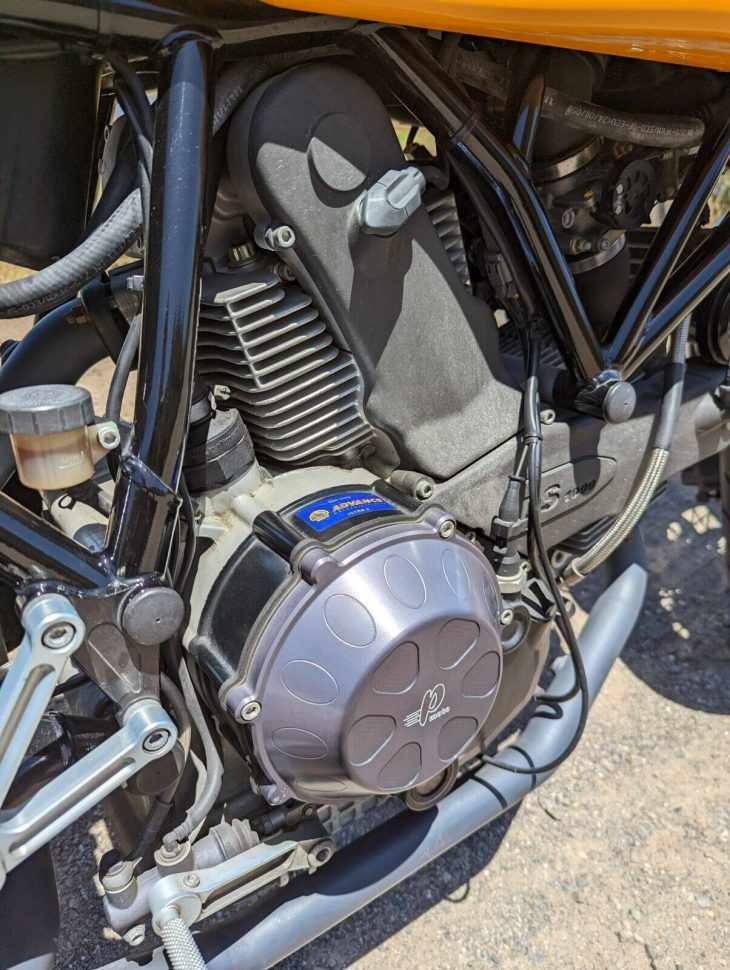 This Sport Classic shows nicely, seeming undamaged and with a few updates.  The separate Termi's are a regular choice for this model, though most owners opt for an open clutch cover.  The tail has of course been tidied, and the factory chrome bar-end mirrors and tank filler replaced with black anodized components.  Valve train service was recently completed and tires are fresh.  The handlebars appear to have the later, higher risers, though maybe a reader could verify.  Like helmets in the new Top Gun movie, front turn signals might be optional these days.  Owner's notes from the eBay auction –
2006 was the only year for the Sport Classic to have a dry clutch, single swing arm/shock/spring, single seat, etc. and then Ducati switched to wet clutch, double swing arm, etc. from 2007 onwards. I'm selling because I simply don't ride enough these days. The 2006's are extremely hard to find and are increasing in value, but I need to make the space. The bike is well cared for, lightly ridden, and always garaged. It has the Termignoni exhaust and the Pirelli tires have less than 500 miles on them. It also has a brand new battery. Mechanically sound, rides strong and clutch engages solidly. Aesthetically all looks good overall. The turn signals, as they do for every Sport Classic, break off far too easily and should be replaced. Major service was completed about 1000 miles ago or so at Rider Revolution in Costa Mesa. The bike is ready to be ridden. I have 2 keys, the manual and some service history/records as well.
After the splash, Sport Classics languished in the showrooms, but have more than made up their popularity in recent years.  The 1000DS's revered torque band and sound is still available on the Scrambler page, the 800 or 1100's being Ducati's only air-cooled models.  Now a classic in their own right, these retro tributes appear to have been ahead of their time.
-donn