Update 1.2.2019: This bike has SOLD!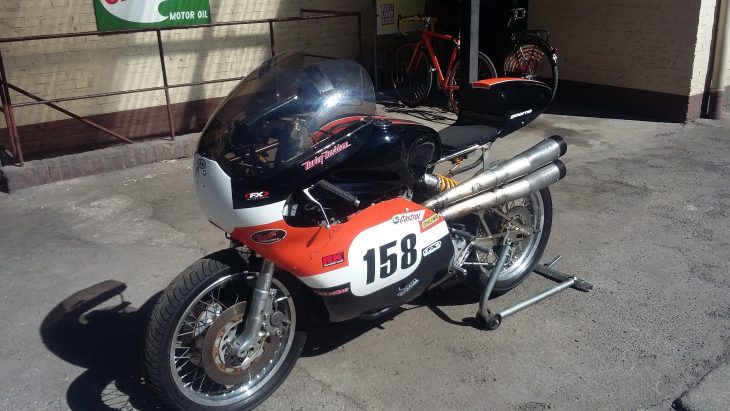 Looking at strange beasts like the 2019 Harley-Davidson FXDR, you'd be forgiven for forgetting that Harley ever had anything to do with road racing. Or turns in general, for that matter. Years and brand image have done much to erase the memory of the 1972 Harley-Davidson XR750TT, an honest-to-God, race-winning Milwaukee steed based around the firm's venerated 750cc flat track engine.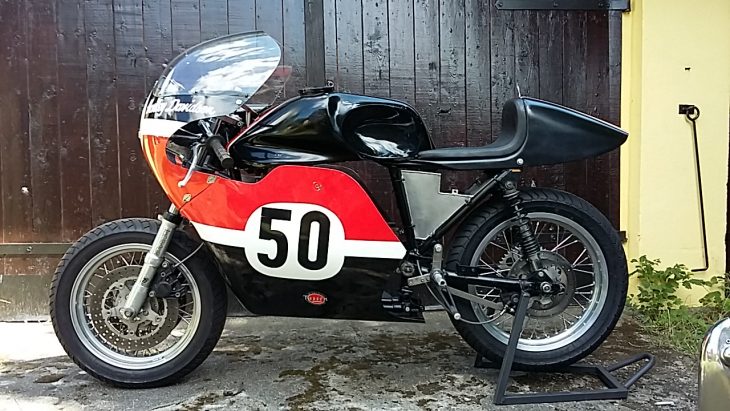 Harley built about 10 black and orange, fully faired examples of the XR750TT in '72, and in Cal Rayborn's hands they had a bunch of success in international match racing, despite putting out south of 100 horsepower, with most relying on front drum (!) brakes. The Lord works in mysterious ways, we guess.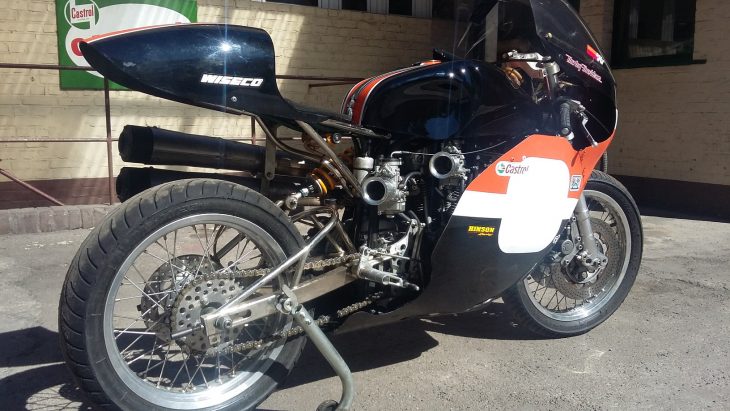 Today's listing is a package:  The first bike is a turn-key replica of Rayborn's mount, albeit with some poetic license taken to tame some of the sketchiness of the original. For one thing, the builder stuck on a proper dual-disc brake setup. It also rides on a monoshock C&J frame and wears suspension from Ohlins and Forcella Italia. Beyond that, though, the bike is true to its roots, with a 1993 XR750 mill swaddled in lovely, delicate reproduction bodywork.
The second part of the package is a rolling chassis that is a nearly perfect replica of Rayborn's mount. The seller had intended to swap in the engine from the first bike to make a fairly faithful replica.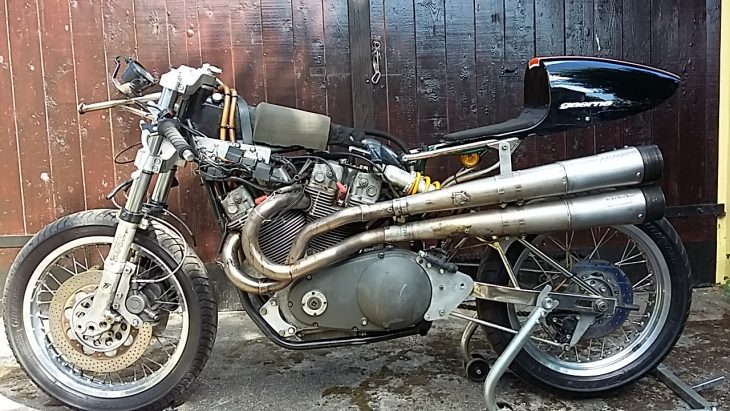 From the seller:
Harley Davidson XR750 Road Racer, C&J Frame Mono Shock, XR750 engine from 1993, Forcella Italia fork, Ohlins shock, Wire Wheels, complete Body Kit incl. fairing, partly new painted, new windshield, very good condition, runs great, race ready. Harley Davidson XR750TT Replika rolling chassis, complete except engine, Forcella Italia fork, Koni shocks, complete body kit, front wire wheel 18″ and 16″, many parts….

The Roadracer has been built in the late 90ies, based on a C&J Flattrack frame and a factory original 1993 XR750 engine.

Road racing fork Forcella Italia, Shock is Ohlins, brakes are high quality racing stuff. Equipped with the complete XRTT bodywork and Wire Wheels. This bike was raced by the pre owner in the late 90ies to middle 2000s at GrabtheFlag races and similar events in Europe.

The engine has been recently redone by the last owner and runs very good. I bought this bike 2 years ago and  rode this bike in 2017 only one day at a small race track for practice.

Additional there is a complete XRTT Replika Chassis with bodywork, only missing the engine. This bike was equipped with a XR1000 engine and was also raced in the late 90ies to early 2000s at european classic racing events. Fork is Forcella Italia, shocks are Koni, 16″ and 18″ front wheel.

My intention was to put the XR750 engine in the XRTT Replika Chassis, and ending up with a fine XRTT Replika, and buy a 90ies Sportster or Buell Engine for the C&J- Chassis and having a cool and powerfull Race Bike for Classic Races.

I would prefer selling as a package, for € 29000 OBO

Bikes are located in Berlin/ Germany.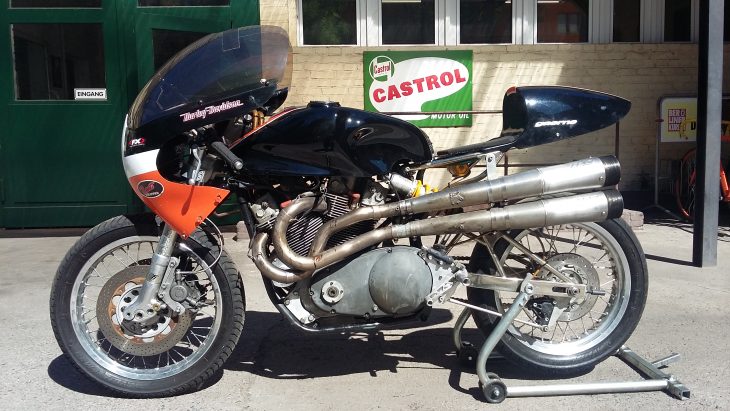 The bike is across the Atlantic in Germany, but is very much worth the effort to import and turn into a once-in-a-while track day mount. With a full extra chassis waiting in the wings, there's little excuse to let it sit.