Warning!
This post is in our archives. Links in this post have been updated to point to similar bikes available to bid on eBay.

Update 8.5.2019: This bike has SOLD to an RSBFS reader. Congratulations to buyer and seller! -dc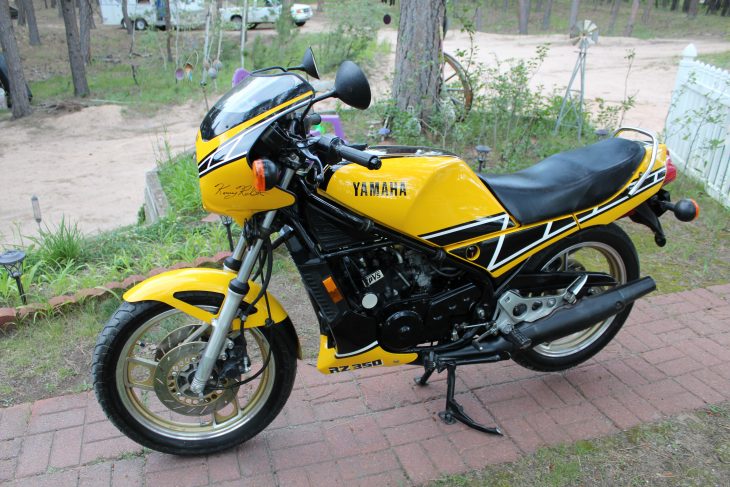 This 1984 Yamaha RZ350 wears the iconic black and yellow Kenny Roberts livery and signatures, is original aside from some airbox mods and jetting and is with its original owner. It has 15,000 miles on it, but has been used very sparing over the last few decades, and it wears only its second front tire. The rear is similar, though somewhat unsurprisingly it has had three rear tires.
Built as emissions were about to kill street two strokes in this country, the RZ350 wasn't as simple as its earlier counterparts, with powervalves to ease the two-stroke hit and catalytic converters to calm the EPA, but it was still a deadly simple and effective package. With just 331 pounds pushed around by 50-ish horsepower and roadracer handling, there was little not to like about the bumble-bee liveried machines. Sure, there were simpler ways to go fast, but there's a certain joy to unrefined fast.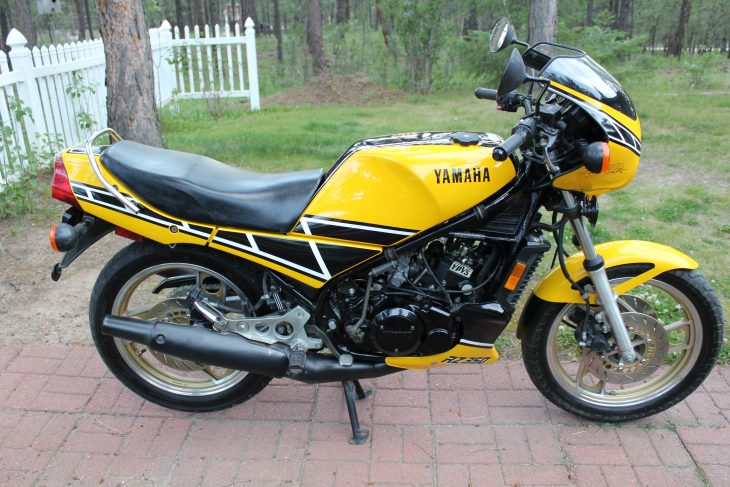 I'm going to let the seller do most of the talking, but this bike is a fantastic example of the breed, and is worth every red cent to the right person. He certainly has come to the right place to find the next steward of this wonderful beast.
From the seller:
1984 RZ350, Kenny Roberts Edition. Original owner, 15K miles. 99% original. You won't find many in this condition. Still has the stock exhaust with catalytic converters. Last registered in 2011. Always stored inside & under cover. Colorado motorcycle so never exposed to moisture & humidity. Have the original sales paperwork, manual and tool kit. I was the service manager at the shop I bought it from. Outside of an 82 YZ490 hold over I bought at the same time, this was the only new motorcycle I ever had. The 490 was just a cheap dirt bike but this was something special.

Only modifications I made was to remove the snorkel from the airbox and drill some holes in the top of the airbox cover, add Boyesen reeds (have the snorkel and stock reeds) and rejet.

It's on the second front tire (which would need replaced if you're going to ride it as it has come cracking) and the third rear tire. The second rear tire I put on was a take-off from my road race bike in the late 80's. Unfortunately it rubbed on the chain guard, so I notched it to clear. In hindsight I wish I hadn't done that but you can only tell if you look closely at the backside of the guard. Replace the chain guard and top cover of the filter box and it's 100% original out side of tires, chain and battery.

Original spark plugs and grips. All hoses and rubber are original and in good shape. Paint and plastic are in good condition and still shine. Has some minor scuffs and scratches as would be expected for a rider. Worst is the scratch on the LH side of the fairing and crack at the top of the fairing on same side (from vibration).

To get this in riding condition and ready for selling, the following was done: New battery and chain. Flush out the tank – clean, just a few very minor spots of surface rust near top, Clean carbs: amazingly clean for not being ridden for almost 10 years – only minor varnish in the bottom of one which cleaned up easily. Changed oil and coolant. Clean & oil air filter – which is also original and still in good condition; not falling apart. There was evidence of mice putting some seeds up there but that is all. Changed brake fluid – rear reservoir was very clean. The front one was very dirty and had considerable moisture/crud in it. Sight window is cloudy and shows it age.

Everything works. Runs and rides well – you wouldn't know this is a 35 year old, non-restored motorcycle. Of course despite it's great condition, it's still bought as is.

$8000
The asking price is absolutely in line with the provenance and condition of this machine. We're not dealing with a Craigslist crapshoot here, and the ask reflects that.