Warning!
This post is in our archives. Links in this post have been updated to point to similar bikes available to bid on eBay.

For Sale: 2001 Bimota DB4 (only $8650!)

RSBFS superfan John is offering up his stunning Bimota DB4 with just over 5,000 miles on the clock, and believe me folks this is something worth looking at! Just have a gander:
Following in the footsteps of the legendary DB1, DB4 was an unabashed sport bike powered by an air cooled Ducati 900cc vee twin. This bike was a return to Bimota's roots, as the previous effort – the DB3 Mantra – was more of a standard/cruiser oddity than a dedicated canyon carver. Bimota skillfully selected the best artistic bits from the Mantra (like the oval shaped trellis frame), and built a true successor to the DB2. The results are a ~364 lbs package with great Ducati torque – although lowish HP numbers (a stock Ducati 900SS mill churns out around 80 HP). But with light weight and fantastic suspension and braking componentry under you (Paoli forks, Ohlins rear shock and Brembo on both ends), few bikes are as easy to ride fast down a curvy piece of road.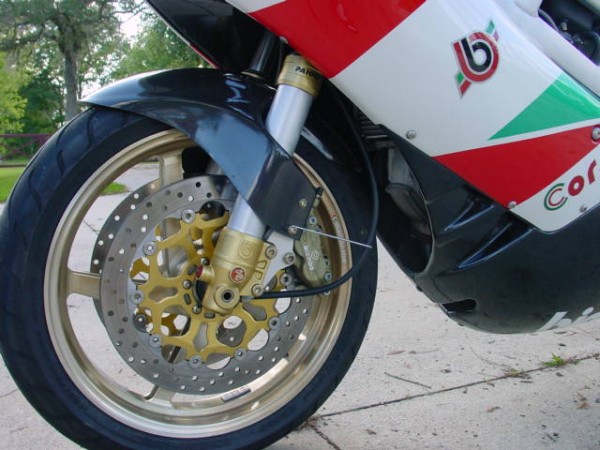 The DB4 offers terrific performance without some of the compromises of earlier Bimotas. The seat hight is low enough for most riders, and the seating position is pretty reasonable. Check out the multi-piece fairing which allows for easier access to internals; when maintenance is due, any Ducati shop can swap the belts and run the valves. This is an exotic that you can live with.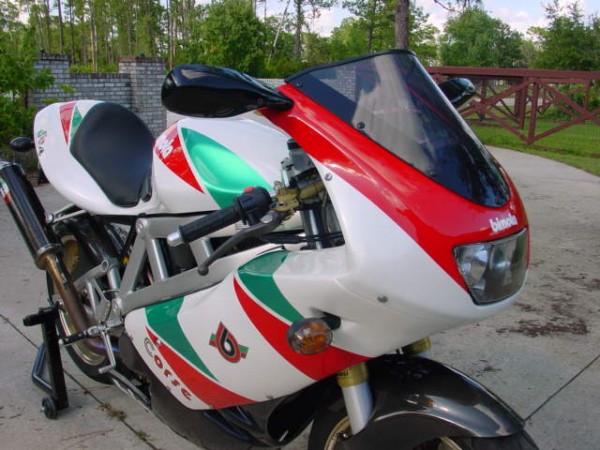 From the seller:
I've decided to part with my beautiful Bimota db4. Since I broke my wrist in September of 2010, and the two subsequent surgeries, I just can't get comfortable in the sport-bike crouch. It is in excellent condition with just over 5k miles, the tires still have plenty of tread depth, I have the original tool kit, and I have just replaced the battery. It needs absolutely nothing. The fit and finish on the bike is flawless, and the paint work is beautifully done.

This bike is fitted with the factory race kit which consists of a pair of 39mm flat slide Keihin carbs, the FBF pipe (some came fitted with a Corse pipe), a different air box, and a new fuel cell to allow fitment of the new carbs. Performance is said to be greatly improved over stock. The tank and seat monocoque is one piece and is held in place quite securely with three 7 x 1.0 screws. The rear fender and mudguard are both carbon fiber, as is the FBF exhaust canister.

The instruments are contained in a carbon fiber faced bracket. Along with the requisite speedo and tach, there is an oil temperature gauge, low oil pressure light, and low fuel warning light. The top clamp is machined billet. Both master cylinders are Brembo. And the mirrors are actually useful, a first for me on a modern sport-bike. Brembo calipers and rotors up front work superbly. Excellent feel and very powerful, the best combination of braking I've ever felt on a motorcycle. Forged magnesium Marchesini wheels front and rear, beautifully done and the simple design makes them easy to keep clean.

The bike is an absolute joy to ride, very small, light, and nimble. Might not be a good fit for a taller rider, but for me at 5'8″ it's a perfect fit. The relaxed cadence of the motor at speed, and the ease of handling belie the quickness at which you are traversing the roadway. This is a very easy motorcycle on which to keep a fast pace in the twisties.
This bike is available for sale directly from the owner. The asking price is a very market friendly $8650 – certainly a bargain for a low mileage, collection-worthy bike such as this. You can see his website HERE for more information, or email him at motorcyclefanatic@gmail.com.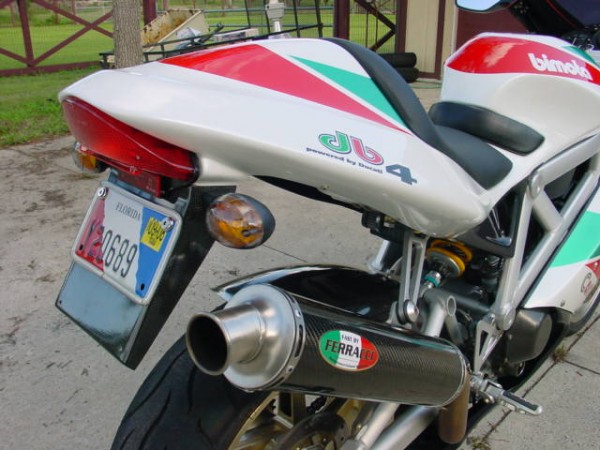 MI
[AffomaticEbay]Bimota[/AffomaticEbay]