Dennis has 3 very low mileage bikes listed right now:
Thank you for supporting the site, Dennis, and good luck to buyers! -dc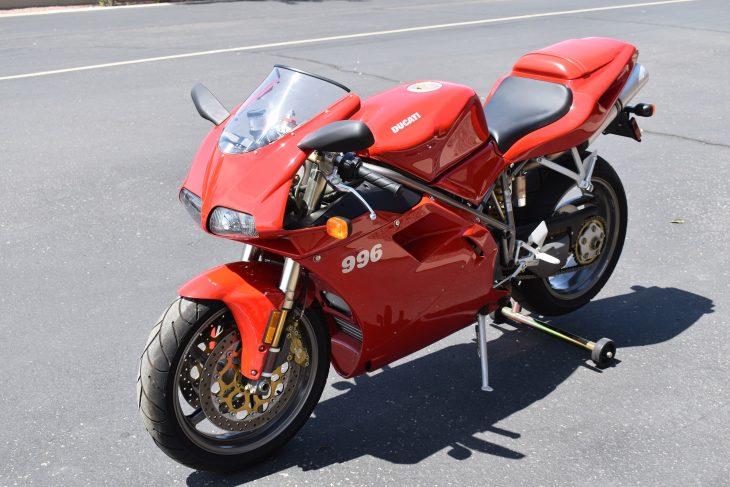 The Ducati 996 is revered for its place in Ducati history as the final, fastest evolution of Massimo Tamburini's masterpiece 916. Debuting in 1999, the 996 carried over the cylinders from the last 916 SPS, with a new crankshaft and bigger valves than the old 916. The result, in regular trim, was about 115 horsepower in a modified 916 chassis. The gunslit headlights, single-sided swingarm and high-tailed stance carried over, letting everyone know that this was a very special Ducati.
The suspension was fully-adjustable Showa stuff front and rear on the standard bike, which is what you see here. It got stronger brakes and lighter wheels than its predecessor, and for 2000 got a set of five-spoke Marchesini wheels.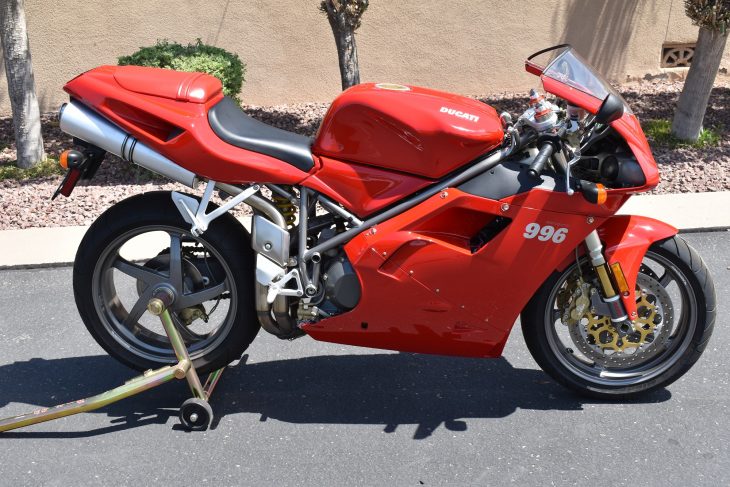 This 996 has led the life any buyer would want to see: it was purchased new by a man in his 60s, ridden 280 miles and put away in a climate-controlled facility. Over its life it has had new batteries and been cared for, but is still on its scant original mileage. If you want to ride it — who wouldn't — it's certainly going to need a new set of tires to be safe.
Otherwise, the condition is as you would expect: flawless.
From the seller:
2000 Ducati 996 (PHX)
VIN: ZDM1SB5T4YB007857
Price: $9,000
Contact: dennisk11@me.com (Dennis)

I purchased this motorcycle in San Jose, CA, new in 2000 and rode it 280 miles and then parked it. I'm turning 80 years old in the next month and the time has come to find it a new, younger owner, hopefully someone that is a collector of motorcycles and that would appreciate the fact that it is 99.9% original (new batteries only and still on original tires), has been ridden 280 miles and has been in a climate-controlled environment from the very first day that it was bought and has had the best of care.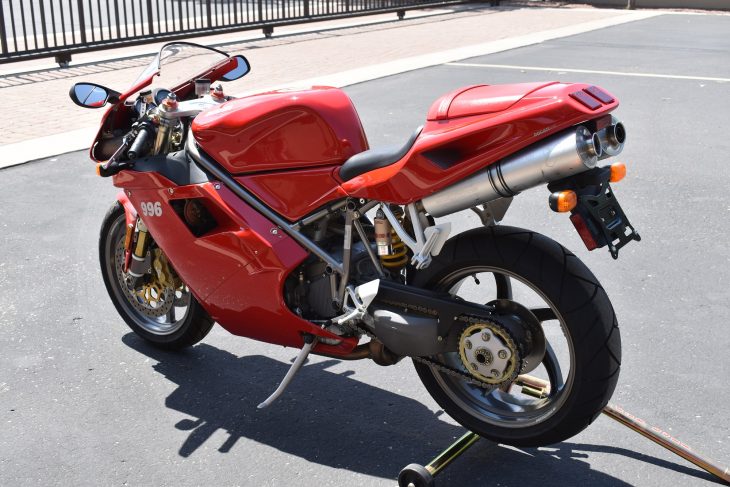 The bike is now located in Chandler, Arizona. The ask for this nicest-of-its-kind 996 is $9,000. Contact: dennisk11@me.com