Warning!
This post is in our archives. Links in this post have been updated to point to similar bikes available to bid on eBay.

Update 5.5.2020: This bike has SOLD! Congratulations to buyer and seller! -dc

Scott has recently sold a YB11 and a 999S on the site. He also has this Dunstall Norton available and now this LeMans 1000SE. Thanks for supporting the site, Scott!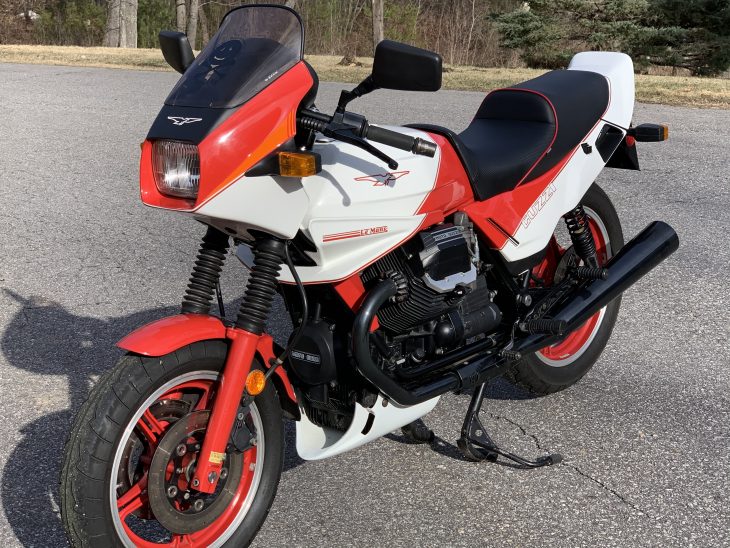 This 1987 Moto Guzzi LeMans 1000 is one of just 100 examples that came to the United States, wearing special paint and close ratio gears to celebrate the 20th birthday of Moto Guzzi's most legendary machine. With fewer than 10,000 original miles on the clock, it's in excellent, unmolested condition.
By 1987, the Moto Guzzi LeMans 1000 was already more celebrated as a sport-tourer than a sport bike, but it bore the flag of a storied line of highly desirable Italian machines. With around 80 horsepower from its square-head v-twin, it had plenty of shove, especially for the era, but favored handling stability of knife-edge precision.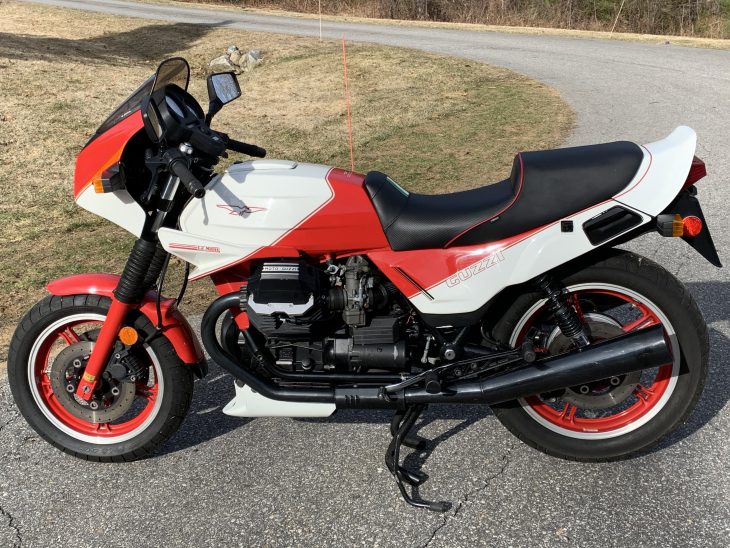 The 1987 Moto Guzzi LeMans 1000SE celebrated the 20th anniversary of the launch of the 1967 Moto Guzzi V7, which introduced the world to the marque's signature longitudinal v-twin. With 50-ish horsepower and shaft drive, it was an immediate competitor for the brand. Without the V7, Moto Guzzi would be relegated to out-of-print history books.
From the seller:
Thank you for looking at my 1987 Moto Guzzi 1000 Special Edition. If you are looking for one in great condition, that's completely stock, this is the one. It has less than 10,000 original miles, to the best of my knowledge, never down, abused, in the rain. It's had a very sheltered life in a temperature-controlled garage, hooked up to a battery tender, with Stabil mixed in the fuel. In 1987 Moto Guzzi built this special edition to honor the twentieth anniversary of the V7, only 100 or so made it to the United States. Most of the changes were cosmetic but the gear ratios were altered in the SE to give it more lively acceleration. Comes with the original, red, OEM seat as well as the corbin aftermarket pictured.

I'm a sixty-year-old collector that is very particular, I'm told that I treat my bikes better than I treat myself. I looked for this one for a long time as I wanted one as close to new as possible. It's amazing for a thirty-three-year-old bike. The only imperfections are a cracked windscreen, a little discoloration under the door that covers the fuel cap, see pictures. Other than these it's in great condition, ready to be ridden or collected. If the new owner wanted to ride it I would suggest cleaning the carburetors as even though it has Stabile in the fuel ethanol still gums things up. I would also put on new tires as I'm not sure how old they are. Other than that it's ready to ride, no leaks, issues, fire right up and idles at about 1200 rpm once warmed up. If it were to be put in a collection, I'd drain the fuel, take out the battery, fog the engine and put it away.

The only reason I'm selling it is over time I find myself only riding on the track, rarely on the street. I'm happy to answer any questions you may have. As I'm thinning the herd I am not interested in any trades. Scott

Price: $6,499 $5,600
The bike is located in Concord, NH.
Forget about whether you'll find another one this nice, it's not likely that you'll find another one of these, period. With such low production numbers, they don't populate cruise nights or rare bike shows the way some older Japanese bikes might. If this is your thing, this 1987 Moto Guzzi LeMans 1000SE is absolutely the one you want.