Warning!
This post is in our archives. Links in this post have been updated to point to similar bikes available to bid on eBay.

Update 3.12.2020: This bike has SOLD in 3 days! Congratulations to buyer and seller! -dc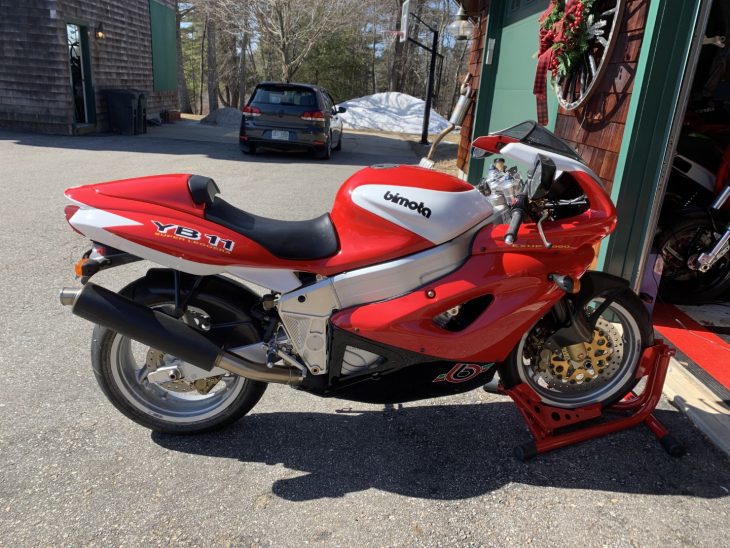 Bimota has had a long standing history of offering up sublime rocket ships crafted with ingenuity and Italian flair. Throughout the years Bimotas have been powered my many different engine combinations, including all of the Japanese Big Four. Of those, the Yamaha YB series just might be the most interesting on offer, spanning 250cc through 1200cc variants. Today's Featured Listing is a YB11 Superleggera, the last in the YB line of Bimotas and motivated by Yamaha YZF1000R Thunderace power.
Featured Listing: Bimota YB11 Superleggera
In Italian Superleggera literally translates to Super Light – which is pretty descriptive of the YB11. A full 30+ pounds lighter than the Thunderace that donated it's guts, the YB11 tips the scales at well neigh 400 pounds. And although the YZF1000R mill remains in stock form, Bimota claims the larger airbox (with cold air intake) and modified exhaust provide more than the 145 HP stated by Yamaha. Light weight and big horsepower has always been the recipe for going fast – in a straight line. But if you know anything at all about Bimota, you will know that cornering is where the Rimini madmen excel. Utilizing a stout perimeter frame that efficiently ties in the steering head with the rear swing arm pivot, the aluminum chassis on the YB11 is as beautiful as it is effective. This is actually an evolution of the chassis developed for the YB6, but made more rigid in key locations to aid in stability. Substantial 51mm conventional forks anchor the front end, while a Paioli shock tunes out the bumps fed through the sculpted swing arm.
From the seller:
Thank you for looking at my 1996 Bimota YB11. If you are looking for one in mint condition, that's completely stock, this is the one. It has less than 2000 original miles, never down, abused, it the rain, cold, pollen you name it. It's had a very sheltered life in a temperature-controlled garage, hooked up to a battery tender, with Stabil mixed in the fuel. In 1986 Bimota's were much more than just eye candy, make no mistake the detail along with fit and finish are amazing to look at. However, YB11's weighed substantially less and produced more power than the Yamaha R1 it's derived from, making it an all around better performer.

I'm a sixty-year-old collector that is very particular, I'm told that I treat my bikes better than I treat myself. I looked for this one for a long time as I wanted one as close to new as possible. It's amazing for a thirty-four-year-old bike. The only imperfection anywhere are a couple of very small chips on the left side of the swing are, see pictures. Other than these it's museum quality, ready to be ridden or collected. If the new owner wanted to ride it I would suggest cleaning the carburetors as even though it has Stabile in the fuel ethanol still gums things up. I would also put on new tires as they are original. Other than that it's ready to ride, no leaks, issues, fire right up. If it were to be put in a collection, I'd drain the fuel, take out the battery, fog the engine and put it away.

The only reason I'm selling it is over time I find myself only riding on the track, rarely on the street. I'm happy to answer any questions you may have. As I'm thinning the herd I am not interested in any trades. Scott

Asking Price: $9,750.

Detail accents abound on this bike. Stare at any one picture long enough, and you will start to see what I mean. The frame side plates are CNC milled in a jeweled fashion. Cap screws replace traditional fasteners and provide an upscale appearance. The rear wheel adjuster is a classic slider, but implemented so cleanly that it is noteworthy. The carbon accents on the fork mesh nicely with the carbon front mudguard, which contains aerodynamic elements to aid in brake cooling. And all this is with the bodywork on. Undress a Bimota and be prepared to be amazed by the concept of mass centralization and packaging.
Yamaha-powered Bimotas are currently the bargain of the hand built exclusive super bike set. These bikes offer bulletproof Yamaha 20-valve motors and transmissions, exquisite handling thanks to light weight, good suspension and top-shelf Brembos, and the cachet of exclusivity that comes from being only 1 of 600-ish examples ever made worldwide. This particular YB11 SuperLeggera shows less than 2,000 miles and looks absolutely top-notch. The pricing is right in the ballpark for YB11s, if not a tad low for the condition and miles. Check it out, and then give Scott a shout – with Bimota being acquired by Kawasaki these amazing Yamaha-powered models are likely to never come around again. Good Luck!!