Warning!
This post is in our archives. Links in this post have been updated to point to similar bikes available to bid on eBay.
The RSBFS faithful see the green paint, the giant black lump of air-cooled, four cylinder goodness, the gold accents, and instantly know this bike as an ELR: Eddie Lawson Replica. Eddie was responsible for Kawasaki championships in the 1981 and 1982 AMA Superbike series. The homage was well deserved, and Eddie has been inextricably linked to these models ever since. Technically the 1983 KZ1000R was officially branded as "Superbike Replica" and does not exhibit Eddie's signature on the tank (Lawson had moved to the Yamaha GP team after 1982), but the blanket term of "ELR" continues to stick for these models. Today's Featured Listing is brought to us by a RSBFS regular Bob Benyo, a true guru of this specific model. This 1983 KZ1000R is about as perfect as one could hope to find, and I'll let Bob pick up the story at this point.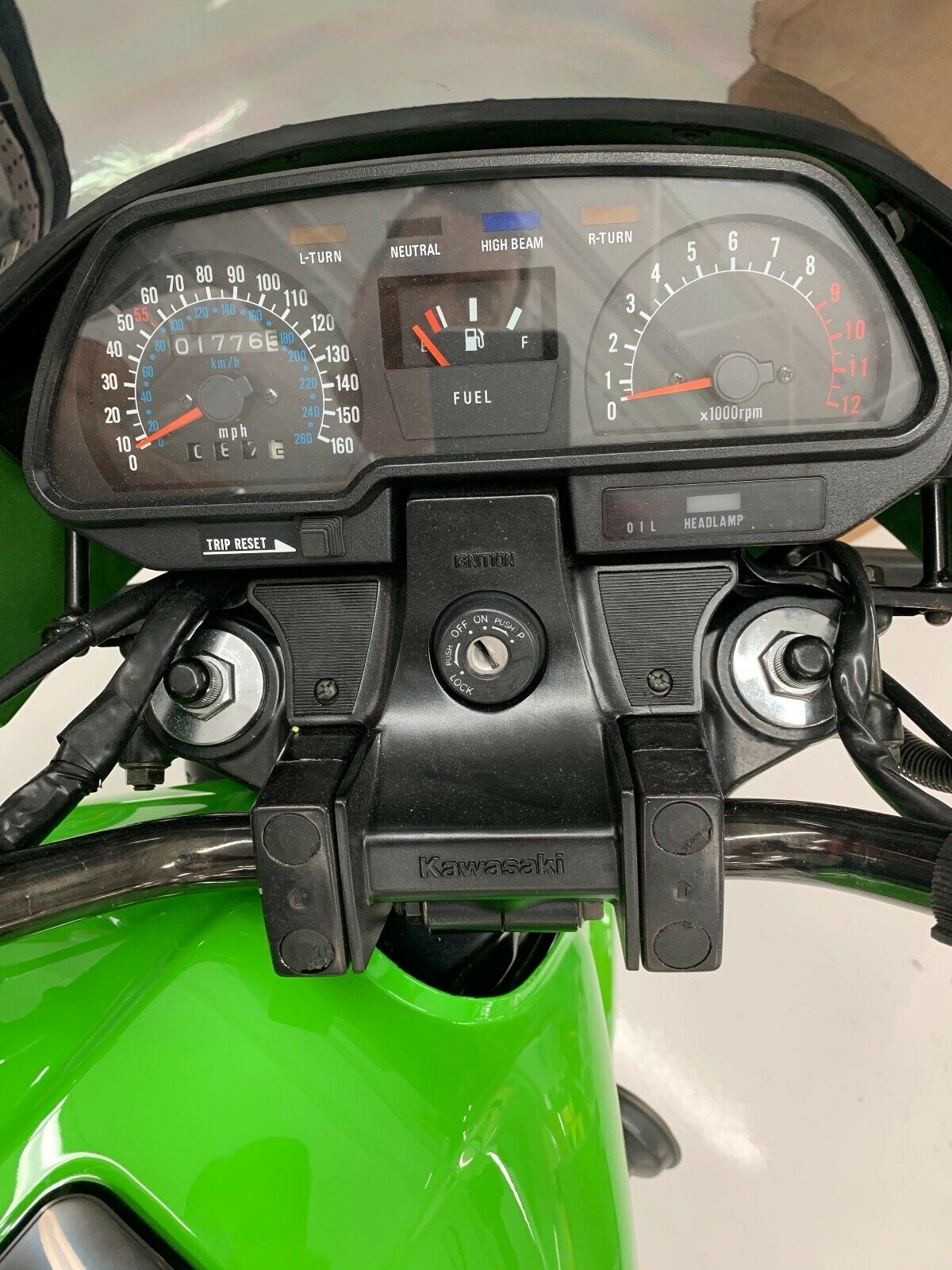 From the seller:
1983 KAWASAKI KZ1000R EDDIE LAWSON SUPERBIKE REPLICA NEAR PERFECT UN-RESTORED ORIGINAL CONDITION! ! MULTIPLE AWARD WINNING WITH ALL "NOS" BODY PARTS COMING OUT OF MY PRIVATE COLLECTION.

MULTIPLE AWARD WINNER JUST WON 1ST PLACE BEST ORIGINAL JAPANESE MOTORCYCLE. THE JUDGES FROM THE PEBBLE BEACH EVENT WERE BLOWN AWAY AT HOW PERFECT SHE IS.

THIS BIKE UNDERWENT MINOR CLEAN UP/REFRESH AT MY SHOP GLOBE MOTORCYCLES LIMITED. I USED A FULL SET OF "NOS" BODY WORK, SO VERY HARD TO FIND. I ONLY HAVE 2 FULL SETS LEFT. I SWAPED OUT THE ENGINE SIDE COVERS WITH "NOS" UNITS AND NEW OEM GASKETS AND SEALS.

I HAVE HAD THIS BIKE FOR SEVERAL YEARS AND IT HAS BEEN THE ELR THAT I RIDE (ABOUT 200 MILES IN 5 YEARS. SHE LOOKS AND RIDES AS GOOD AS SHE DID BACK IN 1983.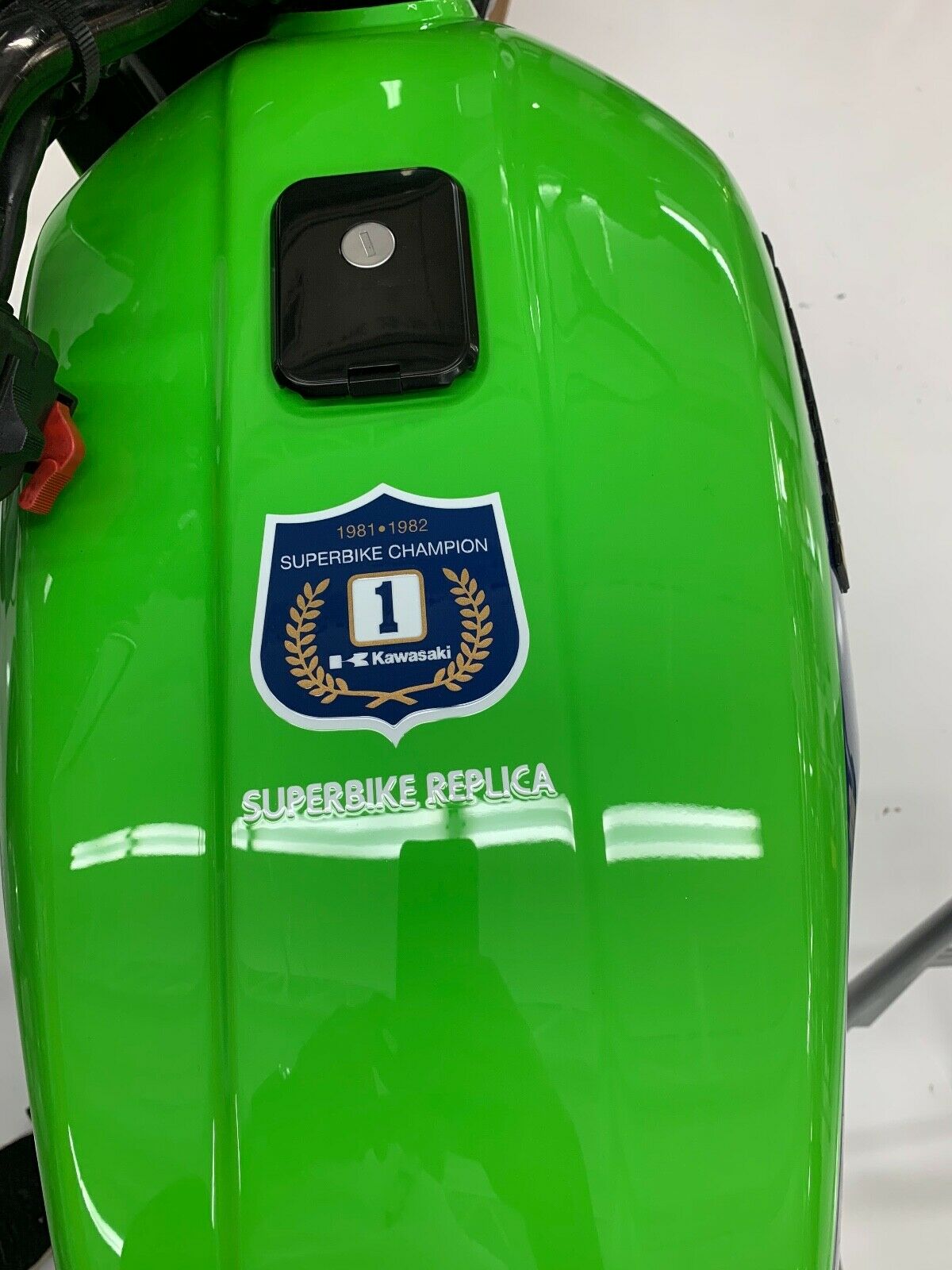 More from the seller:
THE ENGINE:
SERIAL NUMBER KZT00JE041780 THIS ENGINE IS THE ORIGINAL THAT CAME WITH THE BIKE. I GET ASKED THIS QUESTION ALL THE TIME, WHY ARE'NT THE ELR ENGINE NUMBERS EVER CLOSE OR SIMILAR TO THE FRAME NUMBERS? THE ENGINE NUMBERS HAVE A SPECIFIC RANGE THEY MUST FALL INTO FOR 1982 AND 1983 KZ1000R's. THIS IS THE ENGINE THAT CAME WITH THE BIKE WHEN SHE WAS NEW AND IS IN THE CORRECT SERIAL NUMBER RANGE FOR A LATE VIN# 1983 ELR.

WITH ONLY 1776 MILES ON IT THE ENGINE RAN GREAT WHEN I GOT HER BUT I OPTED FOR HER TO RUN A BIT BETTER SINCE I WANTED TO RIDE TO AND FROM SHOWS. I INSTALLED A NEW HD CLUTCH, ALL NEW OEM SEALS, PUSHROD, AND GASKETS (ITS JUST WHAT I DO). THE ENGINE ITSELF HAS NEVER BEEN PAINTED SO NO PAINT WHENT WHERE IT DOES NOT BELONG. THE ENGINE SIDE COVERS WERE REPLACED WITH "NOS" UNITS, VERY HARD TO FIND.

THE CARBURETORS WERE COMPLETELY DISASSEMBLED ULTRASONICALLY CLEANED, AND PAINTED JUST AS THE FACTORY DID, RESEMBLED AND SYNCHRONIZED. I RE-JETTED THEM WITH #132 MAIN JETS AND RAISED THE JET NEDDLE WITH ONE WASHER TO AID IN RUNNING BETTER WITH THE COMPETITION BAFFLE.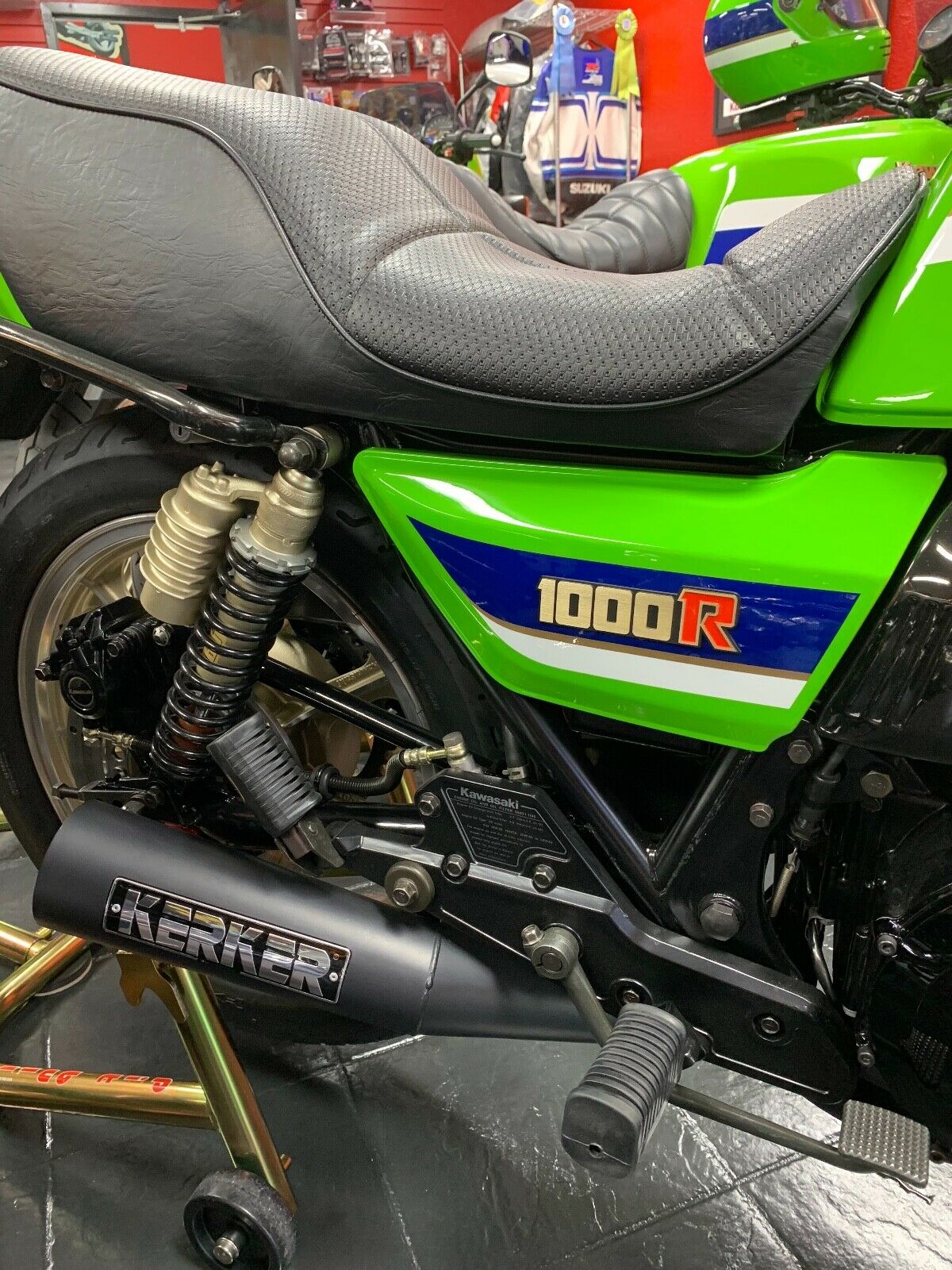 More from the seller:
THE FRAME:
THE FRAME AND SWING ARM ARE ALL ORIGINAL PAINT AND LOOK BETTER THEN ANY OF THE OTHER ORIGINAL ELR's I HAVE HAD.
THE TIRES HAVE BEEN REPLACE WITH DUNLOP K400's (K300'S ARE NOT AVAILABLE). THE GRIPS, LEVERS, MIRRORS, , END CAPS ARE ALL "NOS".
THE SEAT IS ALL ORIGINAL WITH NO BLEMISHES.

THE KERKER KR EXHAUST IS THE ORIGINAL UNIT THAT I HAD RE-COATED TO MATCH THE ORIGINAL KAL*GARD FINISH. IT IS INSTALLED WITH OEM COPPER GASKETS. THE KERKER SIDE EMBLEM, THE HANGER BRACKET/BUSHING ASSEMBLY, AND THE LARGE COMPETITION BAFFLE ARE ALL "NOS" ($500). THE FUEL TANK, PETCOCK, FUEL GUAGE SENDER, FUEL CAP, SIDE COVERS, FRONT COWL, REAR COWL, FRONT FENDER, TAIL LIGHT, WIND SHIELD AND RUBBER SEAL, EMBLEMS, AND ASSOCIATED HARDWARE ARE ALL "NOS" OVER $7500 WORTH OF UNOBTAINIUM. A RIDICULOUS AMOUNT OF NOS/OEM HARDWARE WAS USED. AS ALL THE "NOS" ELR PARTS HAVE DISAPPEARED FROM THE MARKET YOU CAN ONLY IMAGINE THE VALUE THIS BIKE WILL BRING IN THE FUTURE.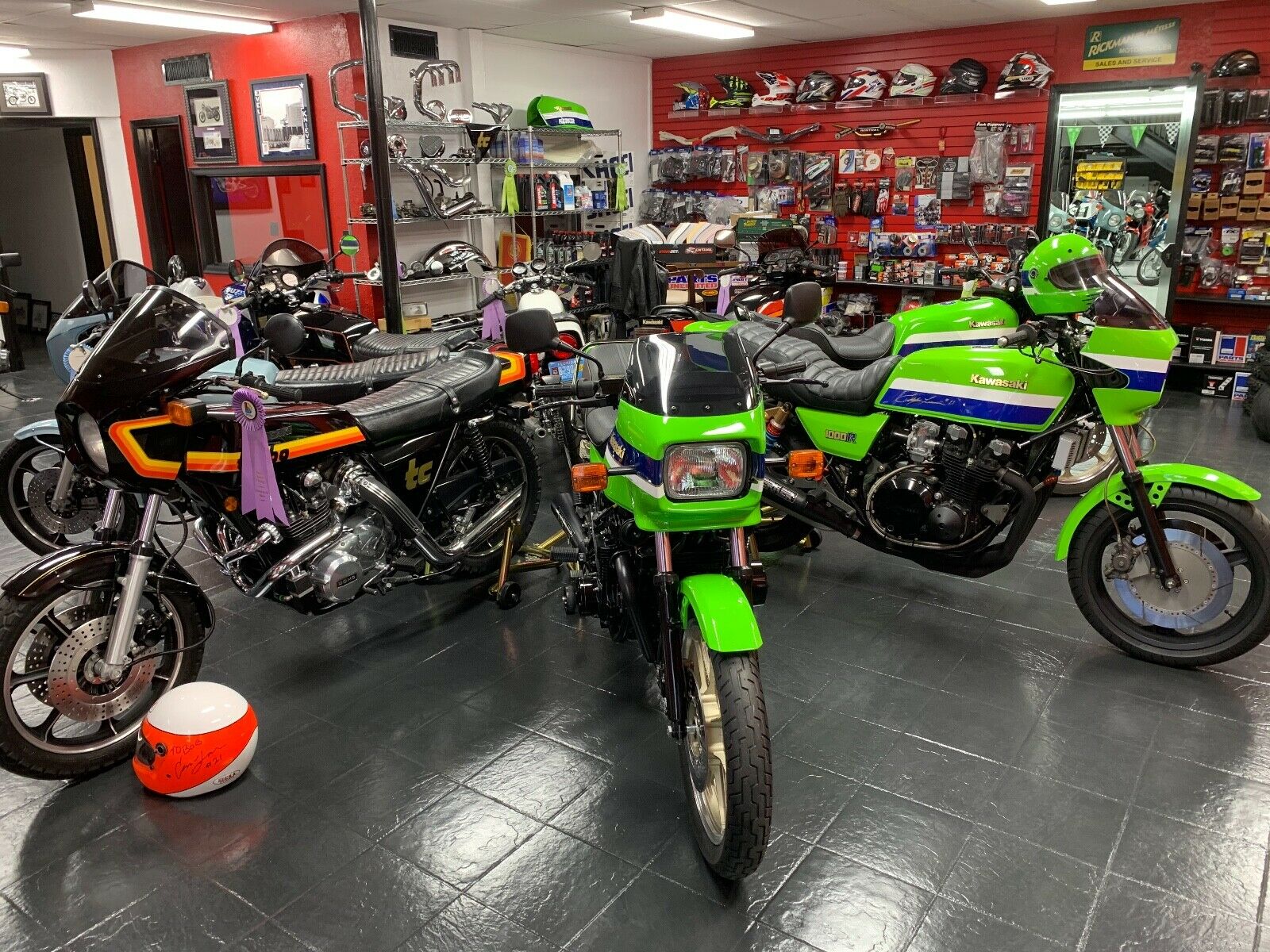 More from the seller:
TELL YOUR WIFE THIS IS A GREAT INVESTMENT THAT WILL ONLY GO UP IN VALUE UNLIKE HER SHOE AND HANDBAG COLLECTION :). SO HERE IS YOUR CHANCE TO OWN THE BEST EXAMPLE OF 1 OF THE 750ISH 1983 KAWASAKI KZ1000R EDDIE LAWSON SUPERBIKE REPLICA'S EVER BUILT FOR NORTH AMERICA. IT IS AS CLOSE TO WHEN IT CAME OUT OF THE CRATE WITH THE EXCEPTION OF THE DUNLOP K400 TIRES AND A VERY SMALL AMOUNT OF PATINA ON THE WHEELS. I WILL REFINISH THE WHEELS TO EXACT OEM SPECS FOR THE NEW CARETAKER AT MY COST IF HE OR SHE PREFERS "NOS" LOOKING WHEELS (A VERY EXPENSIVE PROCESS). I WILL FOR SURE CRY WHEN SHE SELLS, BUT I AM BLESSED TO HAVE A FEW MORE ELR'S.

I HAVE OWNED MORE THEN 20 ELR's. I HAVE THE LARGEST INVENTORY OF ELR PARTS SO BID WITH CONFIDENCE. THIS BIKE WILL NOT DISAPPOINT. PLEASE FEEL FREE TO CONTACT ME WITH ANY QUESTIONS 954-816-0806 BOB. PLEASE COME SEE HER FIRST IF YOU HAVE ANY DOUBTS. I HAVE BEEN RIDING, RACING, FIXING, RESTORING, AND COLLECTING SPECIAL BIKES SINCE GRADUATING FROM AMERICAN MOTORCYCLE INSTITUTE "AMI" IN DAYTONA BEACH FLORIDA IN 1980.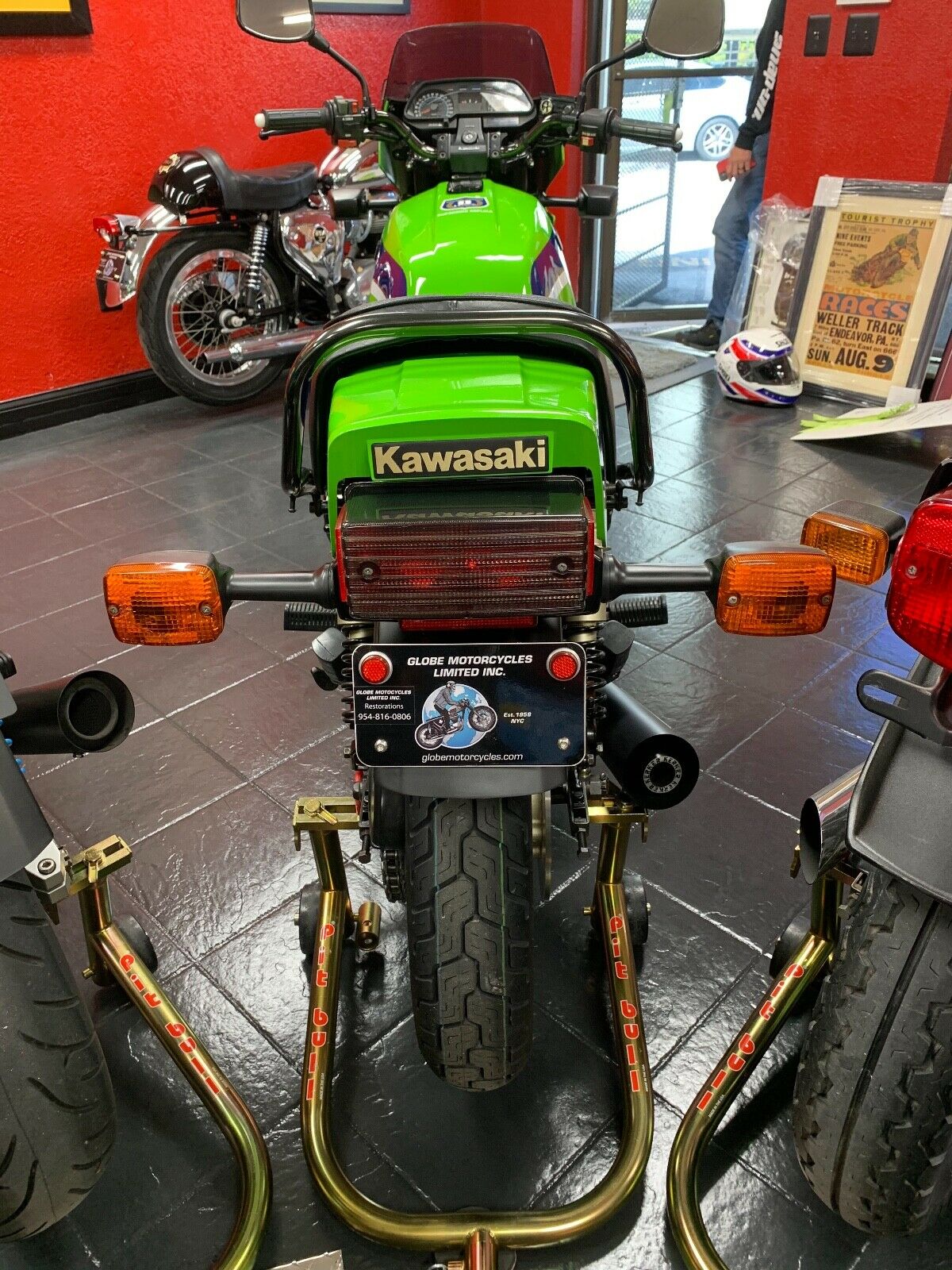 More from the seller:
THIS ELR BELONGS IN A MUSEUM SO DON'T MISS OUT. I RESTORED AND PRESERVED MORE BIKES THEN I CAN COUNT AND HAVE MANY SATISFIED OWNERS AROUND THE WORLD WITH GIANT SMILES ON THERE FACES EVERY TIME THEY LOOK AT WHAT THEY PURCHASED FROM ME.

THE LAST 2 ELR'S I SOLD (A 1982 AND A 1983) WENT TO JAPAN. THEY BOTH HAD NOS BODY PARTS ON ALL ORIGINAL BIKES WITH LOW MILES AND SOLD FOR $28,500 AND $36,000 AND JUST NOT AS PERFECT AS THIS ONE.

THE ORIGINAL TOOL KIT, OWNERS MANUAL, AND 2 KEYS COME WITH THE BIKE. THE FIRST BUYER TO HIT THE BUY IT NOW WILL GET MY AUTOGRAPHED CUSTOM PAINTED 1983 BELL HELMET.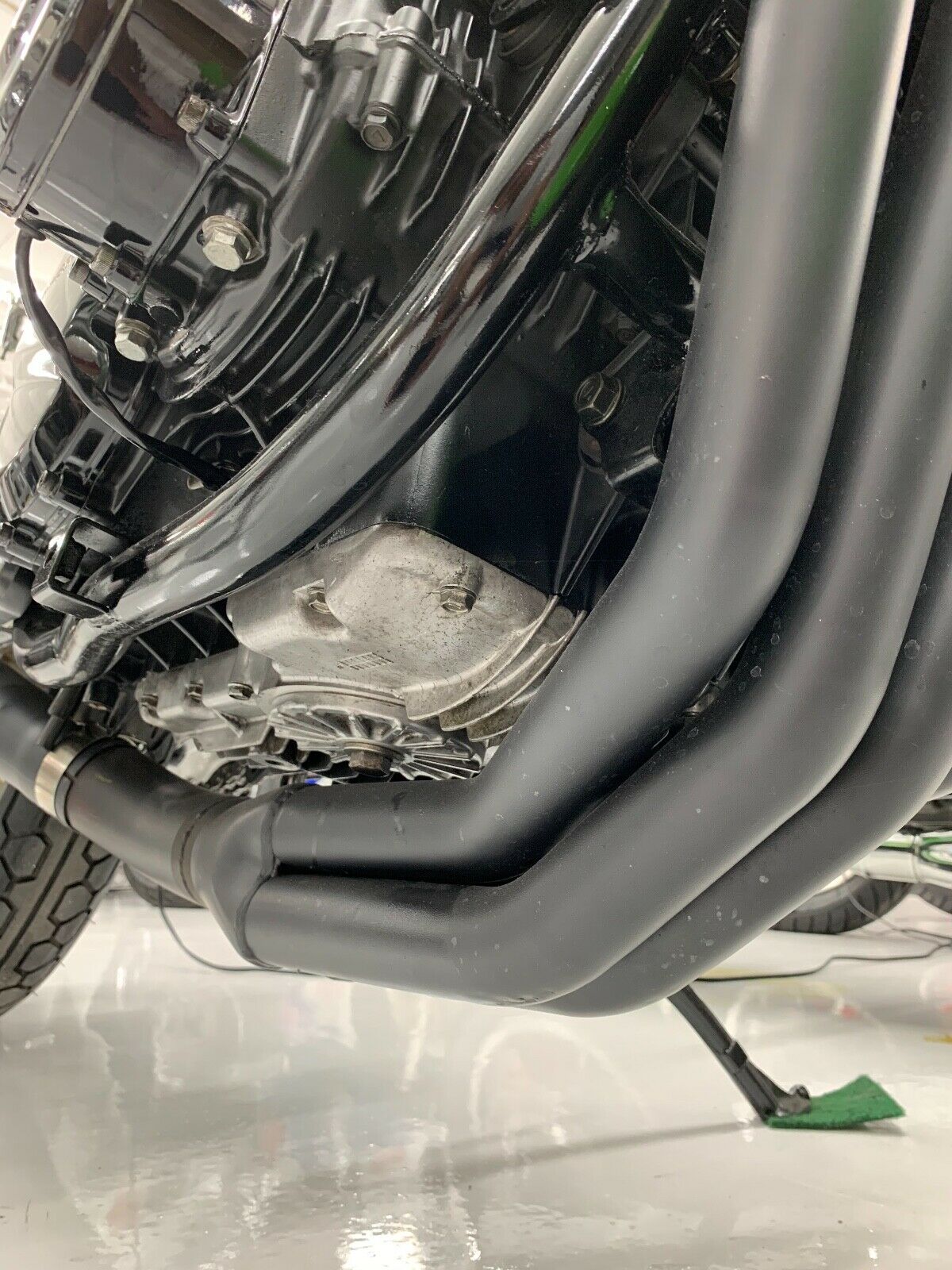 With flawless bodywork and paint, engine cases that you can eat off of, 1776 miles on the clock, and the exclusivity of owning an extremely rare milestone of motorcycle collecting history, this ELR deserves a home where it will be appreciated. Appreciation is the name of the game, after all: the price point for ELRs continues to climb to new heights, and show few signs of abating. Think of an ELR as the RC30 of an earlier age – about as recession proof as anything you are likely to collect in the motorcycle world. With a Buy It Now of $35.5k USD, this bike is priced in line with its condition. We have seen less expensive ELRs on this site, but never one quite as clean and complete (and just check out that man cave!). If you are in the market for an Eddie Lawson Superbike Replica, do yourself a favor and check this one out. You will not be disappointed. Good Luck!!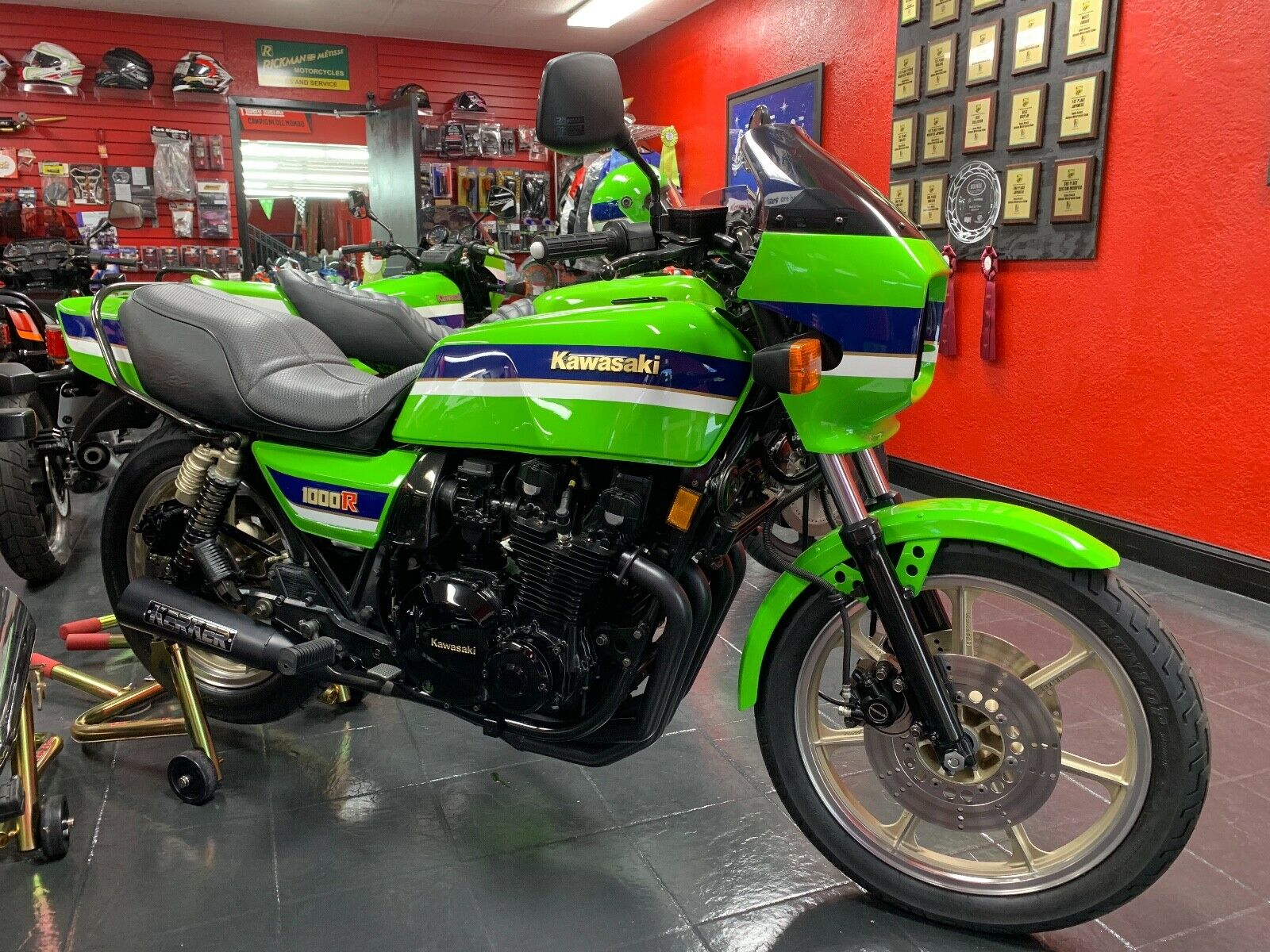 MI