Early in the Buell / Harley-Dave relationship, the racer and design engineer was thought to be the icon's entreé into sportbikes.  This immaculate S2 has access to plenty of thunder, and every update imaginable.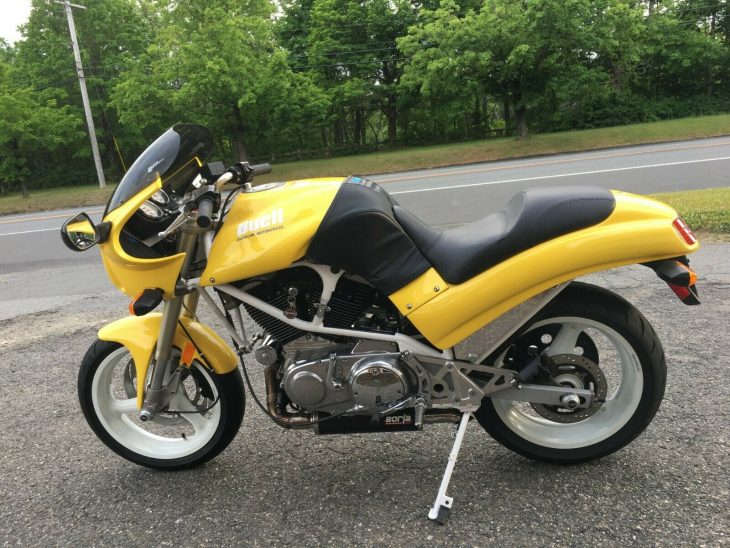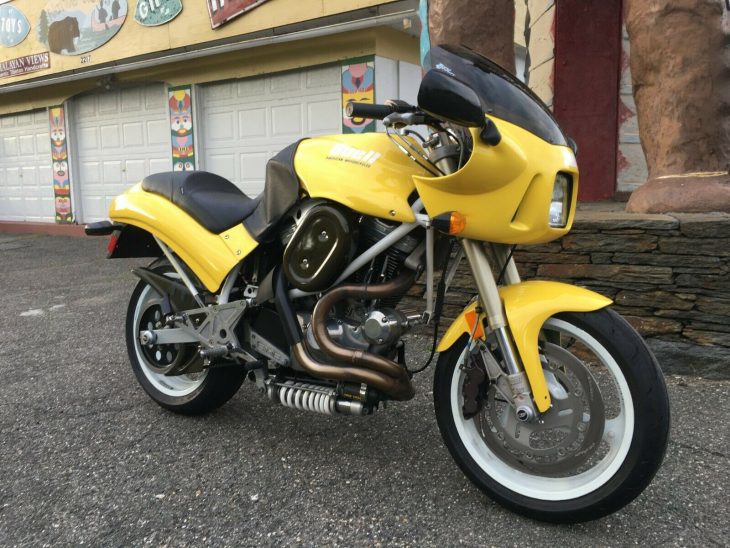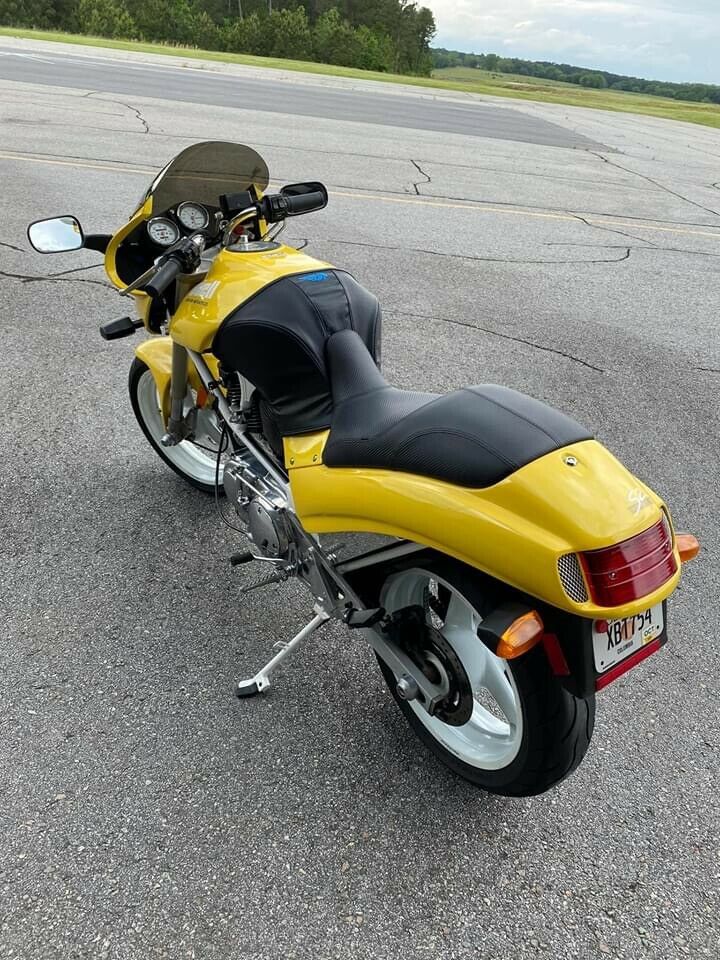 The S2 had production versions of most of the ideas Erik Buell had been incubating for several years, the quick-steering tube frame, Uni-Planar engine mounts, underslung rear shock and muffler, and extra-large diameter single front disk – all surrounding Harley's torquey 1203 cc motor.  WP supplied upside-down forks and the unusual monoshock which extends as the chassis compresses is from Showa.  H-D production engineers fitted their belt drive and put their manufacturing expertise into the sculptural exhaust system.  For a bike with planned production of 300 units per year, the frame-mounted fairing, tank and seat console flow together very well.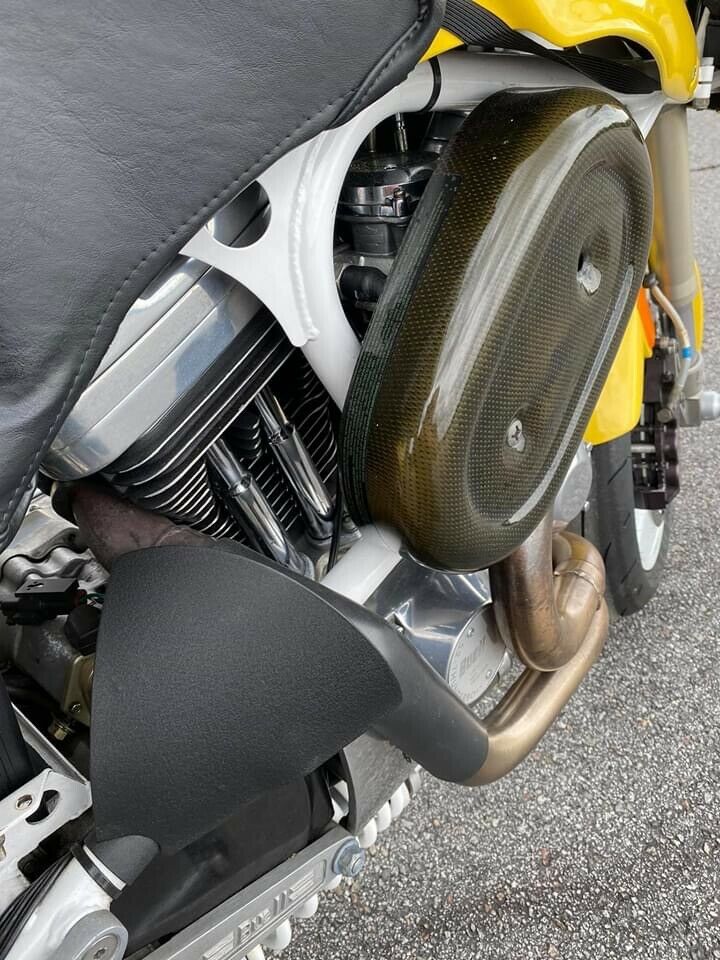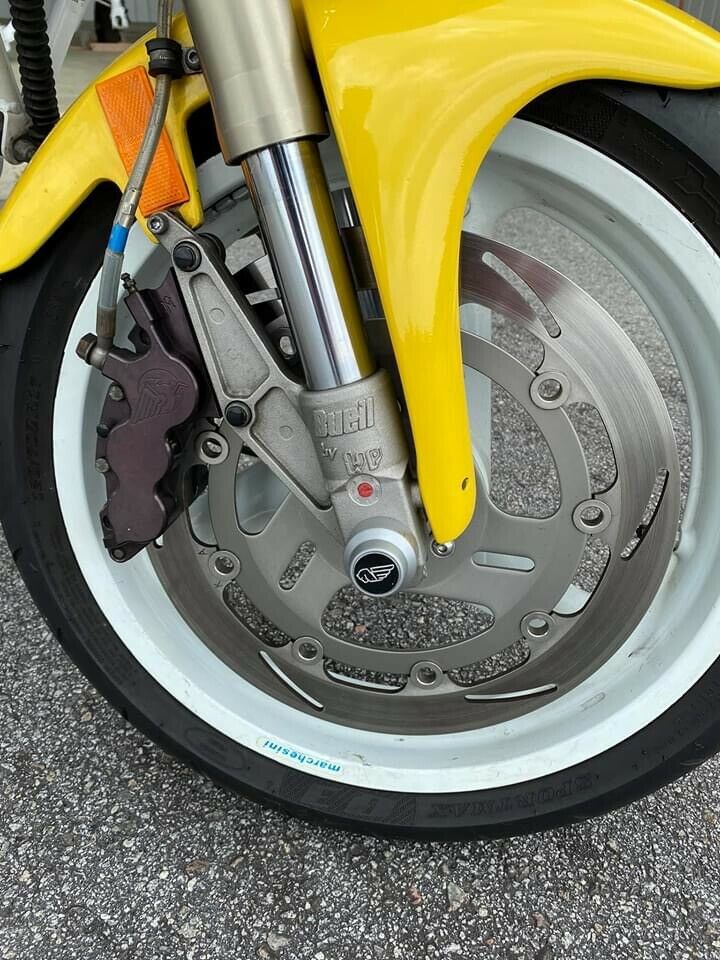 Obviously owned by a real fan, this Buell looks excellent an has been carefully updated with choice parts, addressing many of the model's foibles.  As much as the tank bra breaks up the lines of the bodywork, the next owner will appreciate all the scratches the tank doesn't have.  The auction shares a – video – and says it's by the previous owner, which indicates that most of the pictures are as well, so a question or two there.  A long list from the eBay auction:
Work and upgrades:

• Piggyback kickstand plate (prevents the motorcycle from leaning too much to prevent a fall)

• Updated ISO's all around (Buell redesigned the ISO mounts in 2001)

• Updated exhaust hanger (Buell redesigned the muffler hanger mount in 2001)

• Updated primary tensioner (HD/Buell update to all Sportsters and Buell in 1999)

• Updated shifter detent plate 

• All new James top end gaskets with jug pigtails 

• KT Performance heat shield 

• Shorai Battery (Lithium light weight battery)

• Original Rear Shock rebuilt by RaceTech 

• Original Front Shocks rebuilt by Lance Kuglar (St. Paul HD)

• Corbin Seat Recovered by Baldwin

• Under seat tote and fairing bags 

• Screaming Eagle CDI Box 

• New signal light control box

• Zero gravity smoke windscreen 

• Updated/late style front rotor (Buell redesigned the front brake rotor in 2001)

• Newer continental tires 

• Jim's Mega-nut on bead blasted and sealed front pulley 

• CV Performance Carb Kit  

Accompanied with the bike:

• Rising road service and parts manuals

• Sales brochures (with some pricing scribbles from 95)

• Buell sticker and postcard from the period

• Stock muffler in like new condition

• Additional lower belt guard
The T-Bolt sold better than expected right away, and the two companies had several good years together, but eventually applied for an uncontested divorce.  Even though the S2 is on the softer side of sports-biking, the turn and squirt ( maybe even shift ) ride got great reviews.  It's a strong starting bid for the first real production bike from Erik Buell and friends, but it is a sharp example with all the right upgrades.
-donn