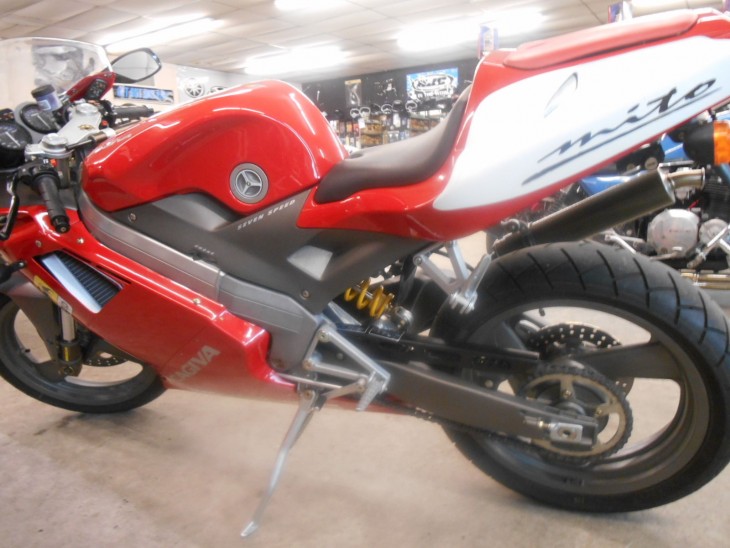 At a glance, it'd be easy to mistake this frisky little Cagiva Mito for something else… Looking for all the world like a 2/3 scale Ducati 916, right down to the instruments and the transverse steering damper mounted to the headstock, it's really just that aluminum beam frame that gives the game away. Ironically, the Mito is much, much rarer, especially in the US, than it's bigger, more mature cousin.
The Mito was introduced in 1989 and powered by a water-cooled 125cc two-stroke single that put out 34hp and used a seven-speed gearbox to keep the peaky little motor on the boil. Ridden to victory in the 1994 Italian 125cc championship by none other than Valentino Rossi, this little race-replica is a sharp-handling little machine, and while 30-odd horses may not sound like much, consider that it's coming from just 125 screaming cubic centimeters…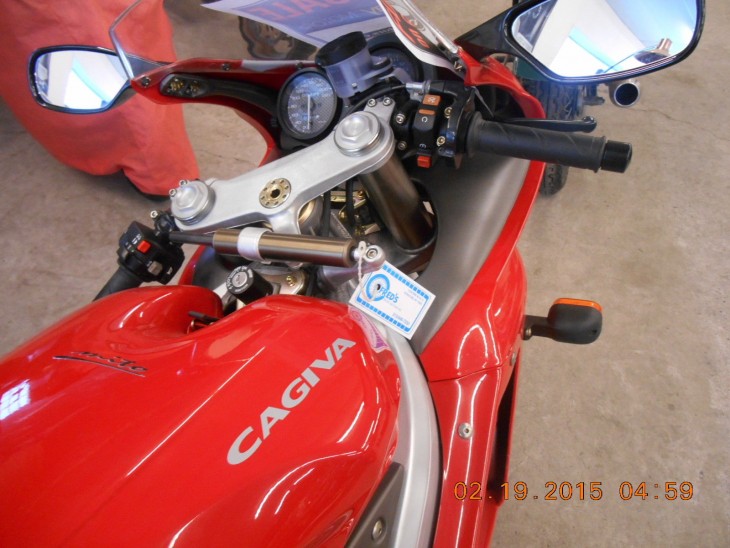 Earlier bikes had a less 916-ish design, but the bike was restyled in 1994 by, not surprisingly, Massimo Tamburini himself.
From the original eBay listing: 1998 Cagiva Mito for Sale
When I saw this  machine for the first time I was sure that it was a 916 Ducati like the one I have owned since 1995.(designed by the same designer). The difference was the 7 speed gearbox which was my first clue that it wasn't a 916.The Mito is quite rare in the USA cuz the 2 strokes are not popular here in the states. They are very popular in Europe and in fact in some countries can be ridden by younger riders with the speed reduced. In fact it would only register the equivalent of 65 mph(its KM equipped).After modifying with racing parts I was seeing 112 mph(180 km) on the speedo. My investment is over $8000.00 plus labor. The machine has only 399KM and now is for sale(too many toys).

This machine has never been raced ,only ridden on the street to prove the package. If you are an inspiring racer there is a class for it here in the USA ,or its a crazy cool street rod.
The Buy it Now price is set at $6,000, with plenty of time left on the listing. That is a lot of cash for a 125: an Aprilia RS250 would provide similar lightweight performance for less money. But, as good-looking as that bike is, the "baby 916" aesthetic of the Mito really can't be beat and, if you're a collector, you're unlikely to find a more original, low-mileage example. Especially with just 399km on the clock, it'd be a shame to thrash this the way the builders intended.
-tad