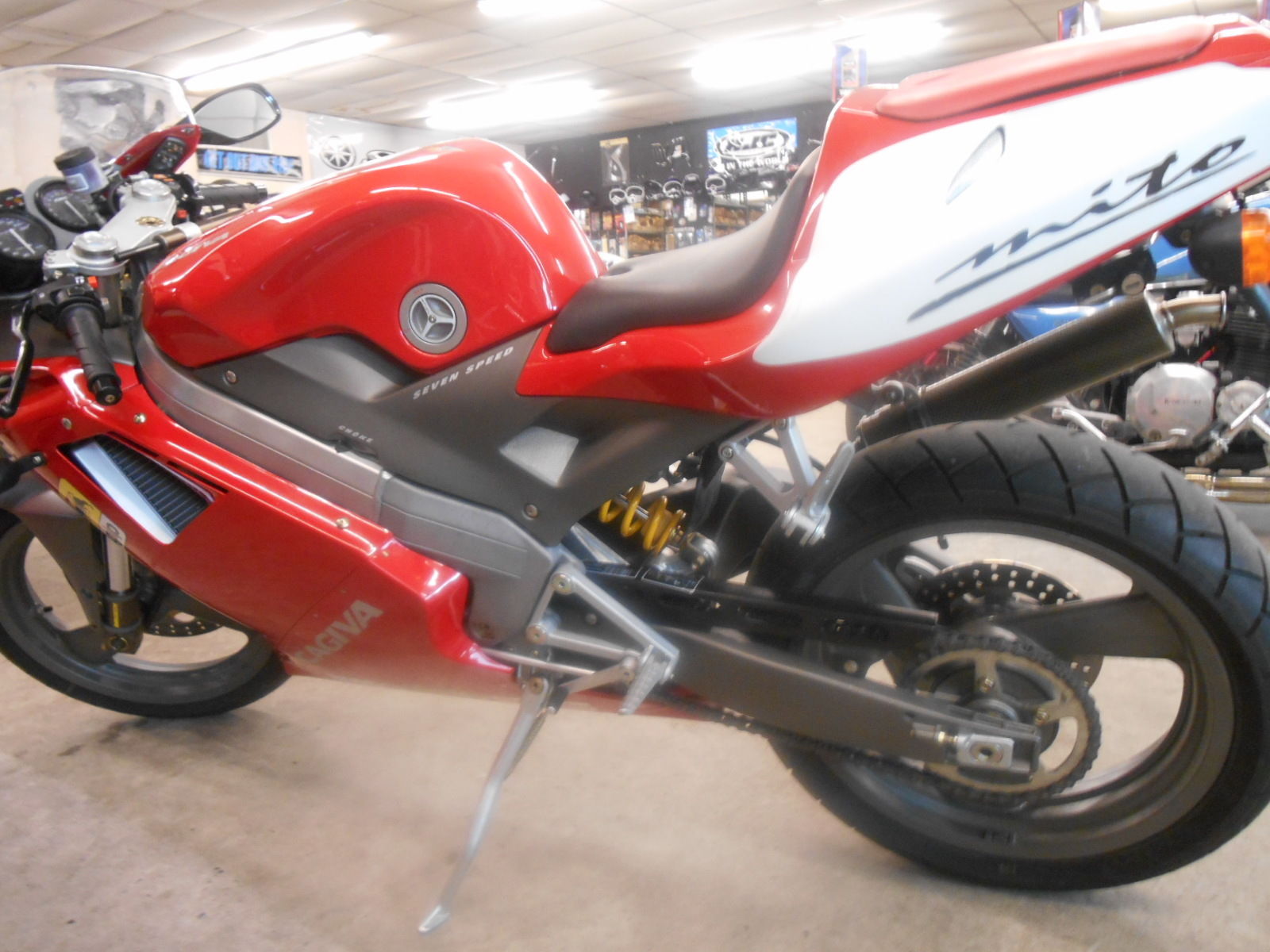 Legendary motorcycle designer Massimo Tamburini had a long and storied career. From co-founding iconic motorcycle manufacturer Bimota, to penning some of the most striking designs in motorcycling history for the likes of Cagiva, Ducati and MV Agusta, Tamburini has been responsible for many a rider's dream machine. You might have seen some of his design genius in bikes such as the Bimota KB2, the Tesi 1D and the DB1. For Ducati he was involved with the 851/888 and the Paso and had a hand in the Supermono works. But his greatest contribution to motorcycling – his most admired design theme – was around the Ducati 916. Everything that came after it was simply a small step along this theme – including the 748/996/998 and the entirety of the MV Agusta F4 lineup. So strong was this theme that the design language translated to smaller machines as well, which is where we pick up the story on today's fantastic Cagiva Mito.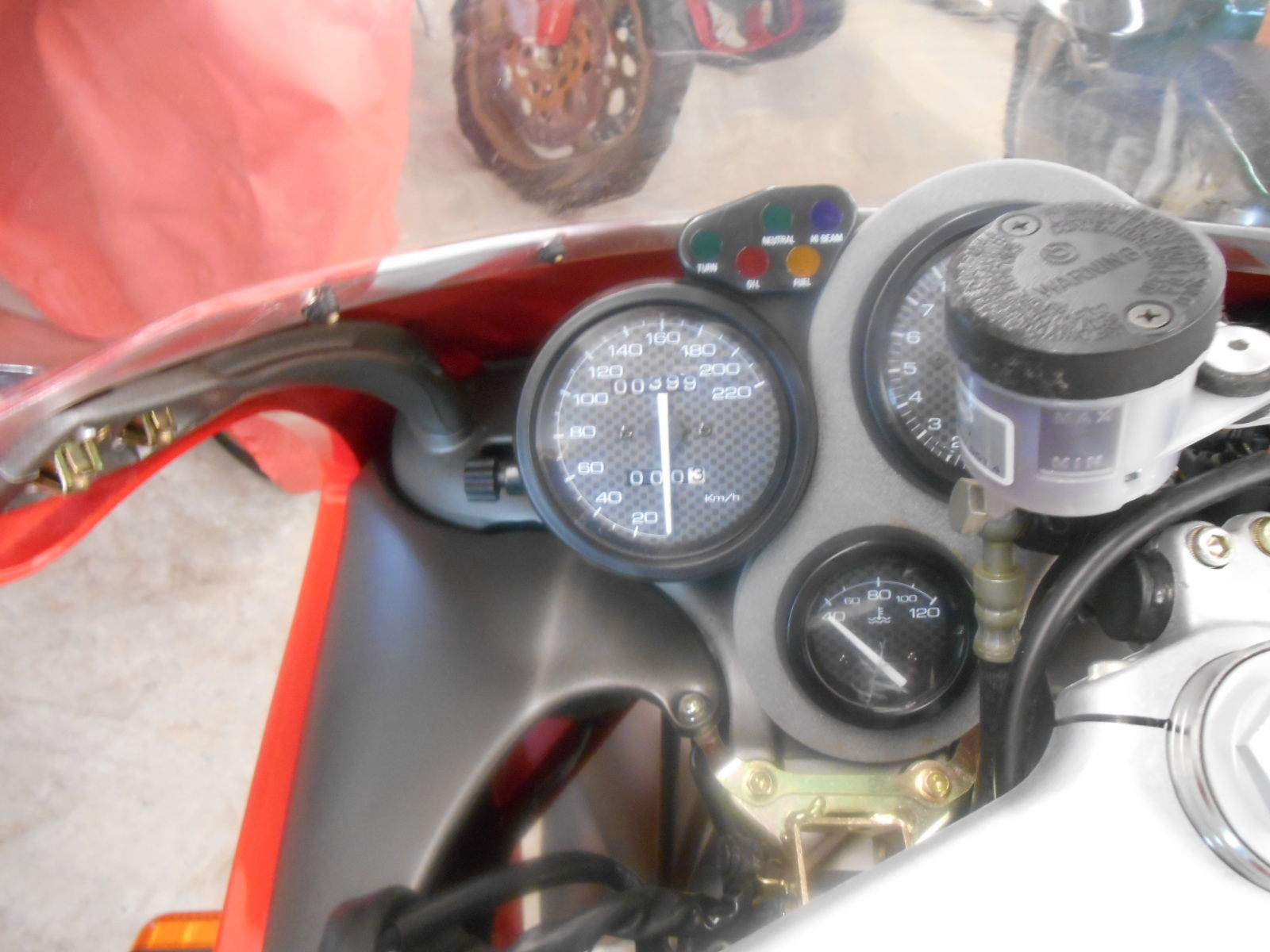 Powered by a single cylinder, liquid cooled two stroke, the 125cc Mito was considered as an entry level sport bike for Europe's small-bore crazed culture. Popular in areas where larger capacity motorcycles are prohibitively expensive due to taxes or license requirements the smaller scoots are immensely popular and technologically advanced. In the case of the Mito, that technology includes design elements straight off of the legendary 916, including twin headlights and the tail section. Nifty hardware includes the twin-beam aluminum frame, asymmetrical rear swing arm with preload-adjustable rear shock, Brembo binders (that's a single 320mm unit up front), 40mm Marzocchi front forks (including steering damper), 7-speed transmission and an estimated 34 HP (stock) at 12,000 RPM. Tipping the scales some 15 under 300 lbs, this is a race track replica rocket provided you are of suitable stature with the skills to keep the revs on the pipe.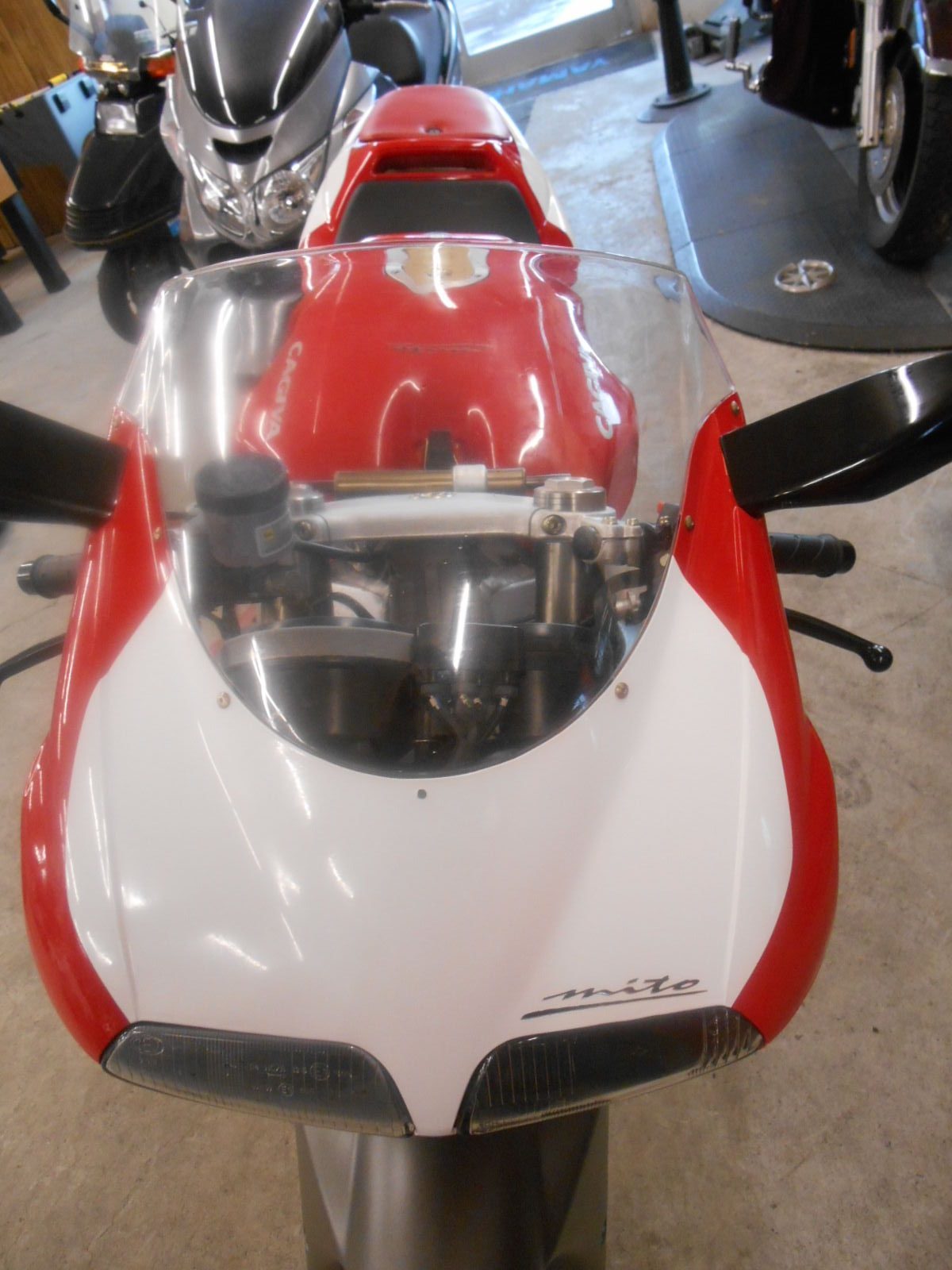 From the seller:
This machine is virtually new as it only was ridden 399 km since its conversion from a stock 70mph (110 km) bike to one that will show 112 mph(180km) on the speedo.Its collectibility is enhanced by its 7 speed gearbox and of course the styling, which was done in the spirit of the Ducati 916.Being a 2 stroke machine,many states allow small displacement bikes plates for highway use or find a track site to enjoy this super handling lightweight. The mods we performed were not optimized for competition, but were done to keep the reliability and add to the enjoyment of the bike.Recently upgraded, cleaned fuel system,and new battery was fitted.
The seller claims this particular Mito has been hot-rodded, but not much info is included as to what was actually done. Generally this is done via boring out the displacement and porting the cylinder. Expansion chambers and silencers are other popular mods to help two strokes breathe better and make more power. Other than the unknown mods, this is a low mileage example that appears clean in the few, blurry photos. This has all of the hallmarks of an Evo I machine, with both the 7-speed gearbox and the tri-spoke wheels. Later Evo II models went to a more robust 6-speed gearbox and a different set of wheels. Any Mito is potentially collectible – after all we do not see them every day here in the US – but there is not enough data to determine if the 7 cog bikes are any more valuable than the 6 speeders. Either way you are in good company; even the vaunted Barber Motorsports Museum proudly highlights the Mito in their extensive collection.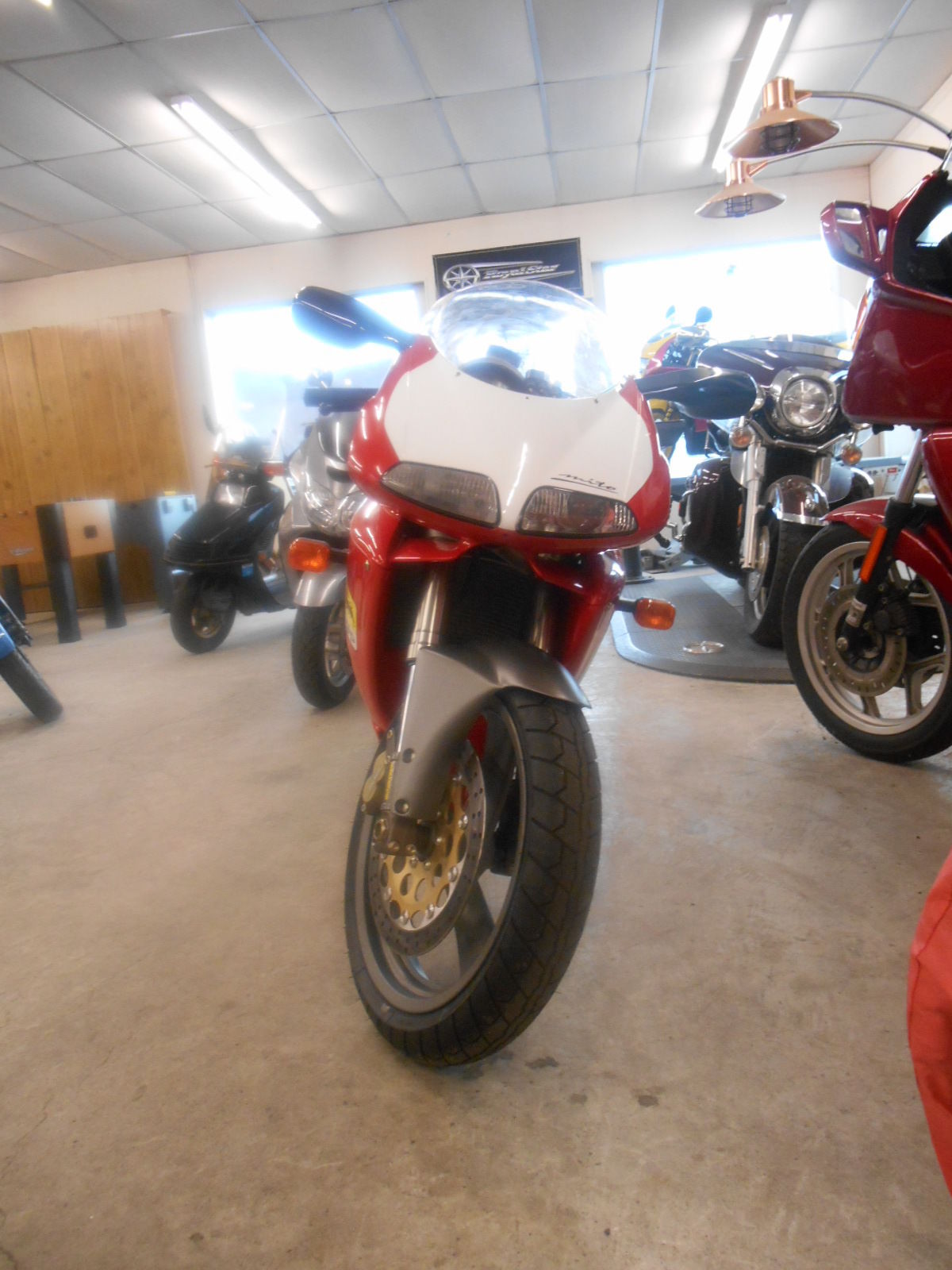 This is not an auction, but rather a straight-up buy it now listing. Pricing is a fair $6,500 (especially for the low miles!), although the states in which you can register this bike might not be one in which you reside. Even if not used on this street, this little Mito will eat larger bikes alive on a tight and twisty track. Smart buyers are encouraged to check first, ask lots of questions, and do your homework. So who *doesn't* want to have a mini-916 in their quiver? It's great for show, and from the mods sounds like it is ready for some GO. Check it out here, and let your inner child racer run free. Good luck!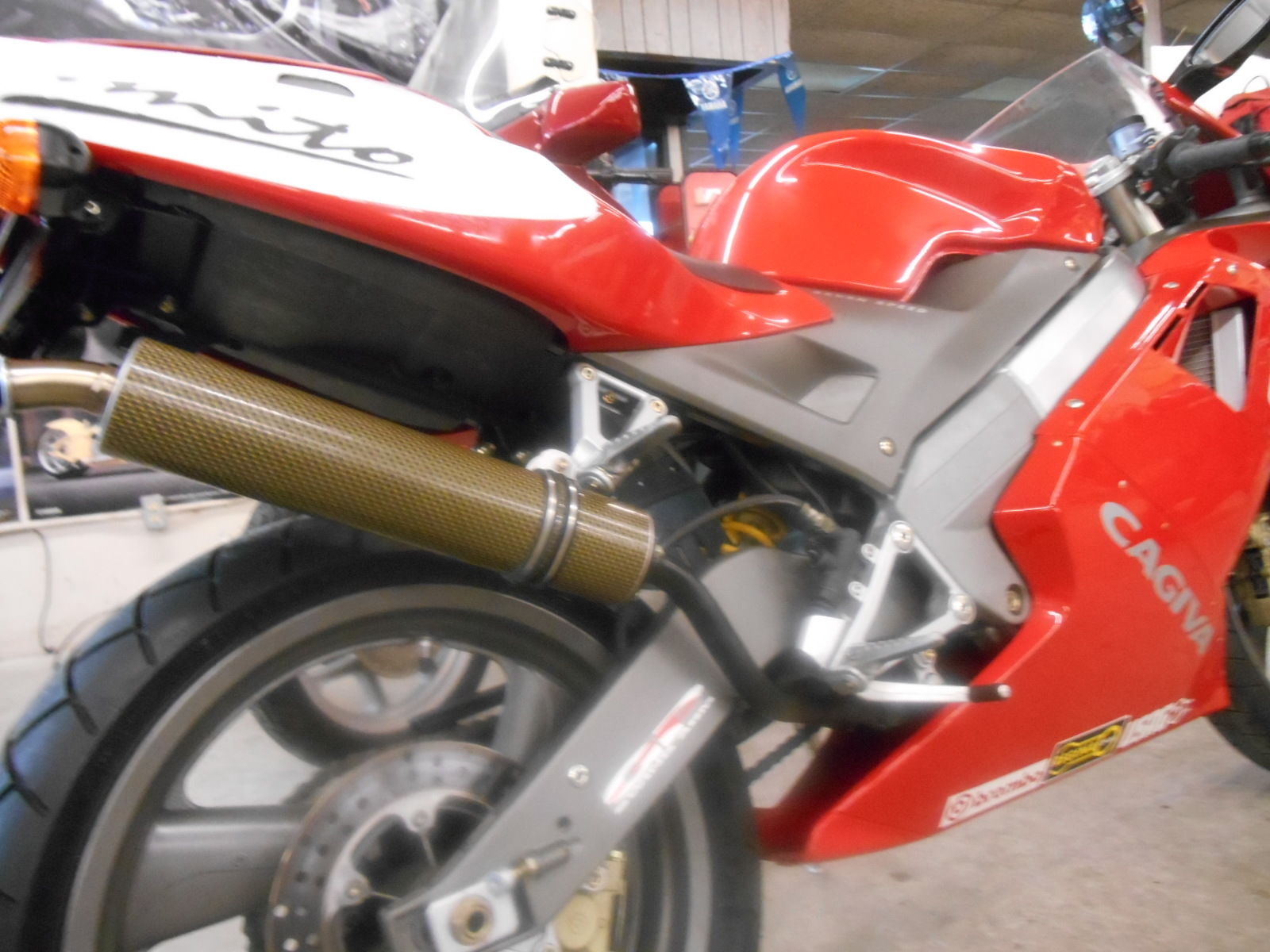 MI