We've posted two, maybe three, of these on the site in our long and storied history- What are the chances there are two for sale at the same time? Yeah, that chance is a whole lot slimmer than me, but I found them and here we are!
Make: Suzuki
Model: GAG50 – RB50 or GSX50
Edition: Bomber
Mileage: Not Stated
Price: Open your wallet a little wider
Location: Phoenix, AZ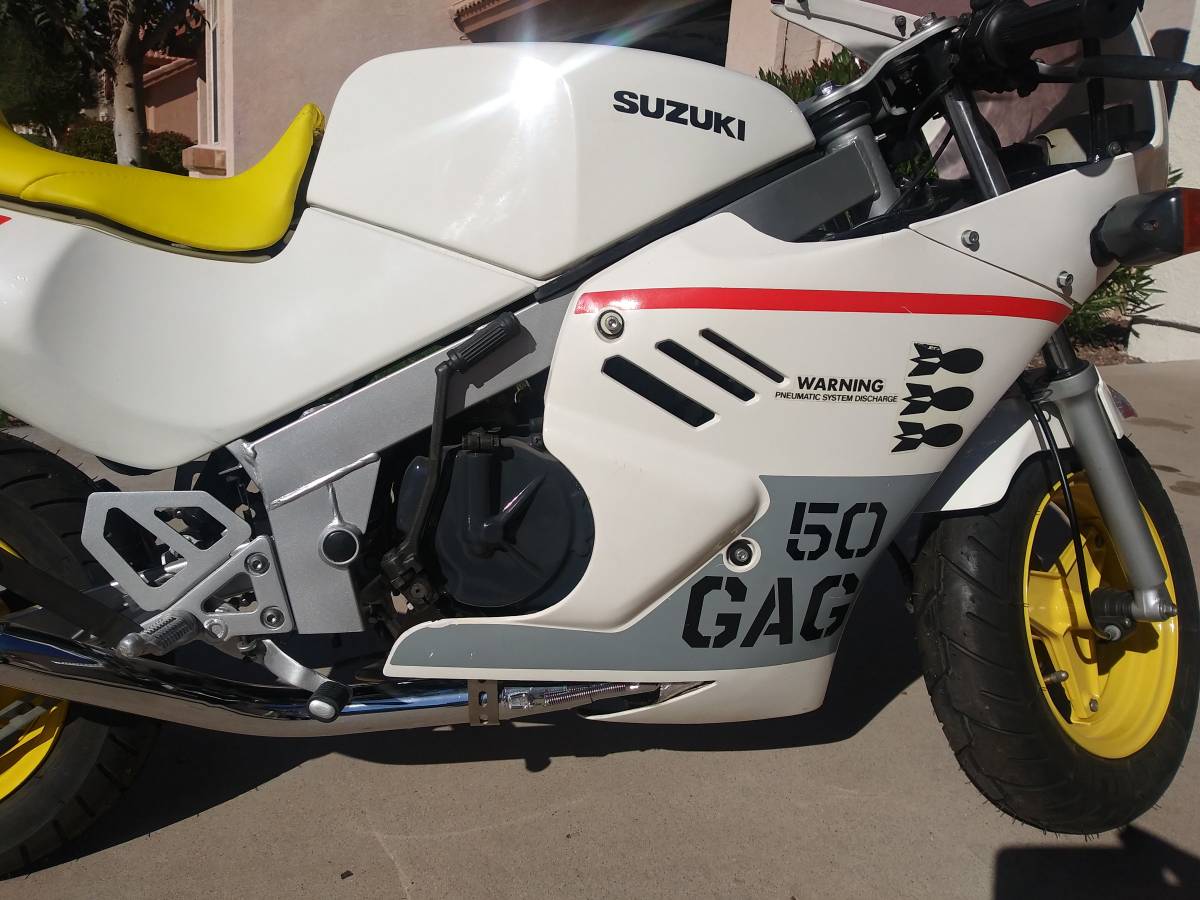 2 years ago the bike was completely dismantled. All parts were Professionally cleaned, polished and detailed.
Wearable items such as brake pads, fork seals and dust guides ,grips, cables and tires were replaced with Suzuki OEM parts. Carb. was also rebuilt. Complete Re chrome of the exhaust system.
Retains Original Paint, plastics and decals.
Complete Fluid servicing of All systems. When all work was completed, the bike was put inside my house and remains there in the condition shown and described.
Cosmetic Flaws : the seat has a slight discoloration on a (small area 1×2) , and there is small amount of spider web cracks around a few of the windshield fastener screws. which are on the windscreen itself.
All of the Original Plastics and finishes on Everything else, are Superb. Not Flawless, nor Perfect.
Much time and effort has been taken to leave the bike as original as possible.
In the last 5 years there have Only been maybe 6 or so sold.
Prices as high as $15,000 and as low as 6,000.The average condition and price is 10k.
I consider this example to be above average.
You know the old saying "If you have to ask for the price, you probably can't afford it"? I guessing that applies here, but there's also another saying "Buy once, cry once!" Which carries a lot of weight when purchasing rare motorcycles- don't you agree?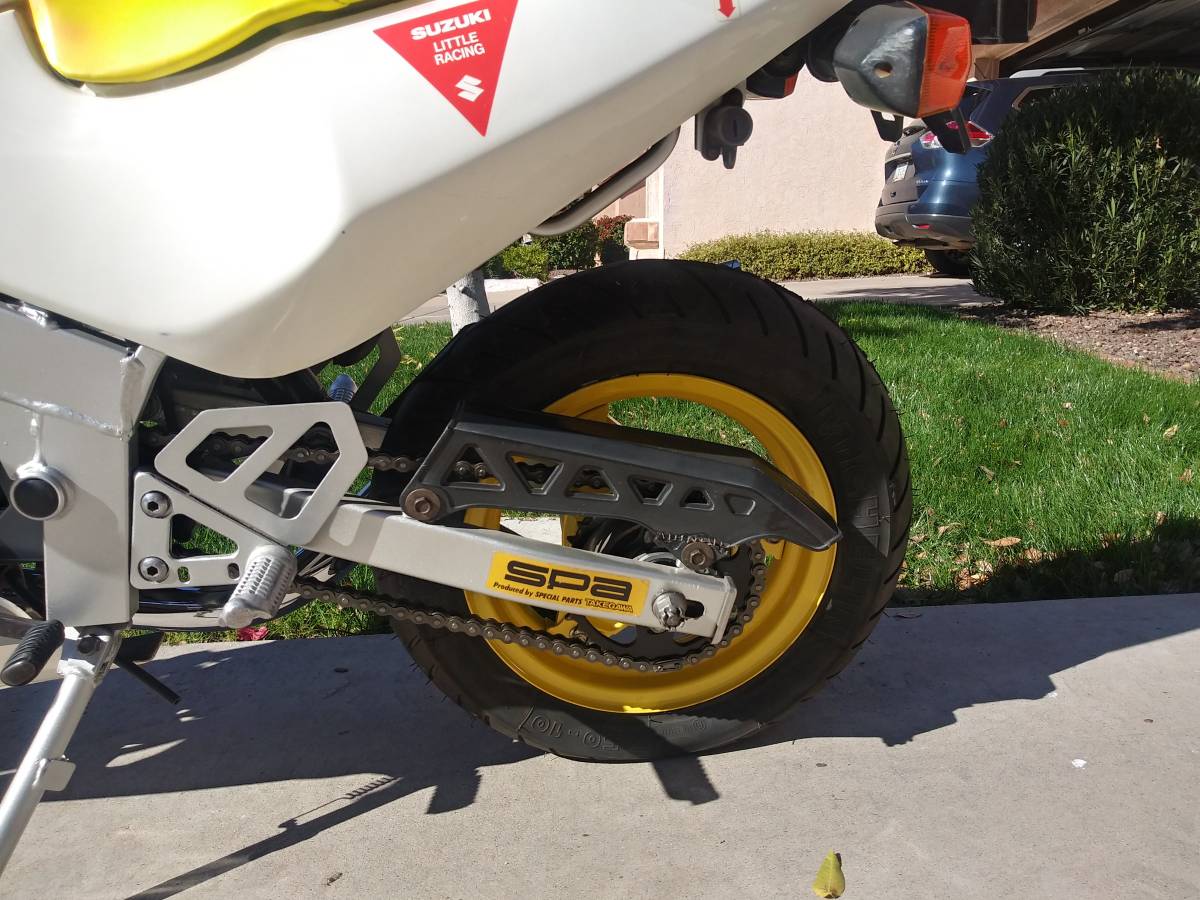 ---
"I went from Phoenix, Arizona all the way to Tacoma, Philadelphia, Atlanta, Las Vegas." -Steve Miller Band.
The second one will be sold at the Mecum Auction next week. Mecum put their IT folks to work and blocked my smooth brain from copying and pasting their pictures, but with a nasty work flow, I managed one for you.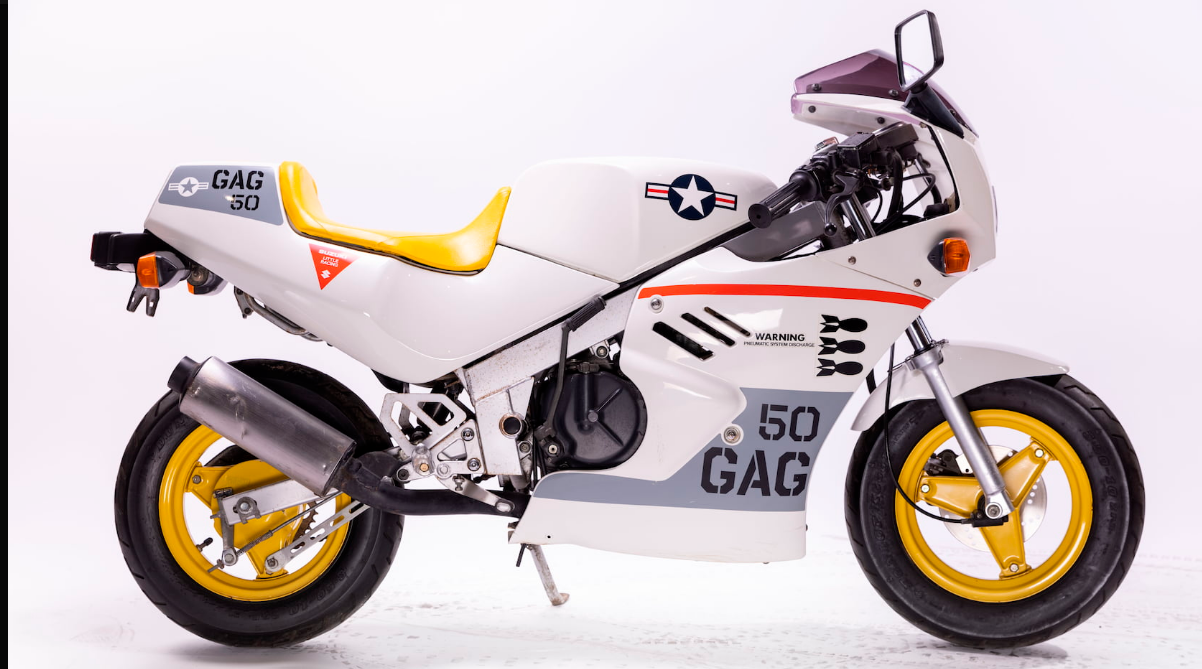 Mileage: 875
Price: 2022 Crazy Auction Price
Location: Las Vegas, NV
This one seems to suffer from the dreaded JDM corrosion on the swing arm and lower frame. It also has a few more bumps and bruises than the Phoenix machine, but I suspect this one is unrestored and is in it's original state. Which do you prefer?
If you follow some of the larger online auction sites you've seen the astronomical sale prices on motorcycles. If you're in the market for a GAG50 and have been specifically jonesing for a Bomber edition now is your time. My thinking is you're better off biting the bullet on the Phoenix machine because once the Mecum machine runs over the auction block, the Phoenix machine will cost you a lot more.
What do you all think?
Oh, almost forgot the gear head deets- The GAG50 Bombers weigh 141 pounds dry and crank out a robust 5hp at 7,000rpms. They have a single hydraulic front disc and are streetable with all the required lights.
I read a few articles and it appears parts are scarce, but not unobtainable.
There are also plenty of online GAG50 support groups out there, but most of them are located in Europe and Asia.
Cheers!
doug